Learn how to make borax crystals with just a few simple supplies in the comfort of your own home.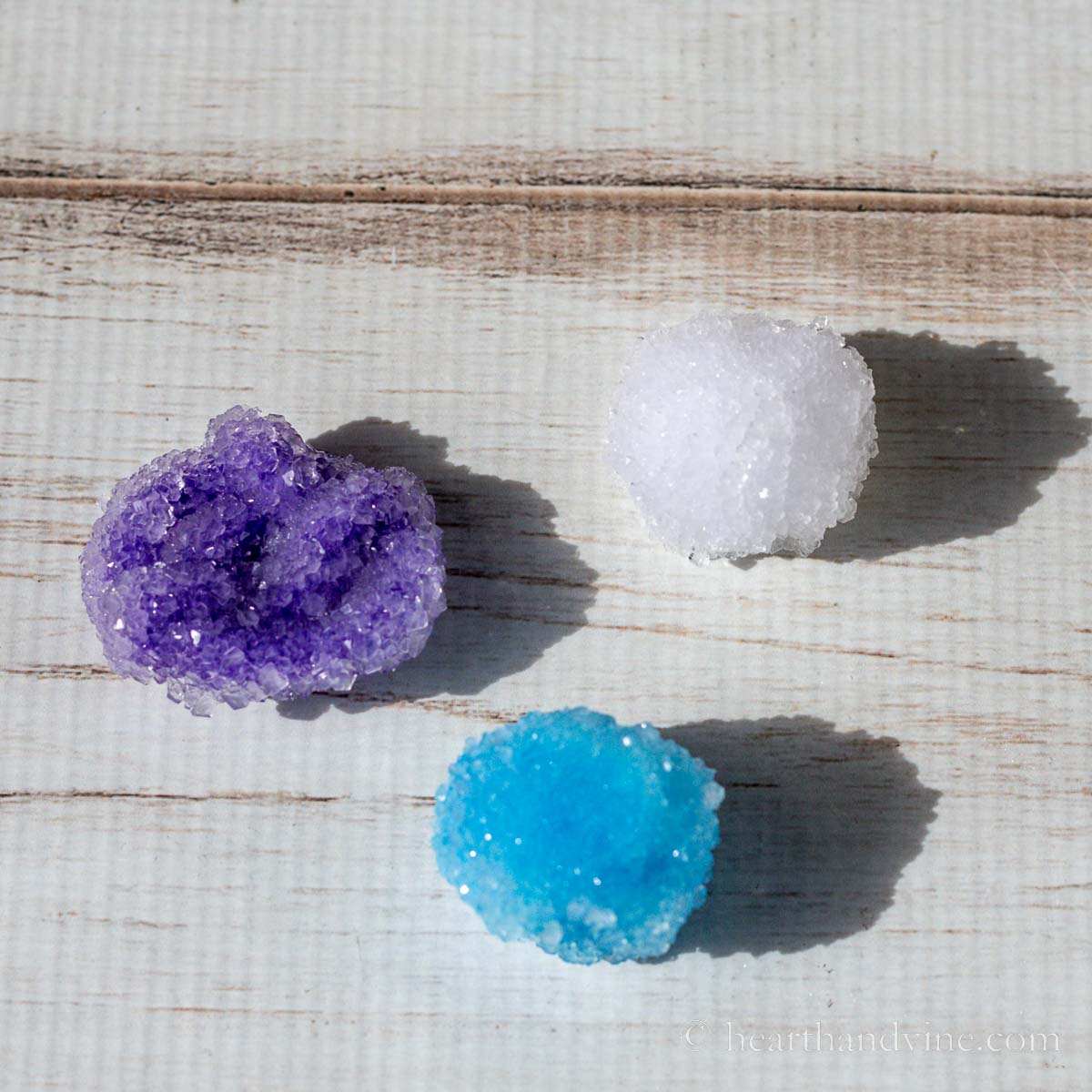 I'm caring for my daughter's plants while she moves to her new home.
I noticed that she has a lot of crystals and rocks in her pots. Some are purely decorative and some she says help to balance some plants that are tipping over until she can repot them.
I've seen posts, mostly as a fun science experiment for kids, where they make crystals from Borax, and thought this might make a nice pot decoration and a fun craft.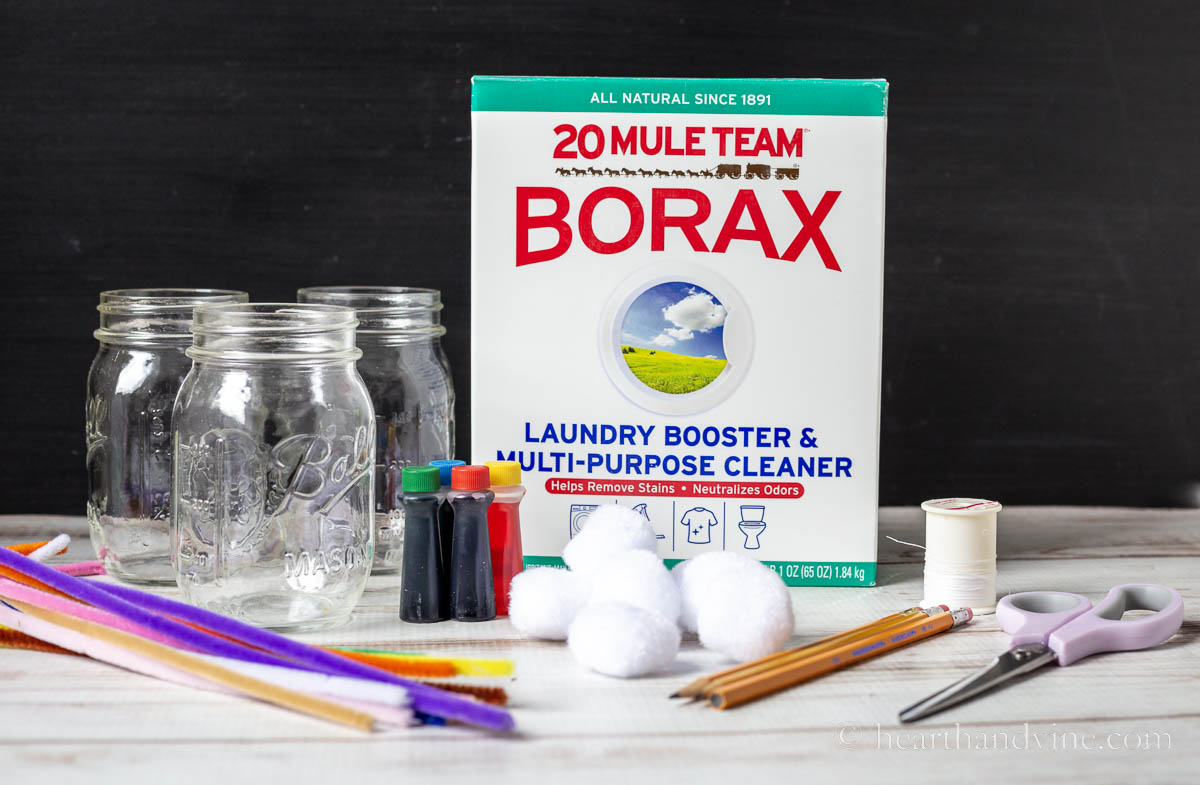 How to Make Crystals at Home
What You'll Need
scissors
plastic tub
tea kettle or pot
pipe cleaners, pom poms or both
Borax (in grocery stores with laundry detergent)
string or thread or fishing line
pencils
pint sized mason jars (one for each crystal)
food coloring optional
tape
You need something fuzzy for the crystals to build upon. Many people use pipe cleaners and make different shapes with them. So I made one with purple pipe cleaners. I also tried fuzzy pom poms. One I left white and the other was colored with blue food coloring.
Start by tying a piece of thread or string around the object. This needs to be long enough to hold the item mid-way in the jar. If you are making a large crystal you might want to use fishing line to accommodate the weight.
Create your crystal forming mixture by adding 1/2 cup of Borax with 2 cups of boiling hot water. I used an old soup container to mix it in. Keep stirring until all of the Borax is dissolved creating a saturated solution.
Pour the solution into your mason jar. Then tie the other end of the string onto a pencil to set on the jar to suspend the pipe cleaners or pom poms.
Note: Once the object is in the jar you can roll the pencil, shortening the string, and then use a bit of tape to secure it in place.
The pipe cleaner form worked great. However, the pom poms wanted to float to the top. To fix this dunk the pom pom into the solution for a minute.
Then remove it to some parchment paper or paper towels to dry and harden a bit. After about an hour I found that they would now sink in the jar.
Let the jars set for 24 hours.
Pretty cool, huh? The Borax solution formed crystals around the pipe cleaners.
Remove your crystals and let them dry off a bit. Then cut off the string and use it as you wish.
This one looks pretty cute in my aloe plant right?
Wouldn't they be a nice addition to a plant gift?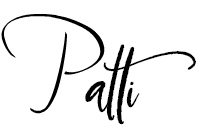 More Garden Crafting Ideas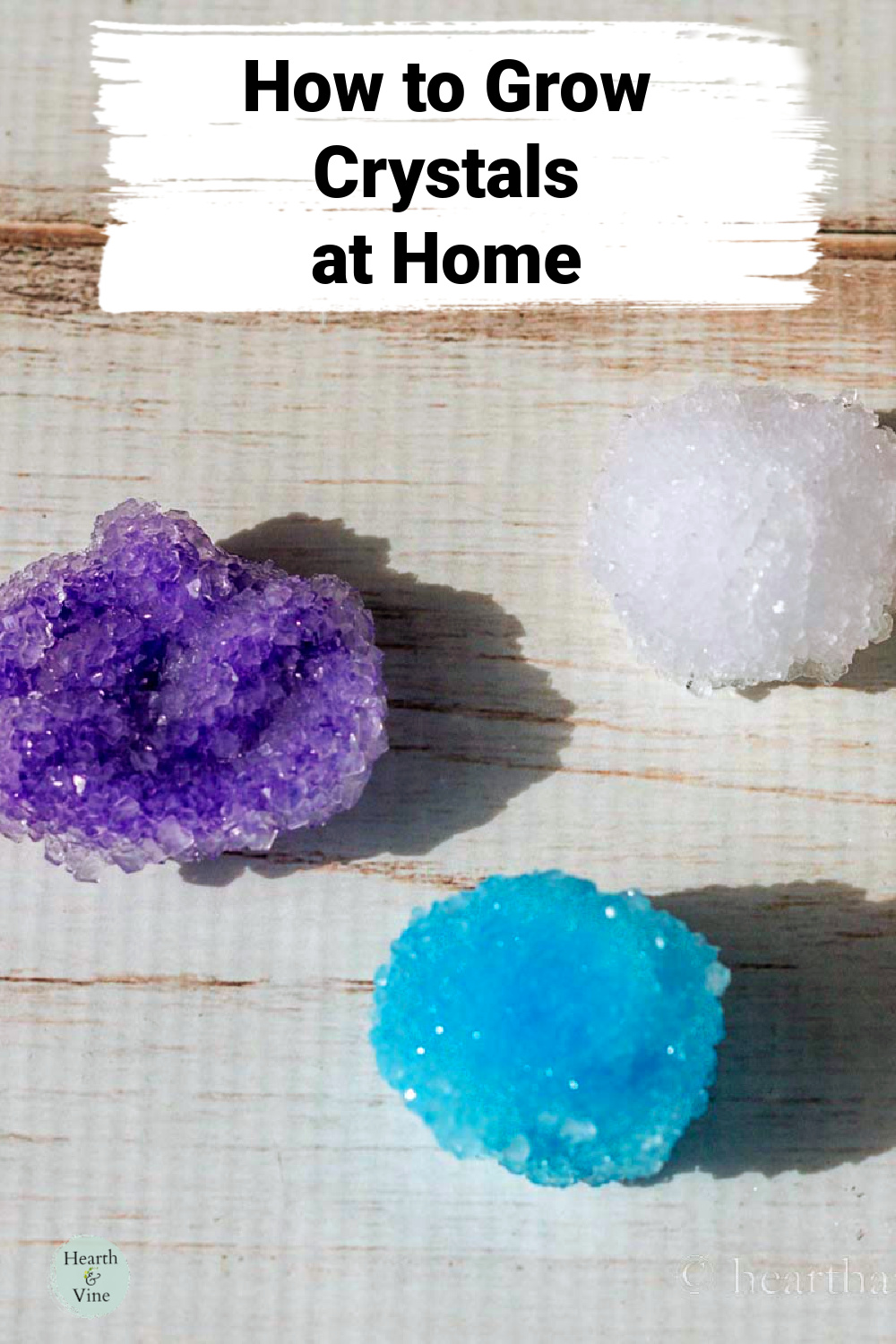 Print
How to Make Crystals at Home
Here's a fun tutorial that requires only a few supplies and some patience to grow your own beautiful Borax crystals to enjoy at home or gift to someone special.
Equipment
1 pair of scissors

plastic tub

tea kettle or pot

measuring cup
Materials
pipe cleaners, pom poms or both

Borax (sodium borate)

string or thread or fishing line

pencils or a popsicle stick

pint sized mason jars

One for each crystal

food coloring

optional

tape
Instructions
Make a form with pipe cleaners wrapping them around each other.

Tie a piece thread or string around the pipe cleaner form and pom poms.

Tie a pencil to the other end of the string

Boil water in a tea kettle or pot

Use an old recycled plastic tub to stir together 1/2 cup of Borax powder to 2 cups of boiling water.

Once dissolved pour the solution into one of the mason jars.

If desired add a good amount of food coloring to the Borax solution to color the white pom pom.

Place the pipe cleaner form or pom pom in the mason jar.

Use a piece of tape to hold the string on the pencil so that the item is held in the middle of the jar and solution.

Allow the items to sit for 24 hours.

Lift out the pipe cleaner form and pom poms onto some paper towels to drain.

Once dry place your crystals in a planter or anywhere you like.
Notes
If the crystals are continually wet they may break down. Make sure you remove them when you water your plants.
If you develop a coating of crystals in the bottom or sides of the jars you can add boiling water to help break it down. Discard the crystals and run the jar through the dishwasher.
You might want to wear gloves for this project as the Borax is rough on your skin.
Also, if you decide to try this with kids or grandchildren use caution. Don't inhale or ingest the borax powder and make sure it doesn't get into anyone's eyes. More details can be found on the Borax box.