Learn how to make a sparkling sea glass garden ornament for your favorite pot or spot in the landscape.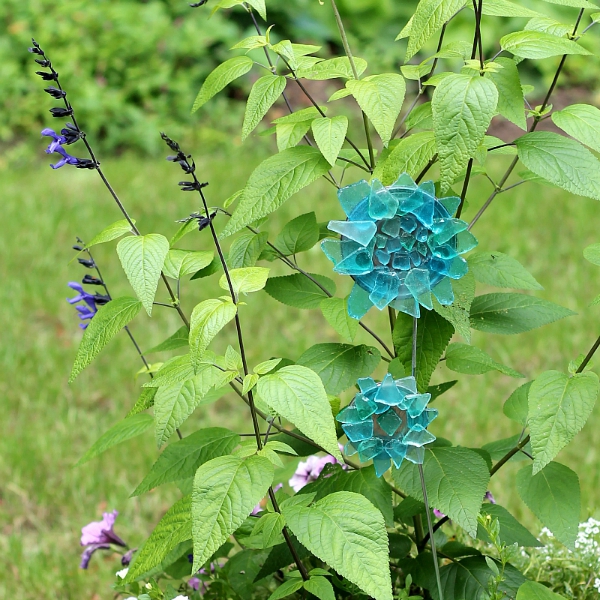 We're getting ready for our annual group beach trip. It's been a crazy summer and I am ready to take a vacation. While shopping I saw this bag of pretty sea glass and just had to make something with it.
This post contains some affiliate links (that means if you make a purchase after clicking a link, there's no additional cost to you, but I will earn a very small commission. ) i.e. as an Amazon Associate, I earn from qualifying purchases. Click here to read my full disclosure policy.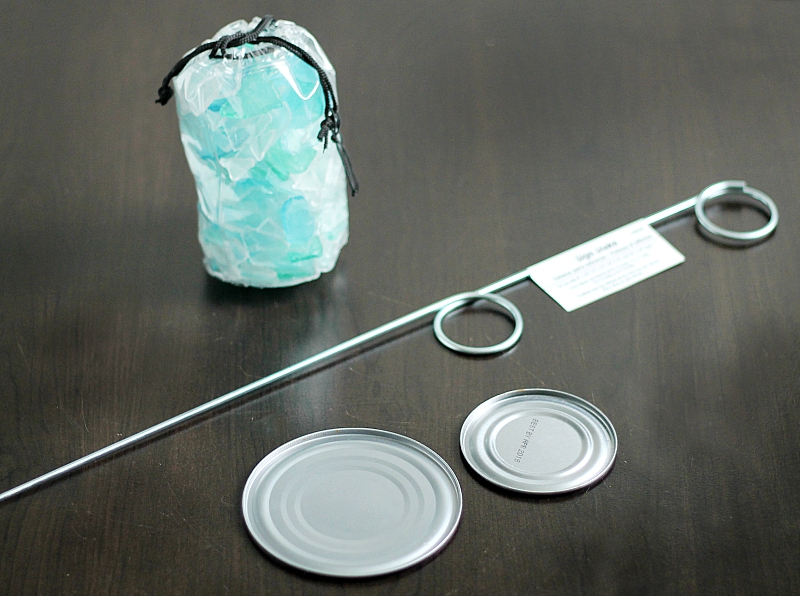 How to Make a Sea Glass Garden Ornament
I thought it would be nice to make flowers from this pretty glass. First I was thinking of a wall hanging but while I was waiting for my husband in Home Depot, I found this interesting looking yard sign post. It almost looks like a flower.
I pictured the sea glass in the shape of a daisy or dahlia. I just needed something to glue the pieces to. So while I was making lunch I noticed the lid to my tuna can would make a great base for a flower. Use one of those can openers that separates the lid from the can, so there are no sharp edges.
Take the tuna lid and one from the black beans we had the day before and sprayed them will some silver spray paint to hide the stamp and make them uniform in color.
I researched the best glue for sea glass and found a product called E 6000. This glue can be found at any department, home improvement, or craft store. E 6000 is heavy-duty and is said to be good for outdoor use. The fumes are pretty strong though, so try to work in a well-ventilated area.
To begin, lay out your sea glass pieces first.
Remove the pieces and line them up in order so you don't have to re-think the layout while working with the glue.
Place a little glue on the lid where you want the first piece to go. I used the bottom of the lid where there is no lip.
Then take your first piece add a little glue on it and place it on top of the glue on the lid. I started with the sides and added the little pieces in the middle last.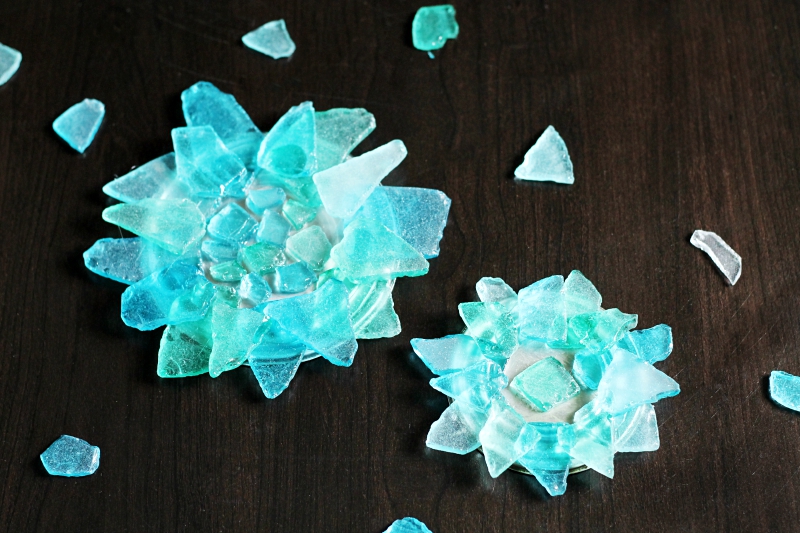 When you are finished allow your flower to dry for a couple of hours. Then glue it to the signpost by place glue on the post and the back of the flower.
Allow the total project to dry overnight. Place in a pot or anywhere in the garden.
Another project you can make with this bag of sea glass is this sea glass and seashell wind chime. It was inspired by the movie, "The Choice." Also easy to make and adds a little extra sparkle to your home.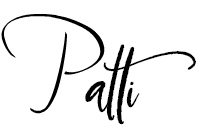 Click Here to Save to Pinterest!