Learn how to make homemade sauerkraut with cabbage, salt, and a mason jar. This step by step tutorial will show you just how easy it is.
Every year we eat pork and sauerkraut on New Year's day for good luck. I usually buy canned sauerkraut from the grocery store. This year I decided I would try to make my own, using fresh cabbage and a mason jar.
How To Make Homemade Sauerkraut
First, make sure you are working in a clean area and start with a large head of cabbage. Peel off some of the outer leaves, remove the core, and slice thinly.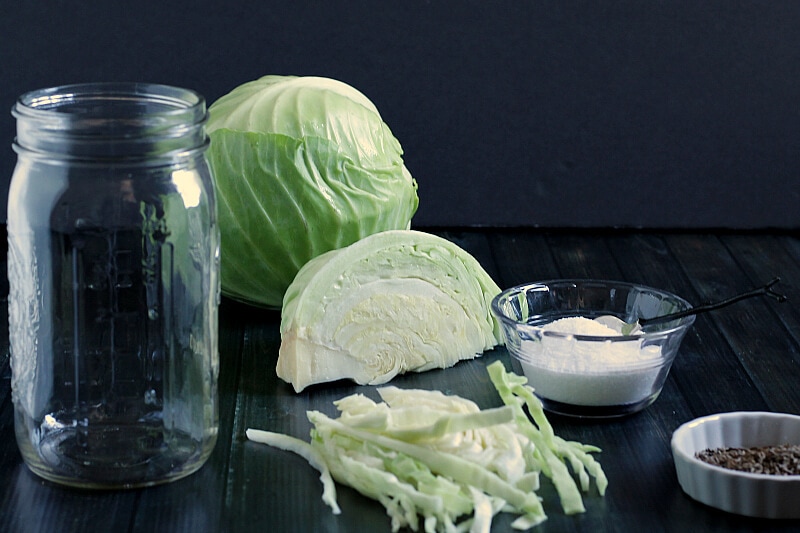 You also need a clean quart size mason jar, some kosher or sea salt, and if you'd like some caraway seeds.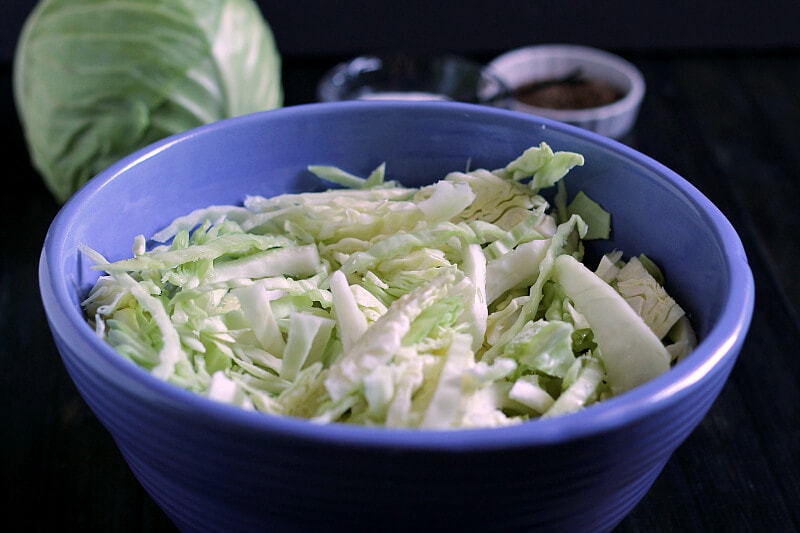 Layer the cabbage with a couple of teaspoons of salt, and let it sit for about an hour.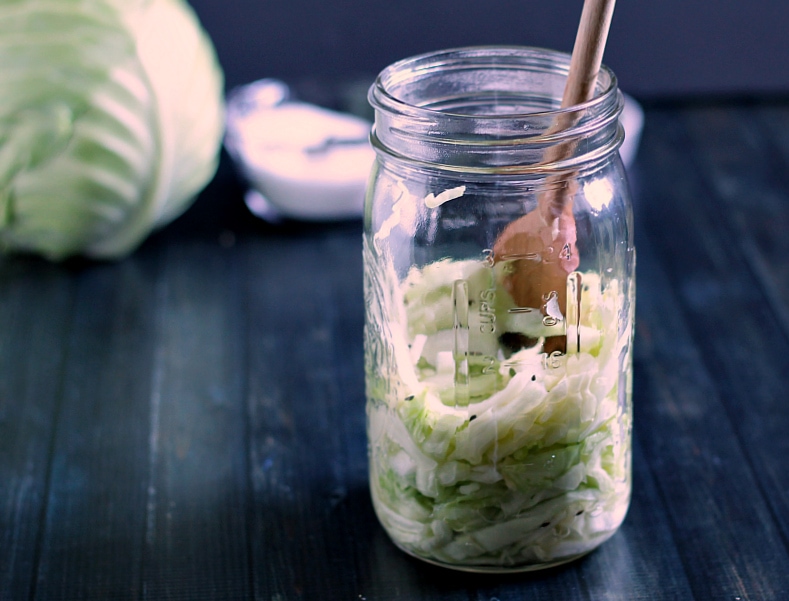 Once it starts to break down start packing the cabbage in the jar and using a wooden spoon. Really pack it in. Add the juices on top and make sure there's enough to cover. If not, make a brine, by dissolving a teaspoon of salt in a cup of water.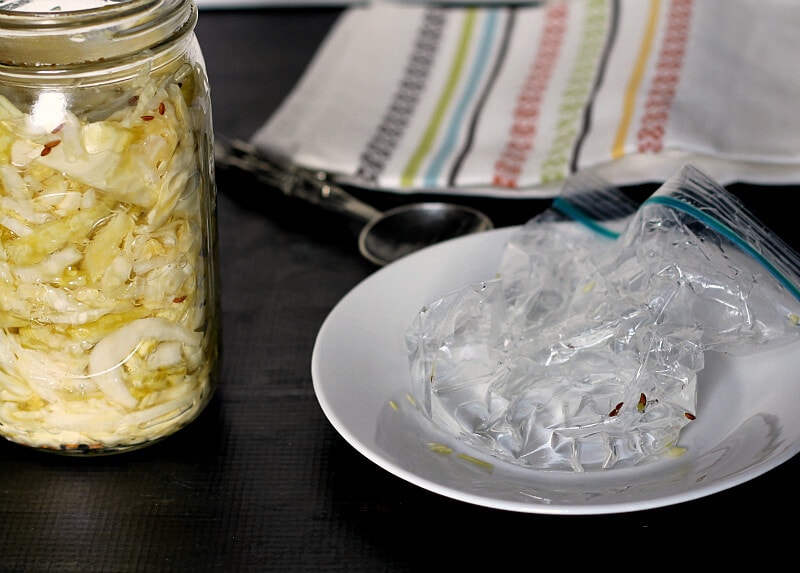 You need to make sure the cabbage stays below the liquid. Many fancy crocks have special ceramic plates for this purpose, but I used a plastic bag filled with a little brine and it did the trick.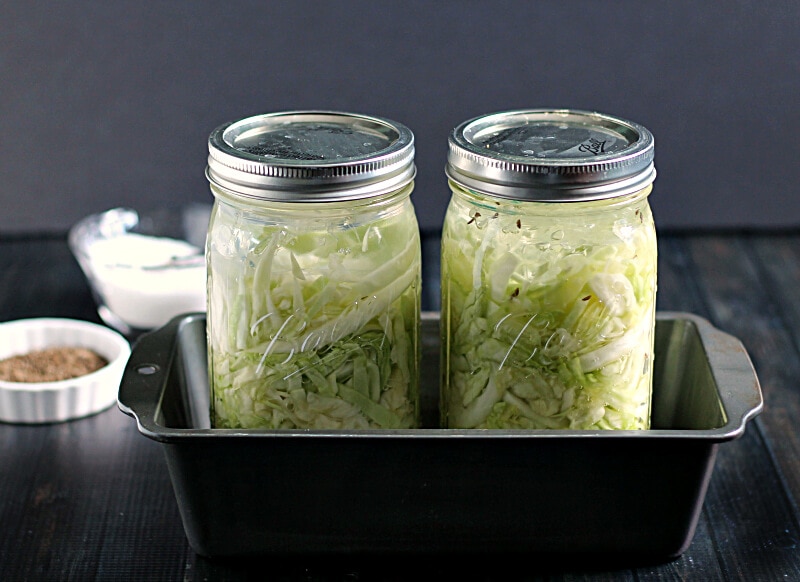 Next, find a cool dark place to keep the jars for about three to four weeks. I placed mine in a loaf pan in a lower cabinet. After the first week, the jars had bubbled up and leaked into the loaf pan. Just loosen the lids slightly, and let a little air out, and then tightened them up again. Then wipe down the outside of the jars and clean the pan before setting the jars back in the cupboard.
Just as a day or two shy of a month, and we had lovely fermented sauerkraut. The little seeds are caraway seeds, which we like, but are optional.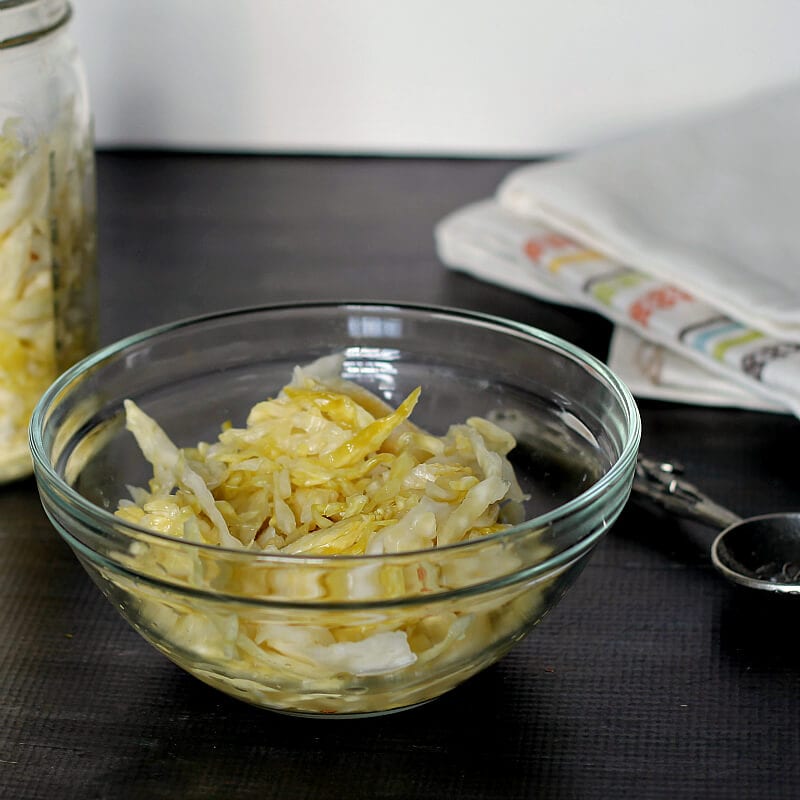 We cooked this yummy sauerkraut with some ribs and a small pork roast in the crockpot. It was really good. Now I think I'm going to have to make a few more to keep on hand. I may never go back to store-bought again.
If you enjoyed this article you may be interested in reading my article about why eating pork & sauerkraut brings you good luck in the new year.
Need another reason to make homemade sauerkraut?
Check out this article from Health Impact News about just how good sauerkraut is for your health.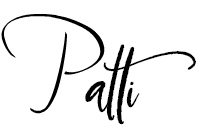 ---
P.S. You may like this Pork and Sauerkraut Recipe that we eat a few times a year and not just for good luck on New Year's Day. One year I made Pork and Sauerkraut Balls to take to a party as a great finger food option. You can find these and many more fun ideas on my Recipes Page.
Click Here to Save to Pinterest!