Learn about the tradition of why people eat pork and sauerkraut on New Years Day for good luck and an easy and tasty recipe for making your own dish.
Other Hearty Slow Cooker Meals: Chicken Cassoulet, Pot Roast with Root Vegetables, and Italian Meatball Stuffed Peppers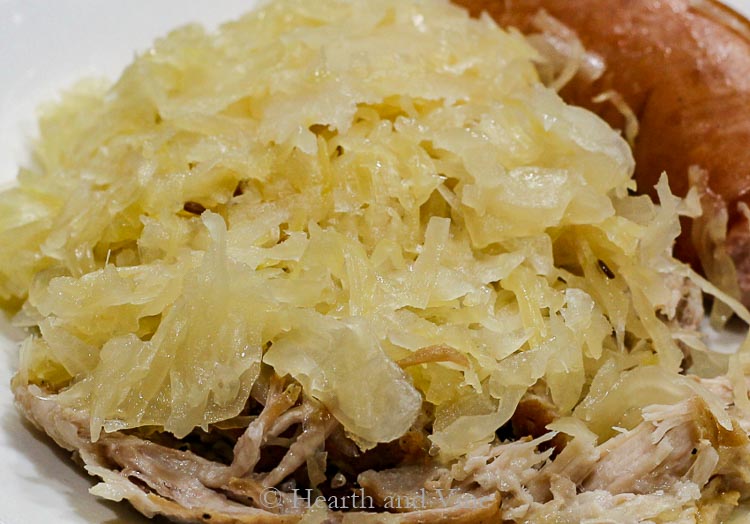 Are you making pork and sauerkraut on New Years Day? Of course, we are. Born and raised in southwestern PA and married to a Pennsylvania Dutch Country boy, the tradition of eating pork and sauerkraut on New Year's Day is commonplace in our area.
In addition, my husband and I both have some German ancestry so this practice has been ingrained into us from early childhood.
Why Pork and Sauerkraut on New Years for Good Luck?
Well, I'm told that back in the day having a pig meant a family was good to go for the winter. And since cabbage is a fall crop it was often canned or pickled to use in the winter. The process takes about 6-8 weeks making it ready just about the time the new year is upon us.
I tried making my own homemade sauerkraut. It was really fun, but since I am so impatient I normally just use store bought.
Other folklore speaks to the way pigs forage for food in a forward motion, never looking back, and that cabbage was slang for money at one time. By this time in the 21st century, it is simply something we just do. After all, it tastes delicious and well, and the promise of good luck is always appealing.
Variations and/or Additions for Pork & Sauerkraut
Add one peeled and diced apple for extra sweetness
Add some maple syrup.
Try hot dogs instead of kielbasa. Great for little kids.
Use a pork loin or pork chops instead of a pork shoulder or butt
Ways to Cook Pork and Sauerkraut
You can easily make this on the stove in a large heavy bottom pot or dutch oven.
I like to make it in the slow cooker. Slow and low all day
You can also make pork and sauerkraut in the Instant Pot for an even faster option.
Just don't forget to serve plenty of mashed potatoes on the side. Or, if you like serve the sauerkraut on top of the mashed potatoes. That's what we do and it's oh so tasty.
Wishing you a happy and healthy new year with lots of good luck.
Pork and Sauerkraut
Ingredients
2 lbs sauerkraut
2 lbs pork shoulder or butt
1 lb kielbasa
2 T brown sugar
1 t caraway seeds
Instructions
Brown the roast in some olive oil in a large pot.
Add the sauerkraut brine and all.
Add the kielbasa
Sprinkle brown sugar and caraway seeds.
Add some water to just cover the entire roast.
Bring to a boil.
Turn on low, cover, and simmer for 3-4 hours or until the pork is easily pulled apart with a fork.
Serve with mashed potatoes.