Here are a few great hostess gift ideas for your next party. Bringing something a little special is a great way to say "thanks" for inviting me.
A good guest should not come to a party empty-handed, so here are a few ideas to use as a special hostess gift for your next get together.
Hostess Gift Ideas
Bring a Bottle
Bring your favorite wine or liquor. Make it special by wrapping it up in a new tea towel.
Simply fold the tea towel in half lengthwise. Then slip the bottle in between the two layers with the bottom of the bottle at the crease about 2-3 inches in.
Then fold the 2-3 inches of fabric around the bottle and roll the bottle to the end, holding the tea towel in place as you go. Tie a ribbon at the neck to hold the tea towel together.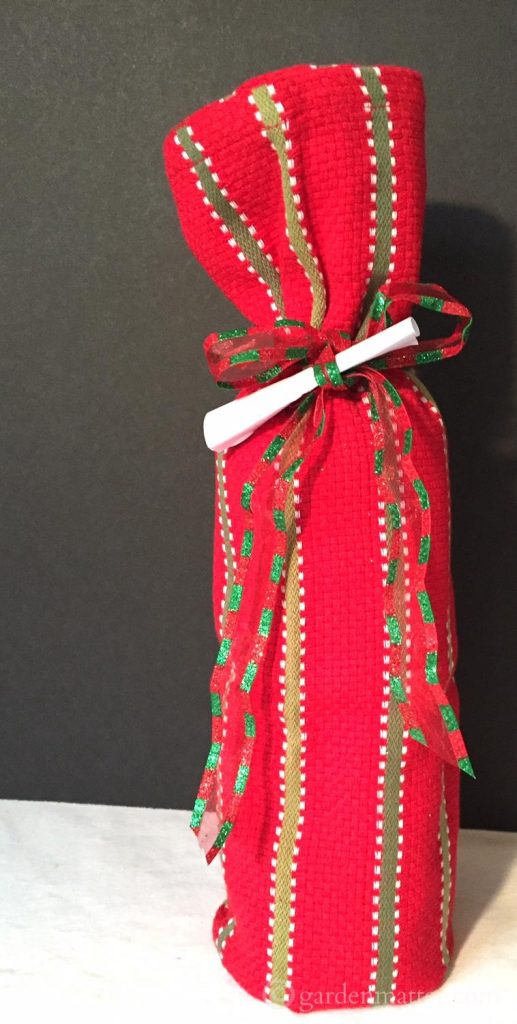 Here's an example of one I wrapped for my Guess Who article:
Other bottle gift ideas are:
Cordials - These cordials from www.shopterrain.com, taste great mixed with your favorite alcohol or even simply with water. With flavors like spiced winterberry and apple, plum & cinnamon they are sure to be a new treat for your host and their guests.
Another favorite of mine is this prickly pear syrup from Cheri's Desert Harvest. I first had this at my sister's house where she made the most delicious and beautiful margarita's from a Bobby Flay recipe.
Finally, how about a fancy sparkling water. Something non-alcoholic that everyone can enjoy. I found these herbal waters from Ayala's with some very interesting flavors such as Sparkling lemongrass, mint, vanilla and sparkling ginger lemon peel.
Bring Food
Everyone appreciates when you bring something good to eat to the party. Making only one dish to bring is easy. One of my favorites to bring is my Meyer Lemon Crab Salad Appetizer. If you don't cook, or simply don't have time, you can easily pick up some things at the market like chocolates, cookies, olives, and cheeses.
TIP: Here's a great tip I learned from my friend Lisa. Bring your food item on a nice plate or platter and leave it as part of the gift. This way your host will not have to worry about returning it and they will have a new piece for the future. Lisa is an avid antique buyer and picks up beautiful pieces throughout the year. Something to keep in mind next time you are at the flea market or antique store. Discount stores like TJMaxx and Tuesday Mornings also have a great selection of nice serving ware to choose from.
Bring Something Scented
Maybe it's just me but I love receiving scented gifts like candles, soaps and lotions. They come in a wide range of prices for everyone's budget. They are great for setting out for your guests to use and to make your home smell great. Some of my favorites places to buy them are:
I hope this gives you some new ideas for your next invite. It is a nice way to say "thank you" to your host or hostess and I'm sure they will thank you back.