Learn a little about growing beautiful dahlias in the garden and the many different varieties, colors, shapes, and sizes.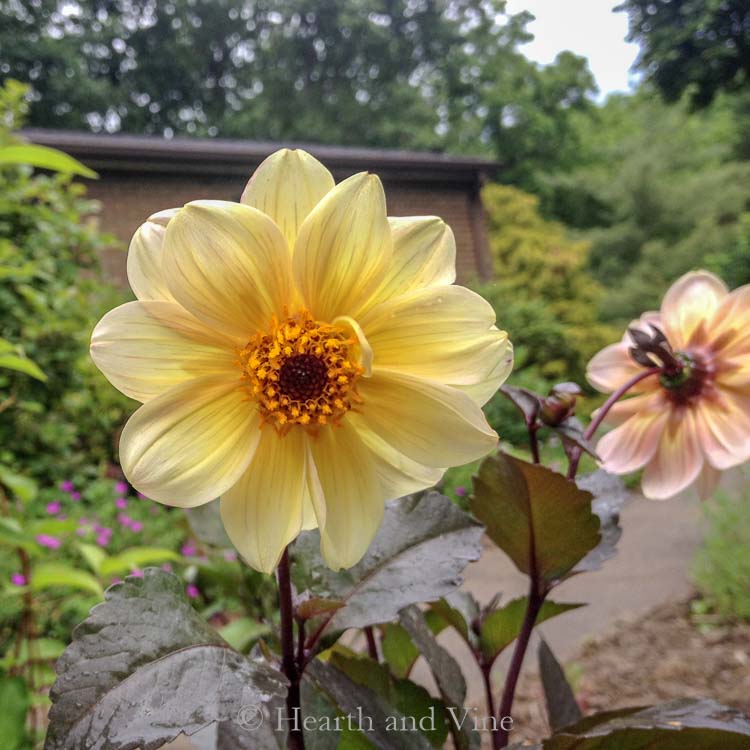 There's something about Dahlias that I really love. It could be the diversity in color, the range in shapes, or maybe because they are blooming late in the year when everything else is on its way out.
They make excellent cut flowers and though they are not scented, they can really hold their own in an arrangement.
A member of the Asteraceae family which includes sunflowers, zinnias, marigolds, daisies and of course, asters, dahlia flowers range in size from 2 inches to over 10 inches in diameter.
According to the American Dahlia Society, there are 18 different classifications of dahlias and 15 different recognized colors and color combinations.
Though dahlias come in many colors, there are no true blue or true black dahlias. Those that are deemed "black" are actually a dark burgundy.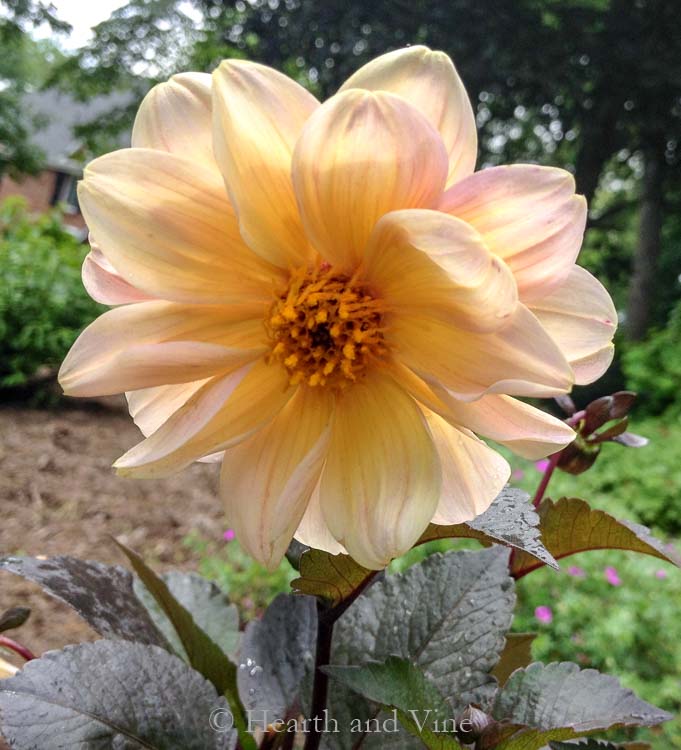 In addition to the pretty blooms, some of the foliage is very attractive. I've been planting dahlias with pretty dark bronze foliage for a couple of years now.
Growing Beautiful Dahlias
Late spring is the best time to plant your dahlia tubers once the ground has had a chance to warm up, around Mother's day. You can also consider planting them indoors a few weeks ahead of time and then transplant outdoors.
For larger dahlias, consider planting with stakes from the start so that you do not disturb the tubers later on.
Place the tubers horizontally in a sunny location about 4 to 6 inches deep.
Wait until they sprout shoots to water them. Then water about twice a week if there is no rain, with a good thorough watering. They will bloom in summer, sometime around late July and continue into early fall.
Give them a try. Who knows, you may become addicted and find yourself entering dahlia competitions.
You can find more information about classifications, awards and more on The American Dahlia Society's website.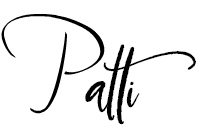 ---
P.S. You may also be interested in Deer Resistant Bulbs for Your Spring Garden or another great late summer bloomer, Anemone hupehensis 'September Charm'. You can find these and many more flowering plant ideas on my Gardening Page.
Click Here to Save to Pinterest!