This outdoor wooden plant stand is easy to make from a wooden tabletop and dowels. It has been painted for protection so that it can be used outdoors during the summer months.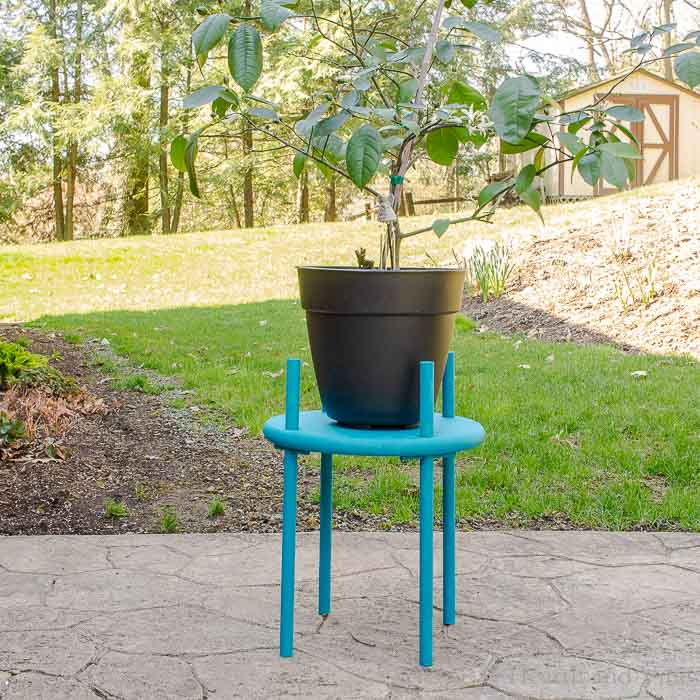 This is the third plant stand I've made on the blog. This one was actually my husband's idea, and he was a big help in making it. Previously I made a rolling plant stand, to help transport my dwarf Meyer lemon tree indoors, but now that summer is near I wanted something that I could use outside, where the lemon tree could grow and benefit from the extra light and warmth.
This post contains some affiliate links (that means if you make a purchase after clicking a link, there's no additional cost to you, but I will earn a very small commission.) Click here to read my full disclosure policy.
Supplies
1 - stain grade round wooden table top (mine was 15 inches)
2 - 48 inch long by 7/8 inch wide dowel rods
1 - 3/8 inch wide dowel rod
Wood glue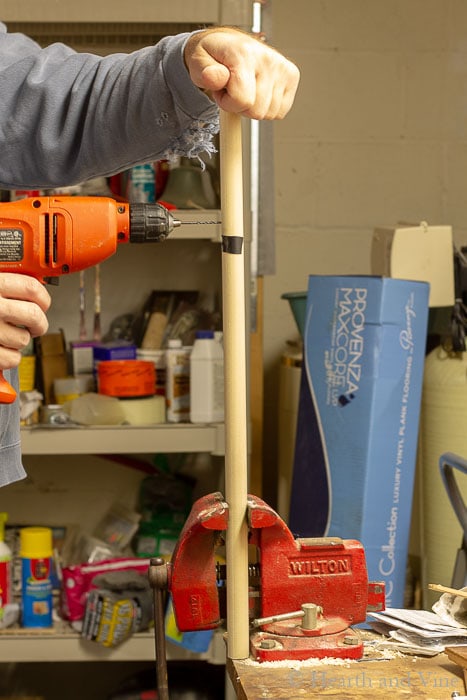 First cut the two 7/8 inch wide dowel rods in half. These will be the four legs of the stand.
Next decide how much of the dowel you want above the round top.
Add an inch, or what ever the thickness of your table top is to this measurement, and drill a hole in each leg using a 3/8 inch drill bit.
To ensure that the legs are even place one dowel through all four legs.
Then trim the tops and bottoms with a saw so that they are all even.
Next, use a square piece of paper to mark the four corners where your leg holes will be drilled.
Use a 7/8 inch drill bit to make a hole about 1/4 inch in or more if desired, at all four corners.
Cut the 3/8 dowel into four 2-3 inch sections.
Thread the dowels into the legs. Add a line of wood glue to the legs, just above the small dowel and then slide the legs through the tabletop.
Allow the glue to dry overnight and then paint as you wish. I used Dixie Belle Paint in Peacock after watching my friend Carole from Garden Up Green create some really pretty projects with this paint. She also told me that this paint holds up well against the elements. I also really liked "kudzu green" but with all the green outside I thought this blue would be a nice complement.
Outdoor Wooden Plant Stand
Just in case you missed it, you can find the Modern Plant Stand project here.