This DIY rolling plant stand tutorial is super easy. Made from a simple wood crate and casters. A big help when moving heavy pots.
During the winter I haul my Meyer Lemon tree from the dining room to the kitchen sink to water it. This is getting to be quite an effort, especially as the plant grows, making it one heavy pot.
Watering the tree in the sink allows me to drench the plant weekly, or even bi-weekly during the fall and winter. Overwatering, or allowing it to sit in any water, is a certain death for this plant.
The solution; a rolling plant stand.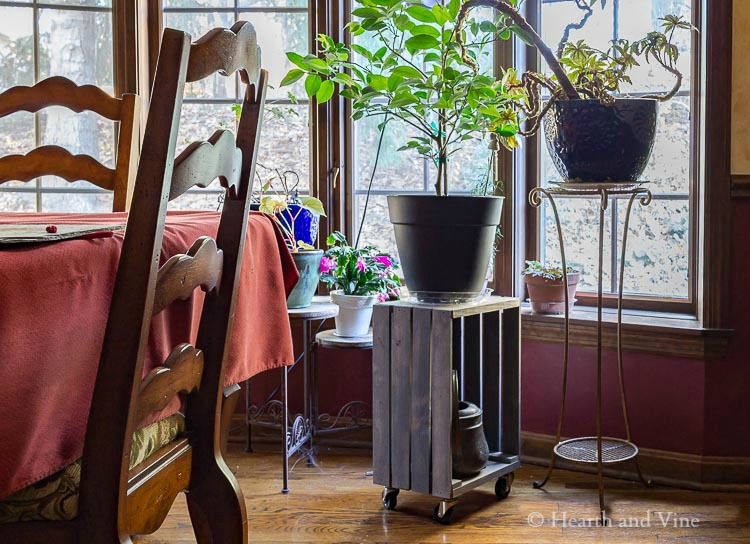 How to Make a DIY Rolling Plant Stand
This beautiful citrus tree is growing nicely, but it's becoming a little too heavy to pick up and carry around, so I thought I could pick up something on wheels to make it easier to move around.
This was not an easy task. The couple that I did find were very low to the ground coasters or caddies, and I was looking for a tall plant stand on wheels.
So I thought I'd make one. With a little help from my husband, we made a super cute rolling plant stand from a crate and casters.
This post contains some affiliate links (that means if you make a purchase after clicking a link, there's no additional cost to you, but I will earn a very small commission. ) i.e. as an Amazon Associate, I earn from qualifying purchases. Click here to read my full disclosure policy.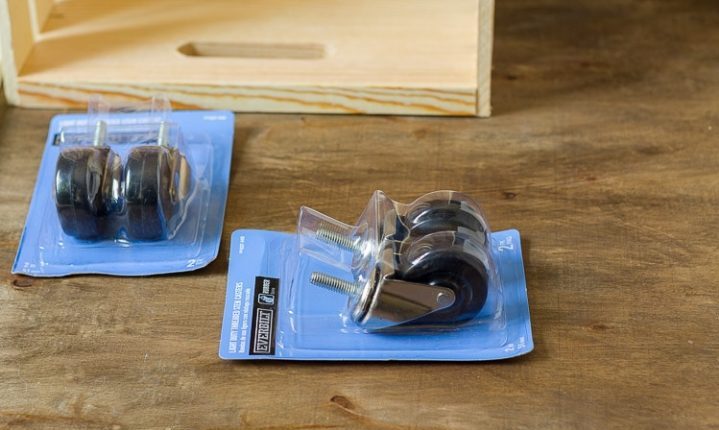 These are the casters I purchased at Home Depot. The threads were a little too long so we had to add a little strip of wood on the inside.
The casters I linked to above are a little smaller and they have a side brake which would come in handy. You may also prefer a plated caster that attaches with four screws through the plate for each wheel.
I used Miniwax gray wood stain
to give the crate a rustic feel. You could use any stain you like or paint it in your favorite color to make it pretty as well as functional.
The opening makes a handy dandy storage spot for my watering can. It's also a great spot for fertilizer, a water meter, and other indoor gardening supplies. I think I may add another piece of wood near the top as a shelf for even more storage.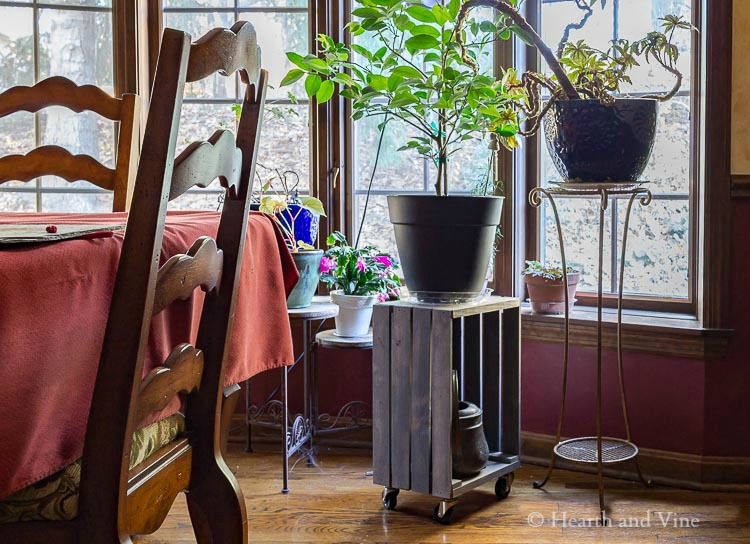 I love the way it looks in the dining room with some of my other stands and plants. This crate turned rolling plant stand turned out to be the perfect solution to my watering issue.
One of these days the Meyer lemon tree will be too big for the stand, but I'm sure we'll have many other plants to take its place. Maybe a baby lime tree.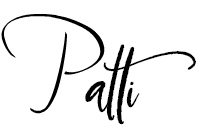 More DIY Plant Stands to Make:
Indoor Modern Wood Plant Stand
Outdoor Plant Stand Tutorial
Plant Stand for Multiple Plants