This rag wreath ornament craft is a great project to make with the kids as it is fast, thrifty, and easy. They look so nice on the tree and are perfect for a last minute holiday gift.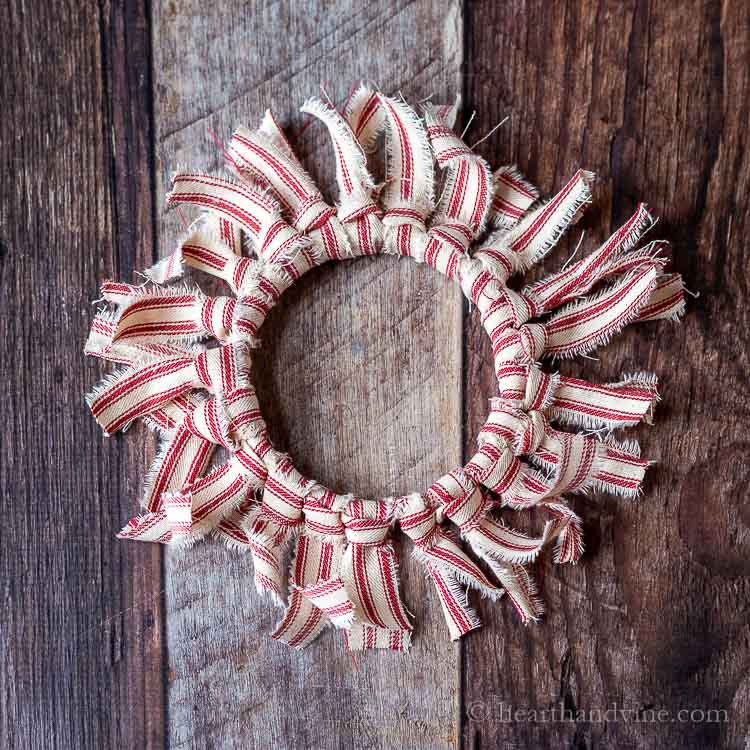 I enjoy making things with all the scrap fabric I have in my house. Sometimes there's quite a bit of fabric leftover from a project and sometimes there's just bits and pieces. Either way, being able to use up material I already have on hand is a great money saver and a rewarding experience.
This rag wreath craft is the perfect example. The term rag wreath denotes using rags or scrap fabric to create a simple and pretty wreath. Many people make them in large form and hang them in their homes all year round. You can use this same tutorial on a larger scale to make a year-round rag wreath for your home too.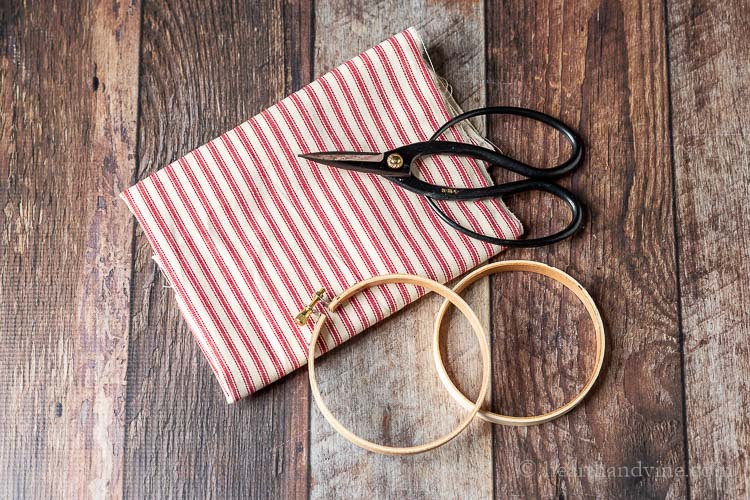 This pretty red and white striped ticking fabric was leftover from last year's Christmas treat bags. It's such a pretty material I had to use it for this craft. The mini embroidery hoops were extras from the punch needle ornaments project. How great to have both on hand to make these simple ornaments for the tree.
How to Make Rag Wreath Ornaments
Supplies
Scrap fabric
Scissors
Ribbon or cording for hanging (optional)
Mini Rag Wreath Ornament - Style 1
Start by cutting or ripping strips of fabric about 1/2 inch by 8 inches in length. I used about 20 pieces to cover this 4-inch hoop.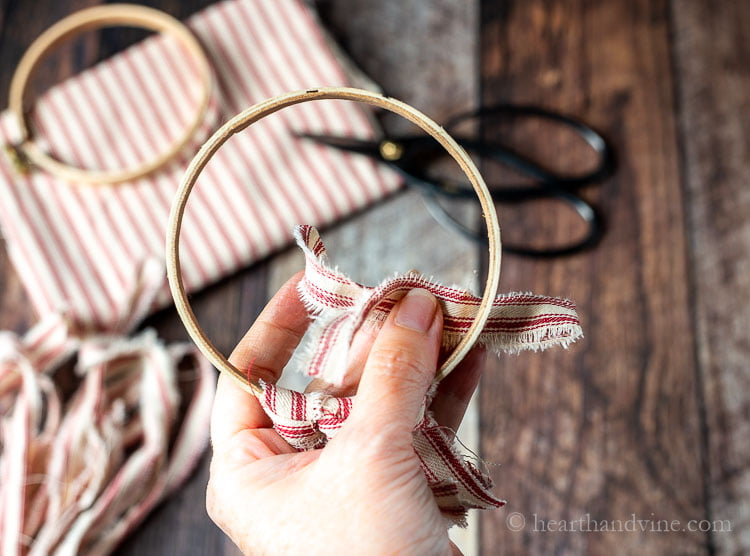 Fold the fabric strip in half with wrong sides together. Then place it under the hoop with about 1.5 inches of the loop to the outside of the hoop.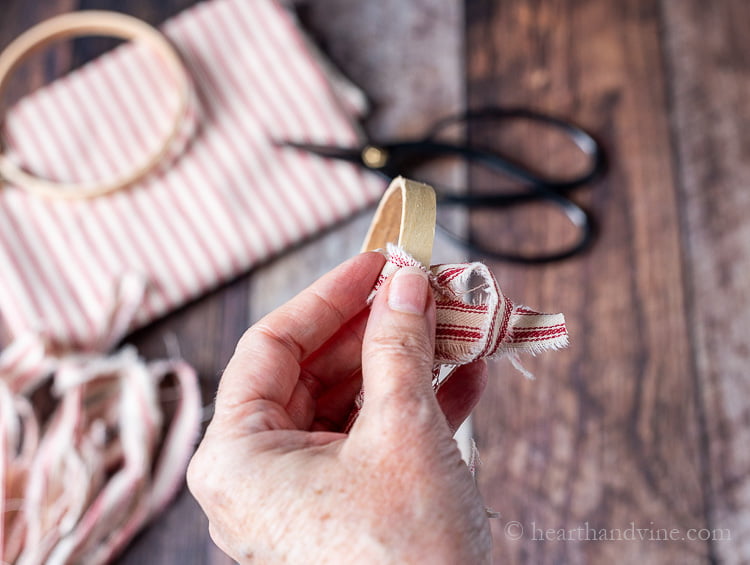 Then take the ends of the folded strip and thread them over the hoop and through the loop. Pull tightly and adjust as necessary.
Continue until you fill the hoop with fabric.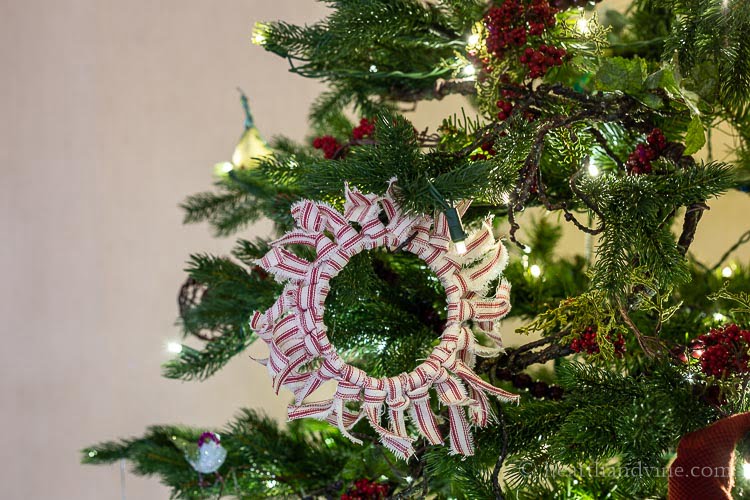 Hang directly on the tree or add a thin cord or ribbon and use it to hang the wreath on the tree.
Rag Wreath Ornament - Style 2
You can also simply tie the strips of fabric in a double knot around the edges of the embroidery hoop. In this case, you will have ends of the fabric on both the inside and outside of the hoop for a different look. Even though I used the same size hoop I needed a few more pieces of fabric to make this wreath. The number of pieces will also depend on the weight and thickness of the fabric you use.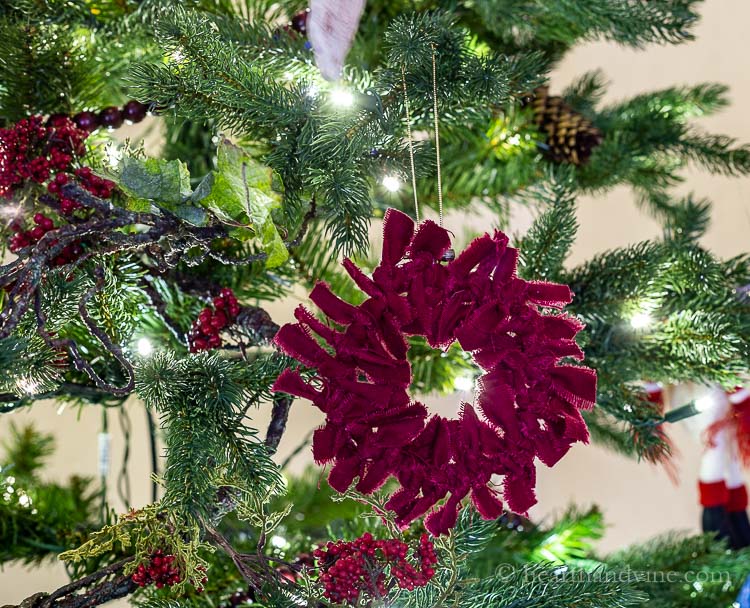 What Kind of Fabric Should You Use?
The first one is heavy cotton ticking fabric and the one shown above is deep red cotton flannel.
You could use any kind of fabric that you have available. However, I like working with cotton because it's sturdy and stays in place. Softer silky fabric will work but may be a little harder to cut or work with and may require some finagling.
Also, the two examples I've shown are pretty basic. You can get creative by mixing up patterns and colors for a unique rag wreath ornament. I think using fabric in different patterns in the same color family would be a fun idea to try.
Alternate Hoop Ideas
If you don't have any mini embroidery hoops and don't have time to purchase them, try other things you may have in the house such as mason jar rings. Or just cut a circle out of thick cardboard.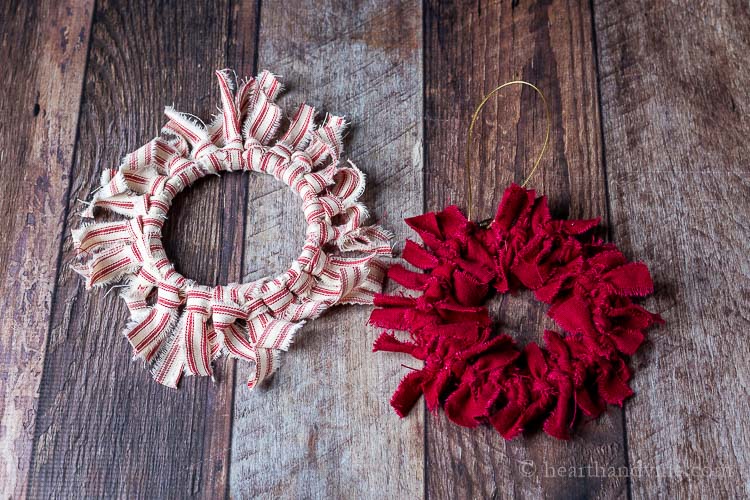 This simple Christmas craft is easy enough for the kids to try. It might be a great activity to do with them on Christmas Eve or Christmas day. Then everyone can go home with their own little creation.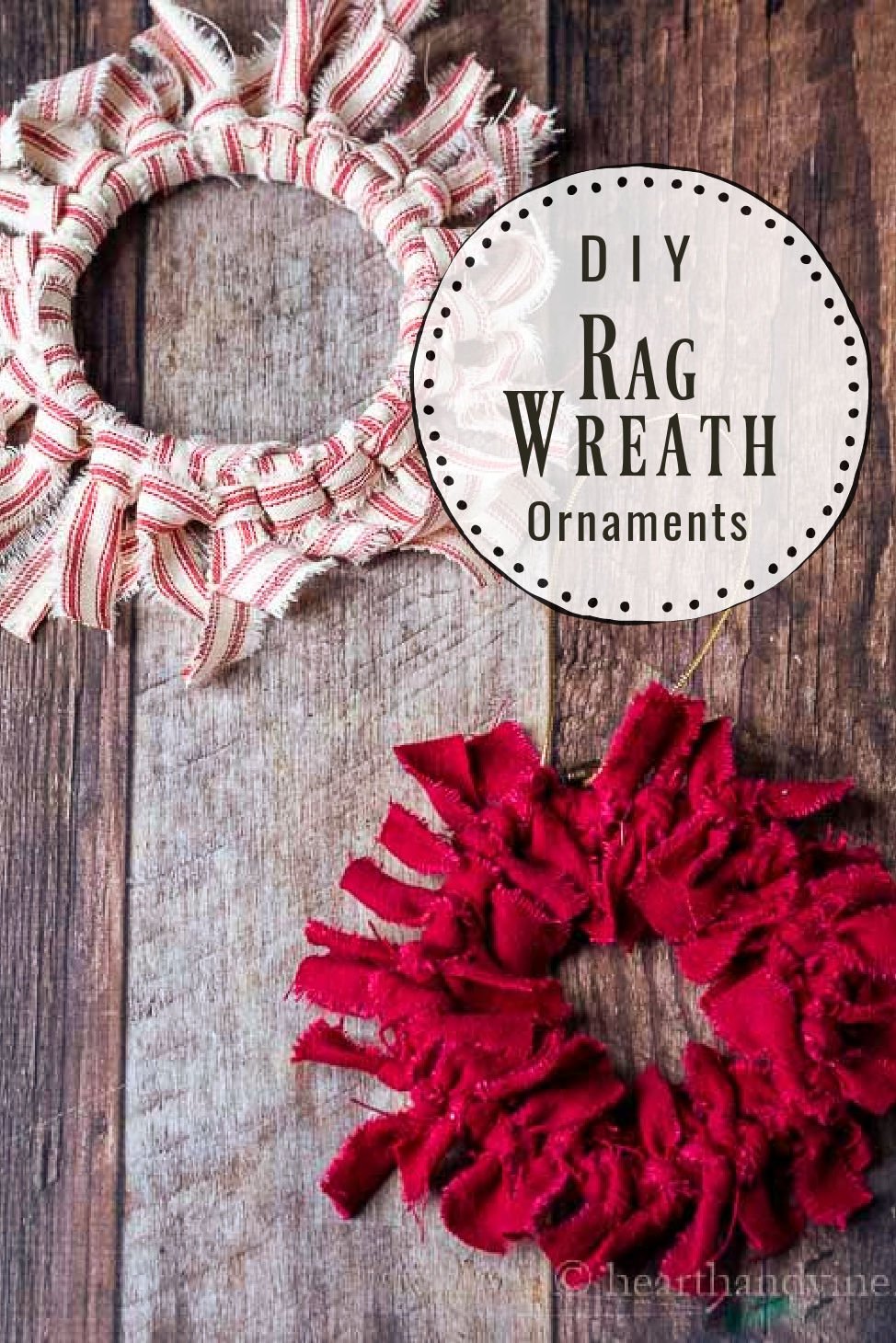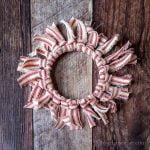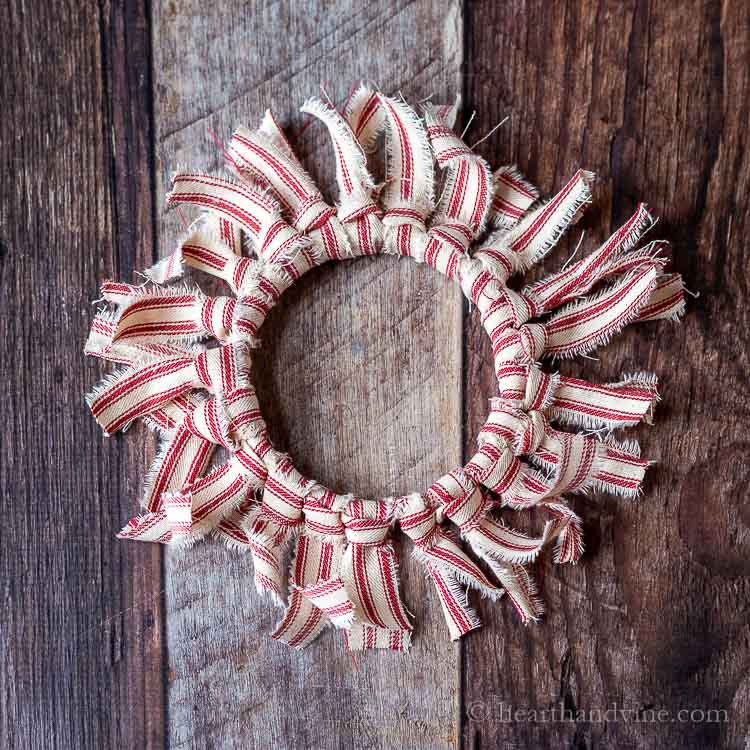 Print
Rag Wreath Ornament
Use scraps of fabric and a mini embroidery hoop to create a pretty ornament for your tree. Easy and safe enough for kids.
Materials
Scrap fabric

Mini embroidery hoops

Ribbon

optional
Instructions
Cut or rip pieces of fabric about 1/2 inch by 8 inches long.

Fold the strips in half with the wrong sides together.

Place the fabric under the hoop with the loop end sticking out about an inch.

Bring the ends of the fabric up and over the hoop edge and through the loop making a knot.

Adjust as necessary.

Continue until you fill the hoop.

Hang on the tree as is or add a loop of ribbon for hanging.
Notes
You can also make a similar wreath with shorter pieces that are only 6 inches long. With these, you can simply make a double knot over the hoop edges giving you fabric on both sides as illustrated with the red wreath above.