Make good use of all your scrap fabric by creating a spool of twine that you can turn into a colorful fabric twine plant hanger.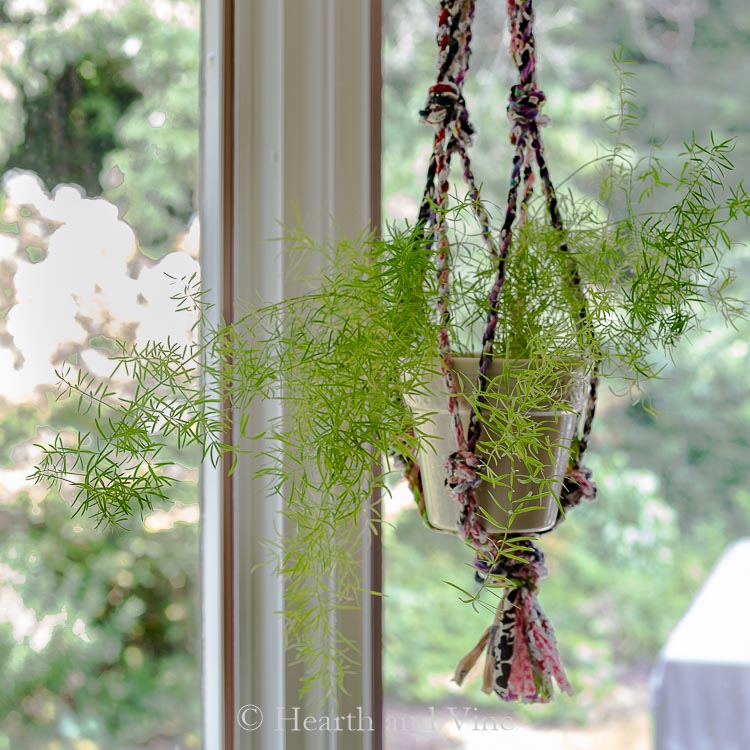 Vertical gardening has become hugely popular lately. It's no wonder because many people love plants, but they don't have space for them to grow.
Hanging your plants gives you more room for your plants, especially beautiful vining plants like String of Hearts.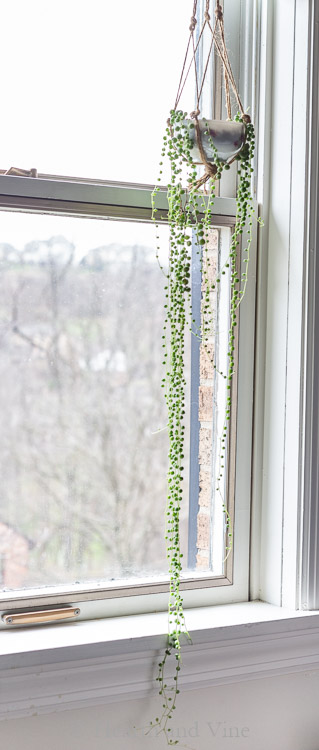 This can be easily done with twine. In fact, I wrote about using basic garden twine to hang a teacup planted with string of pearls. As you can see from the image above, it's still going strong.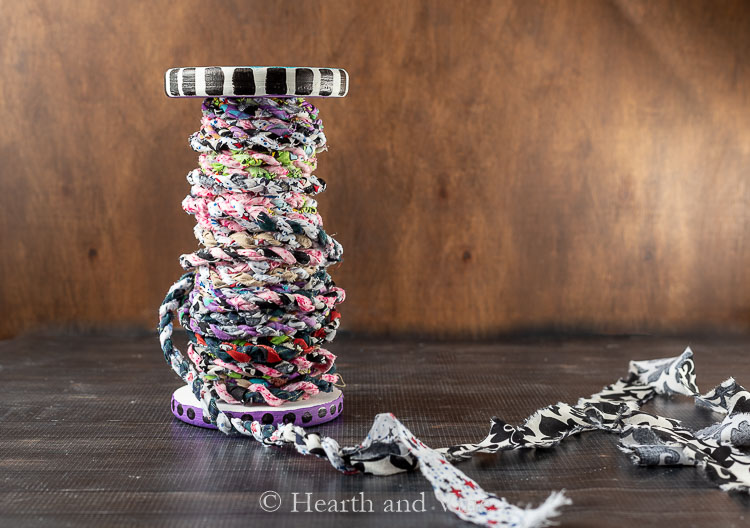 However, recently I've enjoyed making fabric twine. It's so fun and colorful and easy to do. I like to make it while I'm watching TV in the evening.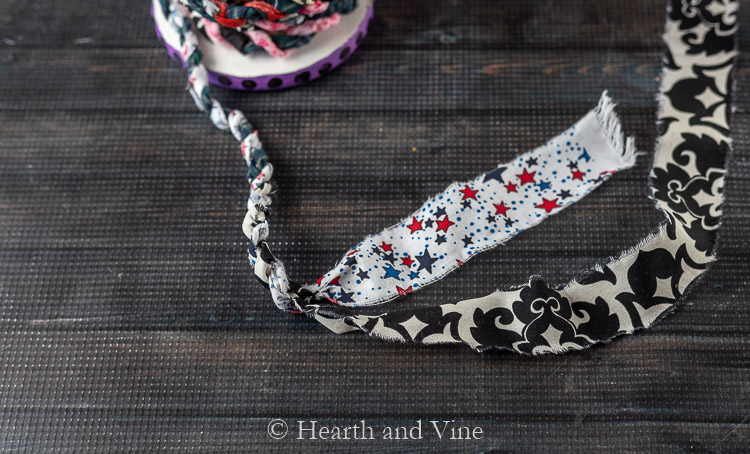 You can find videos on this craft all over the net. Basically, all you do is rip strips of cotton fabric in approximately 1-inch widths.
Start with two strips. Make sure one is considerably longer than the other to give the twine strength.
Take the ends of your strips and make a knot. Then twist the top strip of fabric to the right about 3 times tightly. Then twist it over the bottom strip. Repeat over and over.
When you get to an end add a new strip of fabric by rolling it up and nesting it into the end of the short strip. Twist it tightly to the right as before and bring it over the bottom strip, and continue.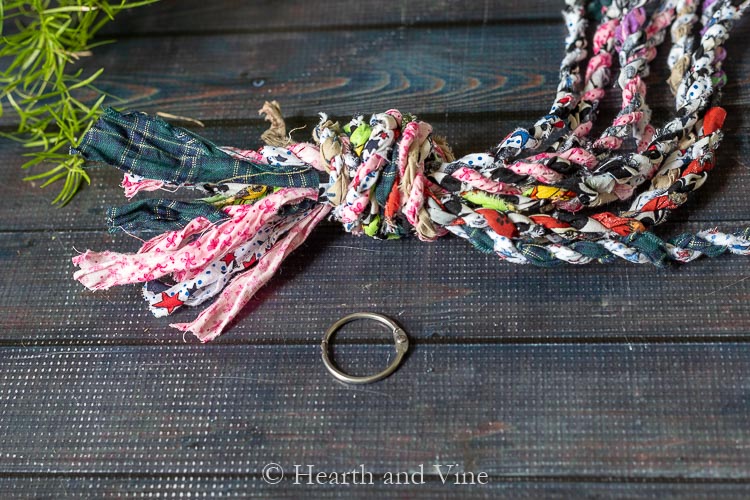 How to Make a Fabric Twine Plant Holder
Start by cutting 8 lengths of twine approximately 4.5 feet each. (this length can be shortened or lengthened depending on your pot or preference)
Tie them together at one end with a simple overhand knot.
Use a basic binder ring to slip into the knot for hanging. If you don't have a binder ring handy any large durable ring will do. Just set it inside as you tie the knot if it doesn't open.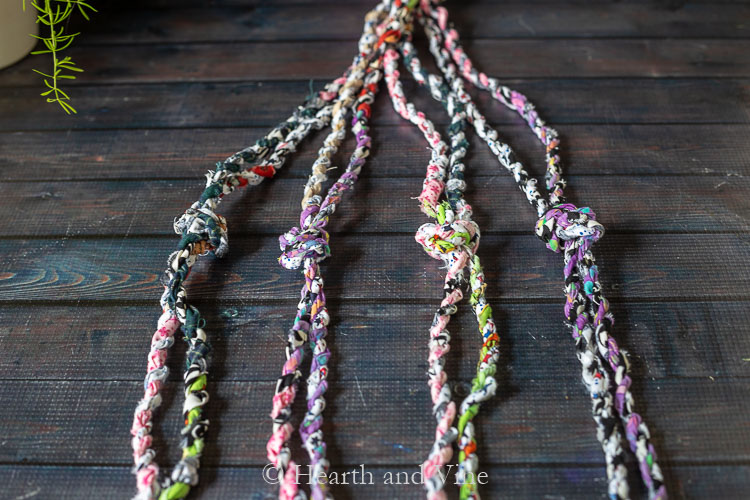 Next, separate the twine into four groups of two.
Tie another overhand knot in each pair about 12 inches from the top knot.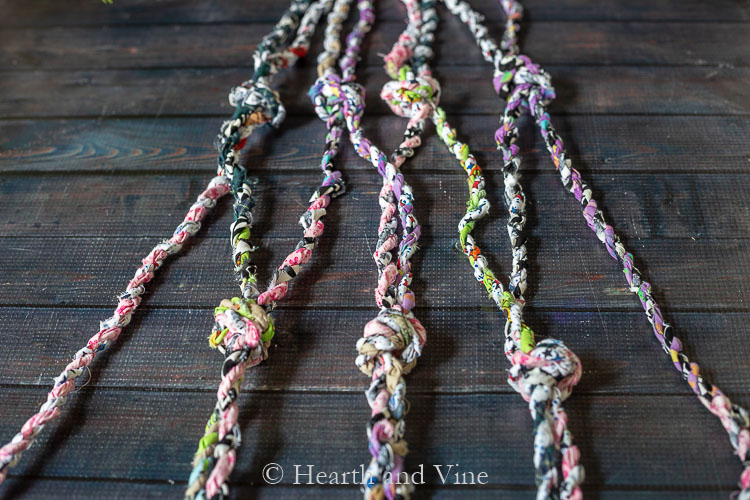 Then tie a second knot about 10 inches below each first knot, this time grabbing the two adjacent twine lengths.
Then tie the two outside lengths at the same height.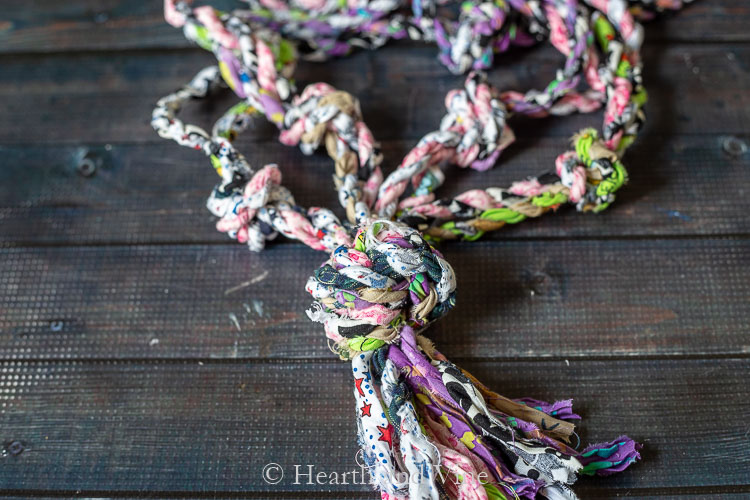 Finish by tying a large base knot at the bottom. Trim off any excess or straggly looking fabric pieces.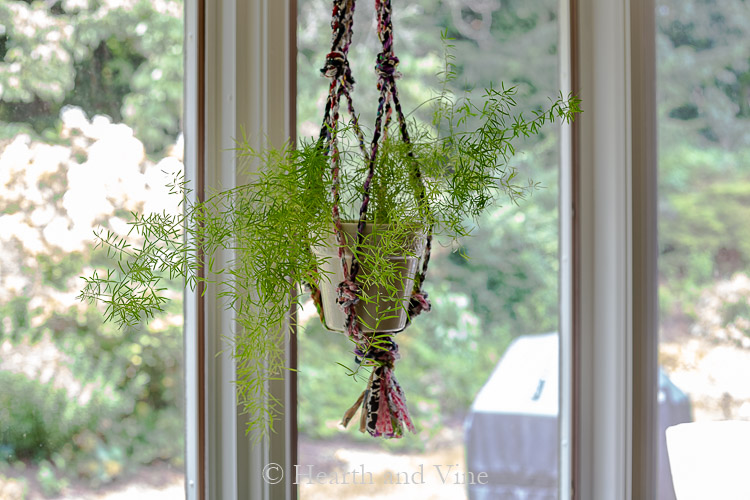 This length works perfectly for my asparagus fern and will allow it to branch out and grow well in our dining room window.
Here's what it looks like with a much smaller pot. It works and I do need one for my string of hearts plant. But, I think it would look better if the hanger was smaller with the knots closer together for this small pot.
Either way, you've now got the basic idea.
I'm looking forward to making more fabric twine hangers and seeing what else I can craft with this fun recycled material.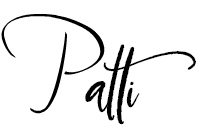 P.S. I think it's great fun to recycle old fabric and materials. You may like this Fall Wreath I made with old flannel shirts, or this Handmade Ribbon from leftover drop cloth material. Find them and much more on my DIY Projects Page.
Click Here to Save to Pinterest!