Learn how to use bleach to reverse tie dye your t-shirts and other clothing to create a fun inexpensive new look.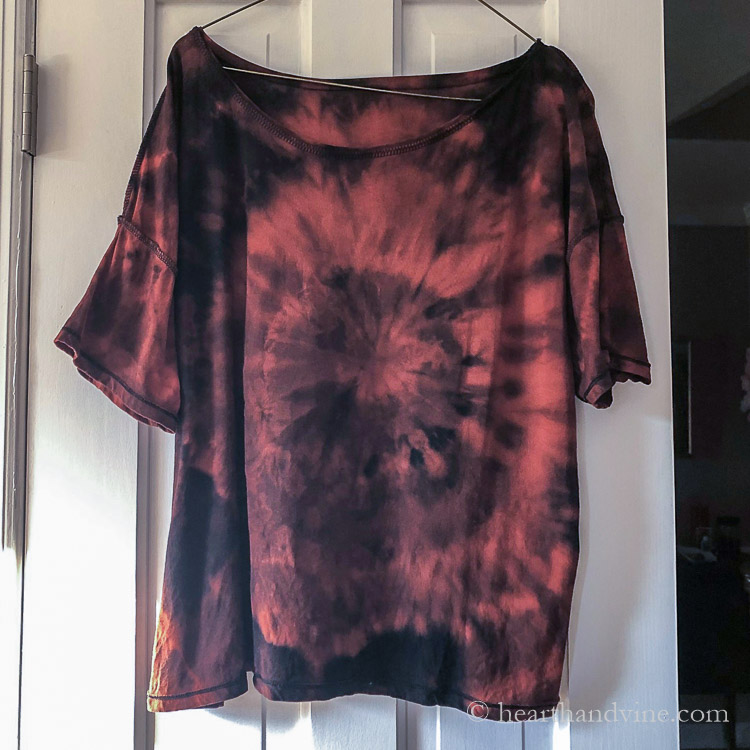 This tie dye t-shirt was created using bleach.
Reverse Tie Dye Technique
I had not heard of reverse tie dye until my daughter showed what she did with her old tennis team hoodie. It was all black originally and she was able to create this almost camo print with bleach.
I tried this at home and used a 50/50 bleach to water solution just like she did.
However, it just didn't work at all. I even tried 100% bleach but nothing happened. I thought maybe the t-shirts I was using had some super strong dye. Then one day I went to Dollar General and bought a black men's t-shirt and a small bottle of new bleach.
Safety Note: You definitely will want to wear gloves for this project. You also may want to work outside or a least open a window or use a fan in your work area as bleach fumes are toxic.
I wet the t-shirt first (per my daughter's suggestion) wrapped up the t-shirt with rubber bands and set it in a basin. Then I took an empty water bottle and filled it halfway with bleach and the rest water.
I started to pour it over the t-shirt and it almost immediately changed colors.
As it turns out my bleach had expired! Who knew?
After about two minutes I removed the rubber bands and rinsed out the t-shirt. Then I ran the shirt through the washing machine and dryer.
Here is the result. Pretty interesting but much more faded than I wanted.
So I went back to the original t-shirts to try again. This time I only let the bleach solution on for about 30 seconds before rinsing.
Better, but still very faded.
On this last one, I only let it sit for 5 seconds and immediately rinsed it. I like this look the best.
I was disappointed that my experiments were so red and orange and not the shades of brown and grey that my daughter was able to get. She also bought a new bottle of bleach. However, I believe she created hers in a bathtub and set the wet hoodie in a 50/50 solution of bleach and water instead of pouring it over the shirt as I did. Maybe that made a difference.
Regardless, it was a fun experiment. This is a great way to bring some life back into older clothing. Some that you're not wearing or may have faded. Or you could try it with other colors other than black.