Ruby Cascade is a variety of Peperomia. A houseplant for most, that has beautiful red stems and a cascading growth habit you'll love.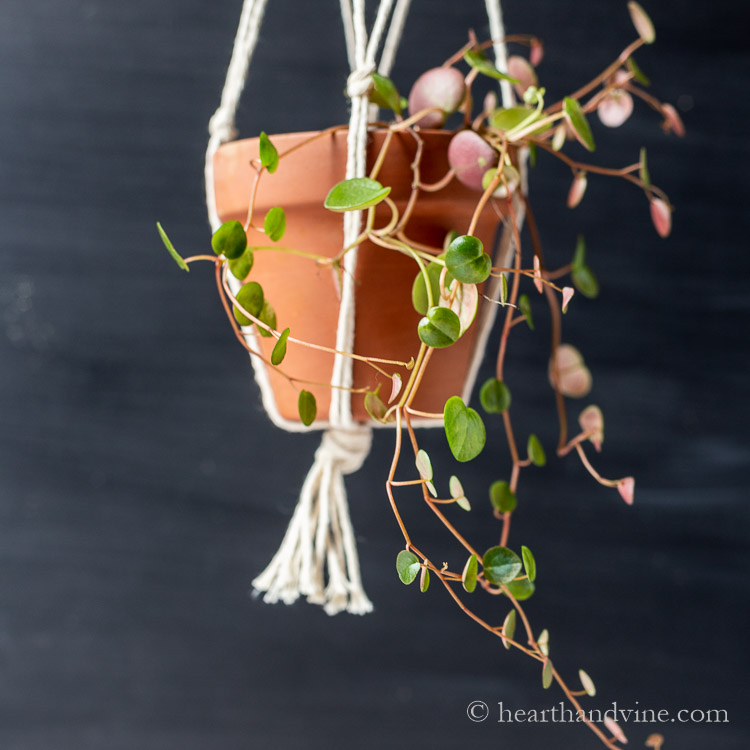 When I first spied an Angel Vine Plant on Pinterest my daughter thought it was Peperomia Ruby Cascade. So she bought me one for Mother's Day.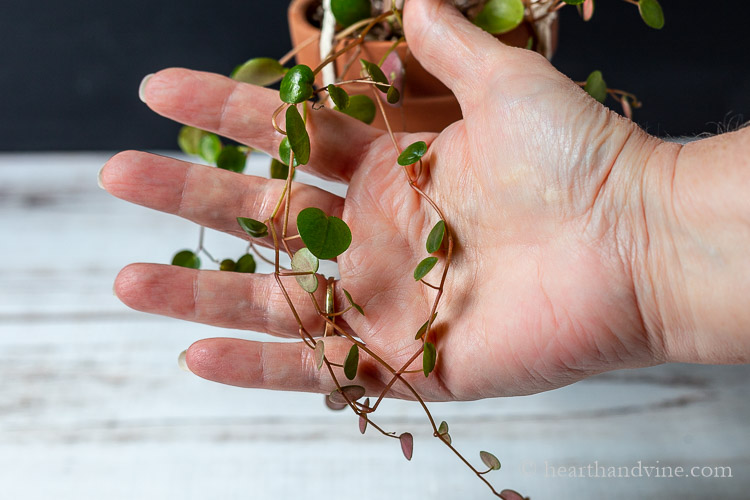 It's super sweet and has these delicate red vining stems. These stems are more succulent and less wiry than the Angel Vine Plant.
Also, the backs of the leaves are a pretty red-purple color similar to a string of hearts plant. Again, I would say that Ruby Cascade is a little more succulent than the string of hearts plant in the leaves and the stems.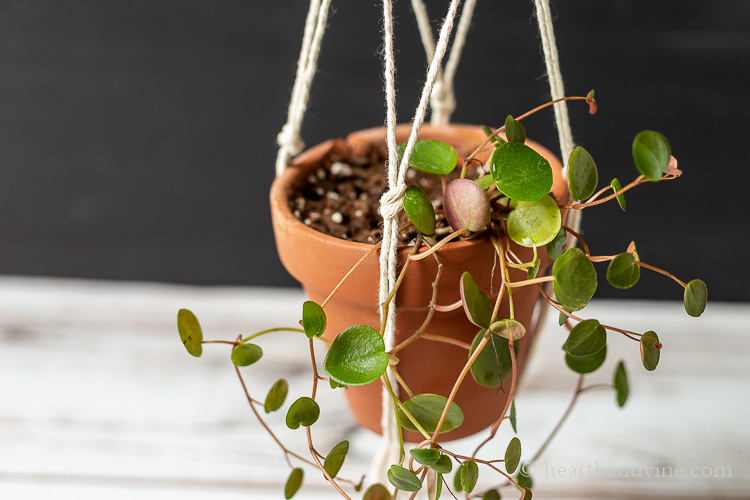 I haven't had it for very long but it's been growing really well for me. I have it hanging in a north-western facing window with supplemental grow lighting nearby, hanging on my industrial pipe planter hanger.
Ruby Cascade Growing Tips
Light Needs
I had trouble finding information about growing this particular Peperomia. One article states that Ruby Cascade needs bright indirect light to grow well. That's probably why mine is doing well in a northwest-facing window.
Watering
Peperomias are tropical succulents so they don't need a lot of water. However, I found some people are letting their plants totally dry out between watering and others are watering as much as twice a week? That's so confusing. However, that's one of the things about gardening.
You kind of have to figure out what works for your plants. Never, let them sit in water. Fast draining soil is the best for the majority of houseplants. For me, once a week watering is best for most of the year. In the winter I tend to cut back my watering to every other week. These rules of thumb will vary depending on the humidity and heat of your home, the soil, and the age of your plants.
Keep an eye on them. For this plant, you can try the Taco Method shown in this video. Basically, if the plant needs water you should be able to easily fold the leaf like a taco. Otherwise, the leaf should be pretty plump and not fold easily.
Such a beauty. I plan to propagate some of the stems, adding them to the top of the pot to make a fuller overall plant in the near future.