Angel vine is the common name for Muehlenbeckia complexa a pretty wiry vine native to New Zealand that makes a beautiful houseplant.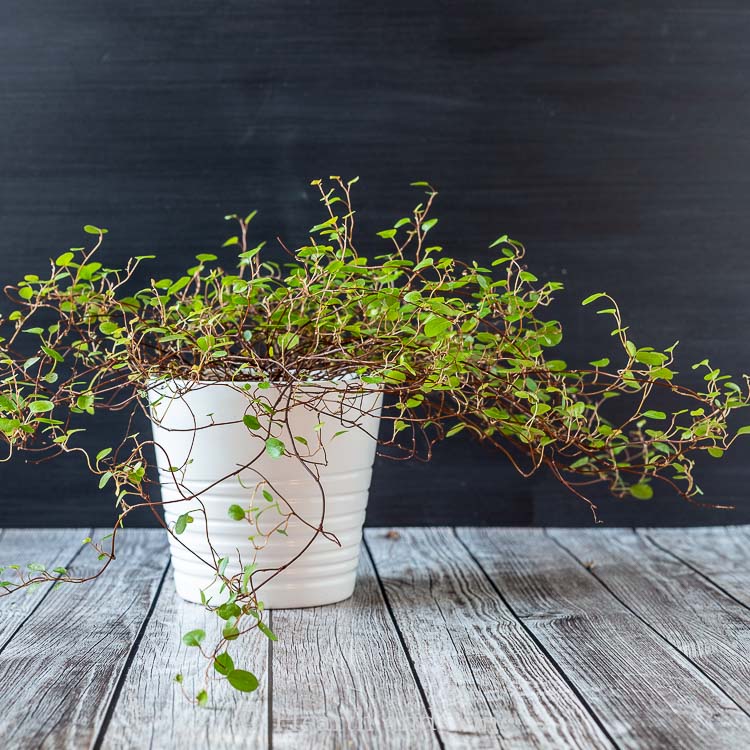 Ever since I saw this plant growing in an old white urn online I knew I had to have it.
I asked my daughter if she knew what it was and at first, she thought it was Peperomia Ruby Cascade. However, I later found out that it was Muehlenbeckia complexa commonly known as Angel Vine.
This post contains some affiliate links (that means if you make a purchase after clicking a link, there's no additional cost to you, but I will earn a very small commission. ) i.e. as an Amazon Associate, I earn from qualifying purchases. Click here to read my full disclosure policy.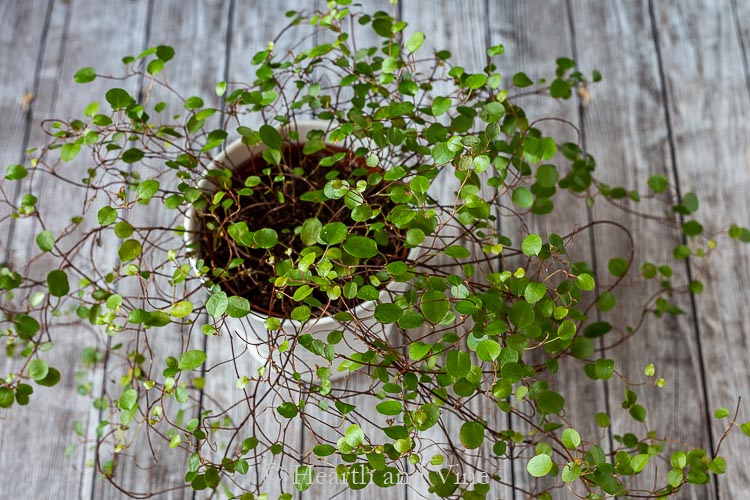 This plant, Muehlenbeckia complexa
, like most plants has numerous common names. Angel vine, maidenhair vine, and creeping wire vine are the most popular. It makes sense because as you can see it has this lovely vining habit with delicate little leaves.
My plant is relatively new but it's already growing well and I can't wait to find an old white urn to grow it in. I always have a running "wish list" going for antique stores, thrift stores, and garage sales. One large white urn is now on that list.
I love the look, and I think would make a great hanging plant too.
Angel Vine Care Indoors
Light Needs - Like many houseplants this one enjoys indirect light. Place near a window that gets good light. I have mine near an east-facing window. However, if the light is strong (bright southern or western facing windows) you may need to have it filtered through a curtain sheer or place the plant further back in the room.
Watering Needs - I've read that this plant likes humidity but it doesn't seem too fussy. Water when the top is very dry. Like most plants make sure it drains well and never sits in water. I found that my angel plant looks pretty dry about every 4 days at my house. That's a little more than most of my houseplants. Typically I water them once a week or less depending on the plant.
Maintenance - Trim as necessary. If you see any brown leaves or it looks too leggy to you feel free to give it a haircut.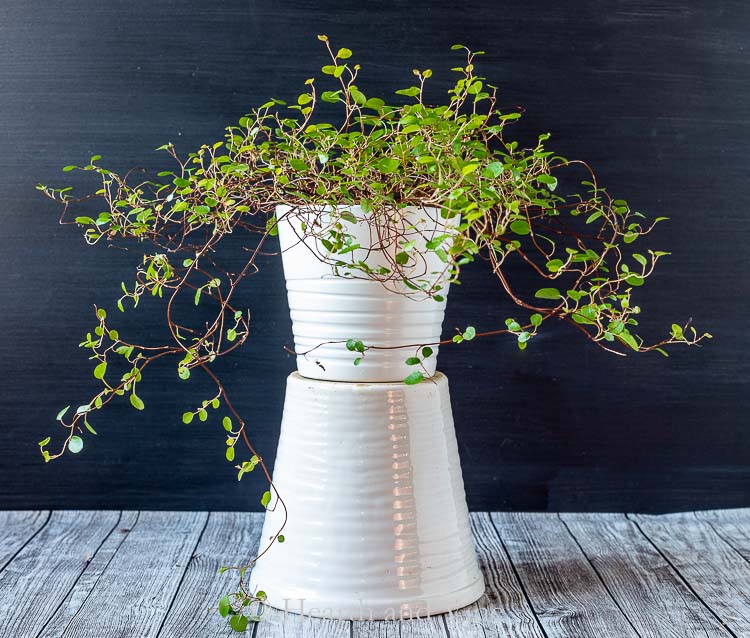 I still have mine in its nursery pot that I set in another white pot. See how nice it trails and vines down.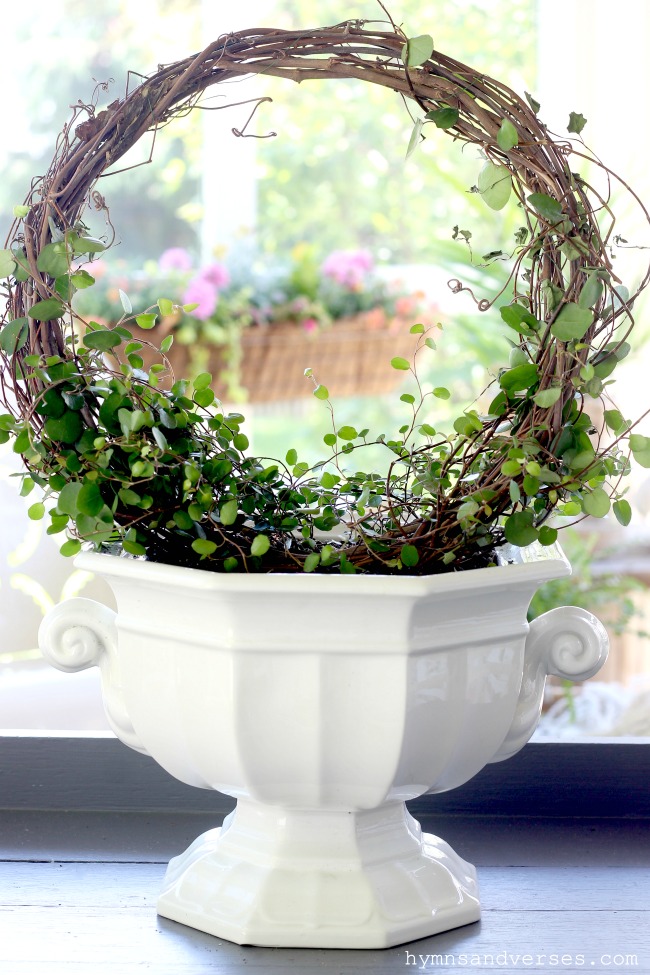 This vining habit also makes it a good candidate for making an angel vine topiary like this one from my friend Doreen from Hymns and Verses.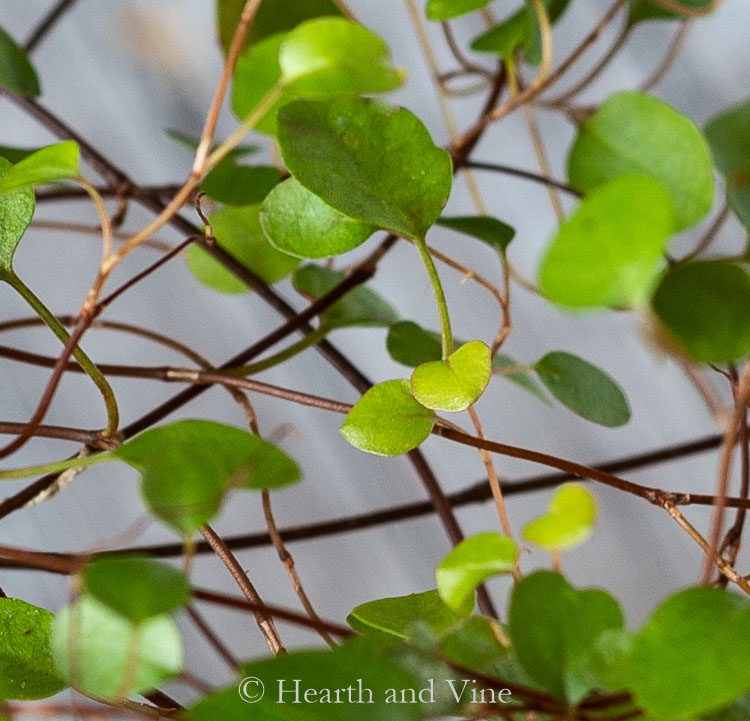 So far it's looking good and showing new growth.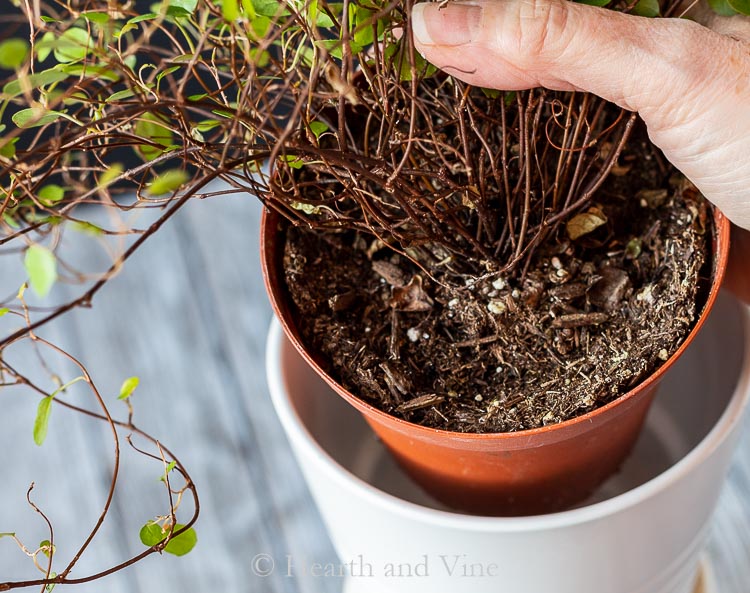 The soil is interesting. I don't know if you can really see from here but it looks like a tight mat of roots. I've been keeping an eye on it to see when it gets very dry at the top. Then I take it out of the white pot over to the sink for thorough watering.
Angel Vine Outdoors
I was surprised to read that this plant is considered an aggressive ground cover by some people living in warmer climates such as California.
I didn't even realize that you could grow this outdoors. However, according to Monrovia it's even hardy to my Zone 6 garden. Apparently it gets pretty white flowers in the summer too.
I have never seen anything like Muehlenbeckia complexa for sale at the nurseries around here. And, I think I might prefer it as a houseplant.
However, if it turns out to be a vigorous grower maybe I'll propagate some and add it to some of my garden planters outside or make my own topiary.
This might just be my favorite new plant.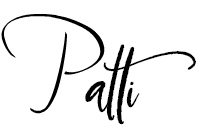 More Beautiful Houseplants:
Maidenhair Fern
Pelia peperomioides
String of Hearts
Pothos
Monstera deliciosa