The maidenhair fern is a great choice for indoor gardening. The most interesting fact is its ability to bounce back from the dead.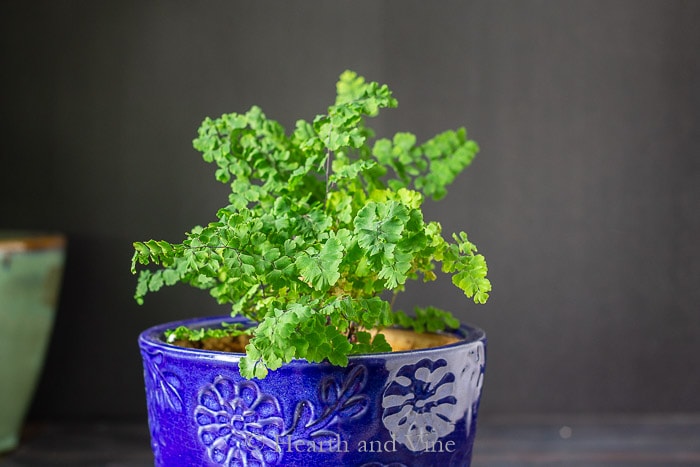 One of my favorite plants is the maidenhair fern. Though there are many species of maidenhair ferns, I particularly like Adiantum capillus-veneris for it's arching delicate fronds and the contrasting dark, almost black wiry stems. Many say that this plant is only hardy to zone 7a, but I do grow it in my 6a garden. It's somewhat sheltered and near the house, so maybe there is a small microclimate which allows it to thrive.
Maidenhair Fern
I also grow it in a pot on my shady front porch every year and bring it in for the winter.
Inside, it sits in my office near a sunny curtained window. At first it will brown up a little as it gets used to the transition.
I do is cut back the dying foliage and it bounces right back with new growth.
The name Adiantum capillus-veneris comes from the Greek "Adiantum" which means "not-wetting," the Latin capillus for "hair," and veneris for Venus, the goddess of love. This came about due to two characteristics of the plant. One is the fact that the surface of the leaves has a waxy layer which allows water to bead up, and the second refers to the shiny black stems that resemble a maiden's hair. So Adiantum capillus-veneris become commonly known as Venus Maidenhair, and also Southern Maidenhair, as the plant is native to the southern parts of the U.S.
One important fact: This plant hates to dry out. I water it every 2-3 days. If you forget to water it and it looks bad, try cutting it back and watering well. It has an amazing Lazarus effect of returning from the dead.
How great is that? I have also read that this fern has been used to treat a variety of ailments, like so many plants, but I'm just happy to enjoy its beauty.
You May Also Like:
Indoor Gardening – The Simple Pleasure of Houseplants
Monstera Deliciosa Care – Commonly Known As Swiss Cheese Plant
7 Succulent Tips and 5 Succulent Mistakes to Master