The maidenhair fern is one of the prettiest plants I've ever grown. This beauty can be grown indoors. Though many people think that it is difficult, it has an amazing ability to bounce back from the dead.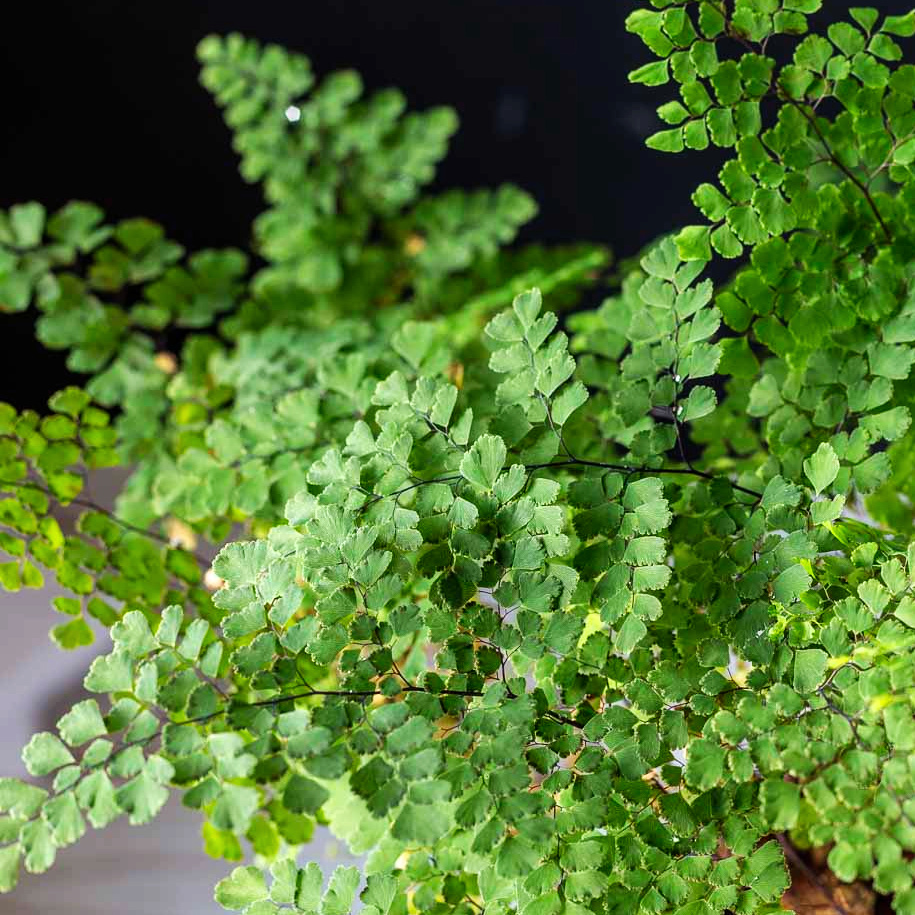 One of my favorite plants is the maidenhair fern. Though there are many species of maidenhair ferns, I particularly like Adiantum capillus-veneris (genus name) for its arching delicate bright green foliage and the contrasting dark, almost black wiry stalks or stems.
Many say that this plant is only hardy to zone 7a, but I do grow it in my 6a garden. It's somewhat sheltered and near the house, so maybe there is a small microclimate that allows it to thrive. I also grow it in a pot on my back porch every year and bring it in for the winter.
This post contains some affiliate links (that means if you make a purchase after clicking a link, there's no additional cost to you, but I will earn a very small commission. ) i.e. as an Amazon Associate, I earn from qualifying purchases. Click here to read my full disclosure policy.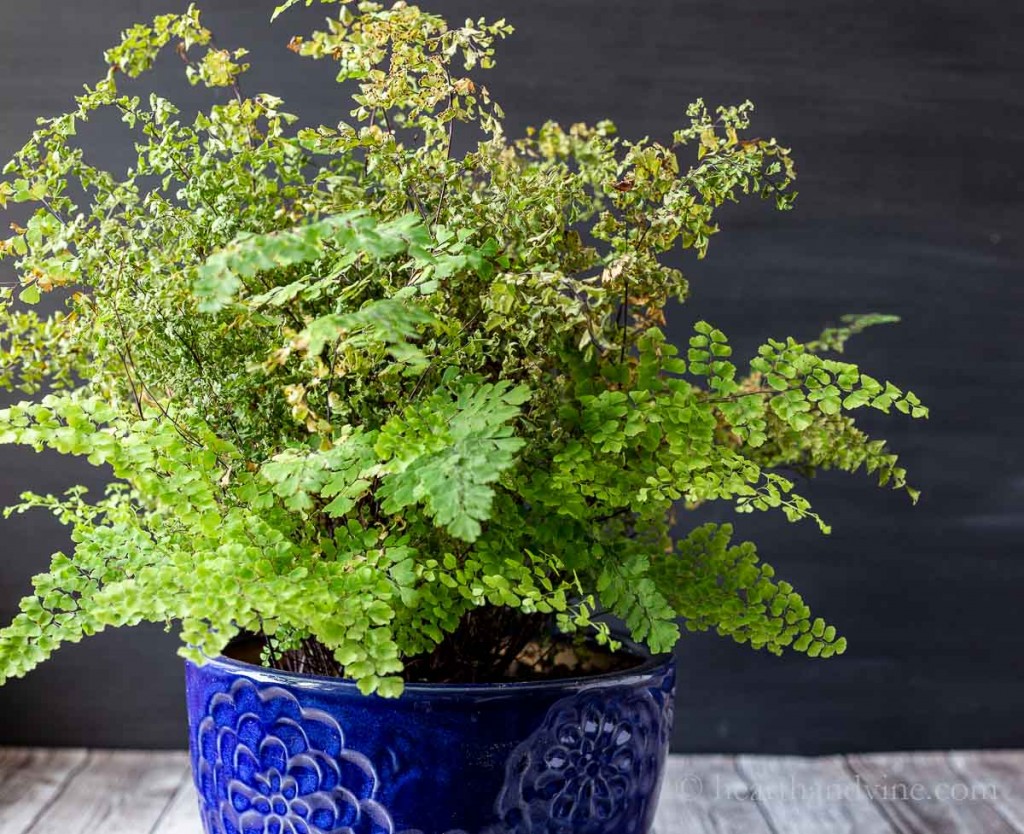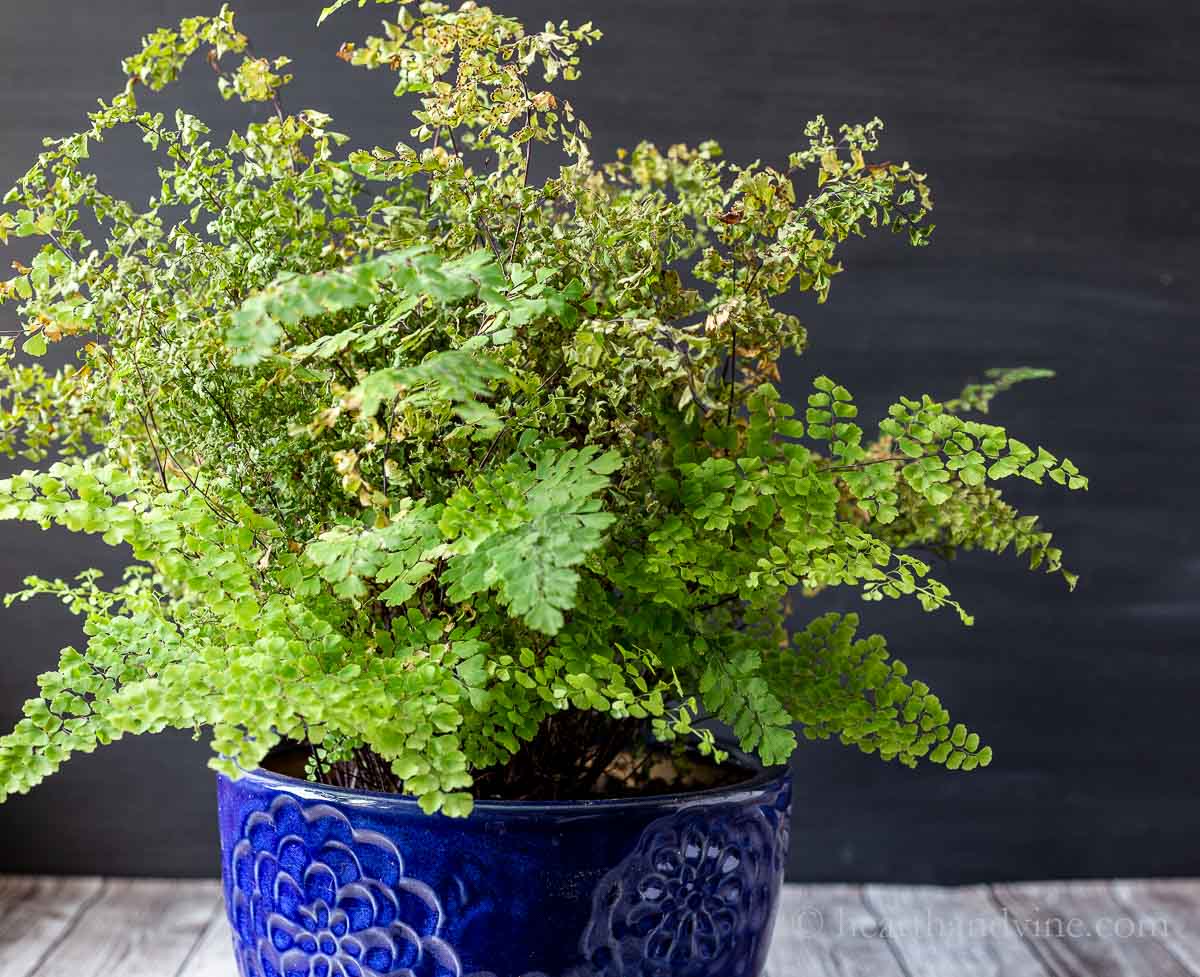 Inside, it sits in our dining room near the window with many other houseplants and some large grow lights. At first, it will brown up a little as it gets used to the transition.
All I do is cut back the dying foliage and it bounces right back with new growth.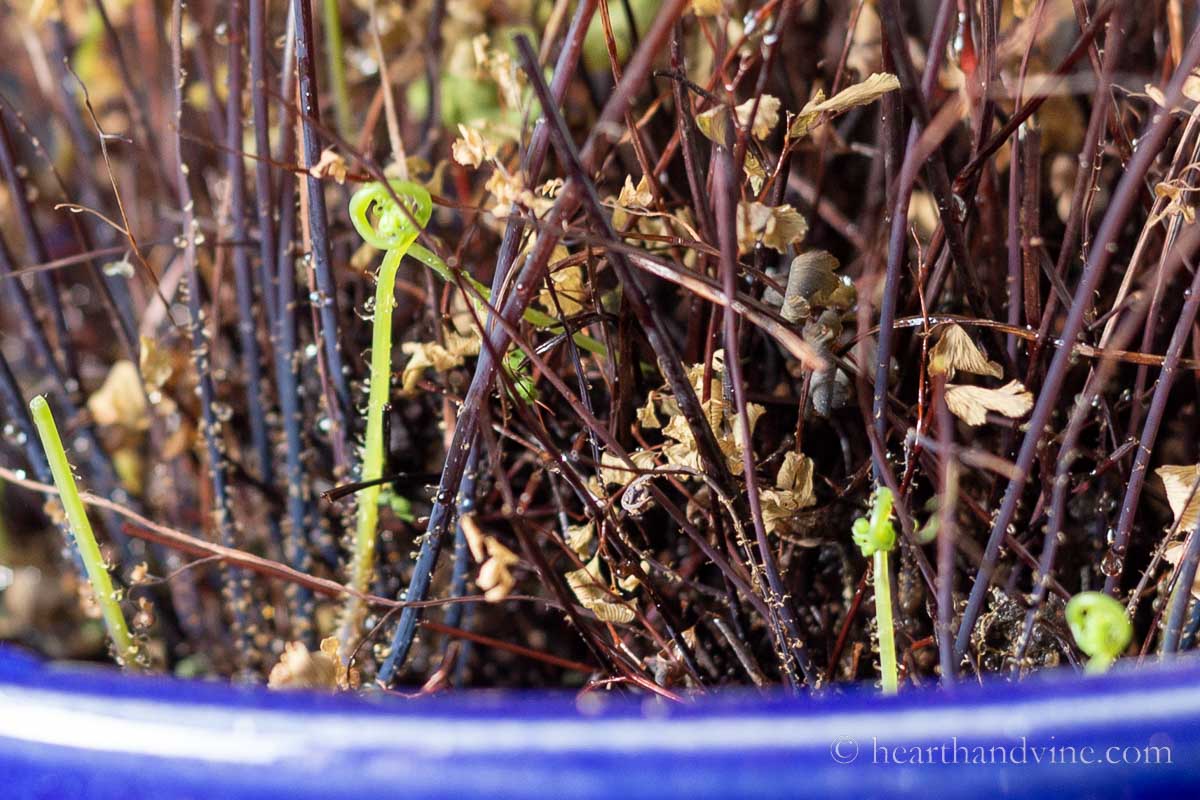 I think this is where many people give up and think the plant is dead. Try cutting back the foliage and see if it doesn't regrow for you first. This works for me every winter and once when we were away and my daughter forgot to water it.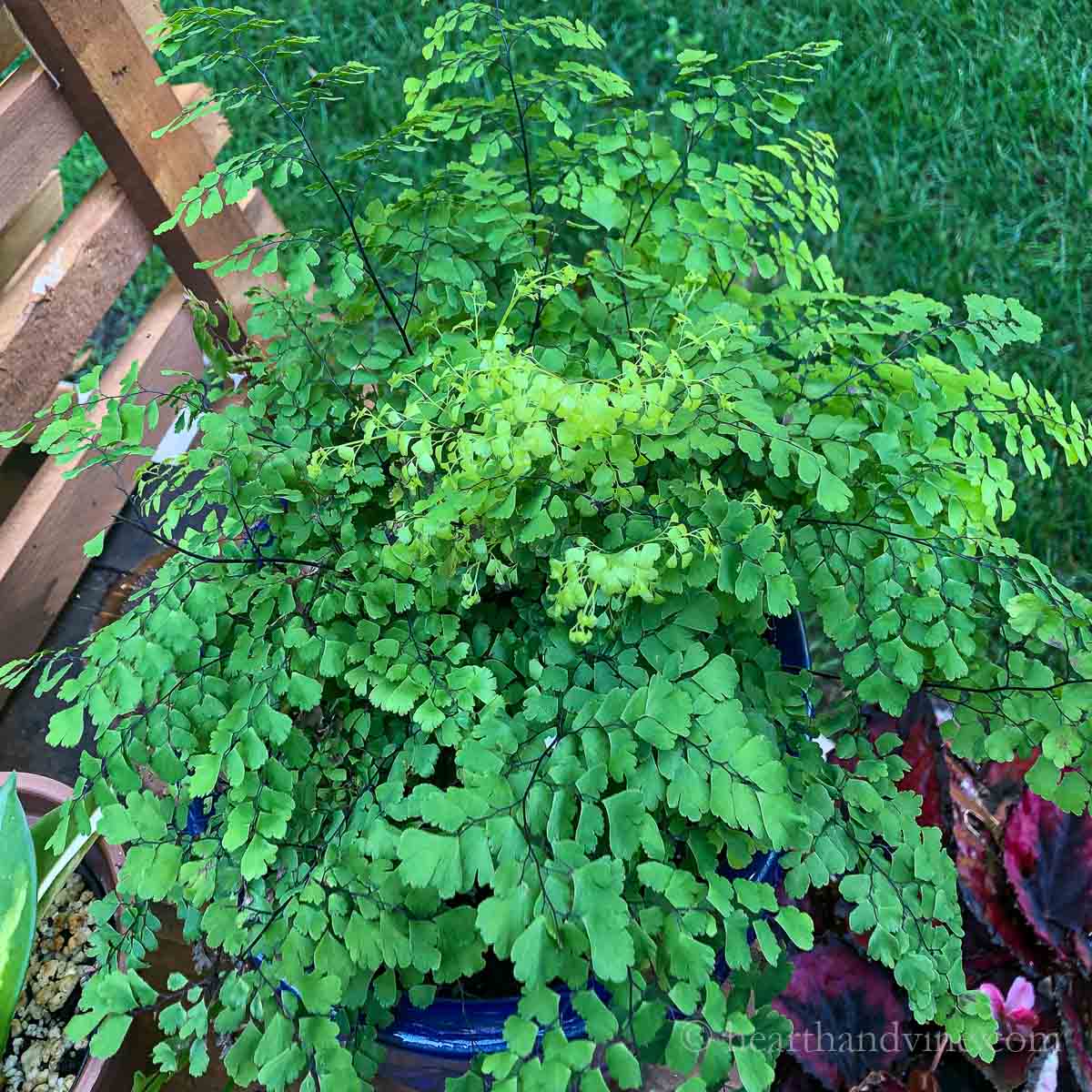 Scientific Name for Maiden Hair Fern
The name Adiantum capillus-veneris comes from the Greek "Adiantum" which means "not-wetting," the Latin capillus for "hair," and veneris for Venus, the goddess of love.
This came about due to two characteristics of the plant. One is the fact that the surface of the leaflets has a waxy layer that allows water to bead up, and the second refers to the shiny black stems that resemble a maiden's hair. So Adiantum capillus-veneris became commonly known as Venus Maidenhair, and also Southern Maidenhair, as the plant is native to the southern parts of the U.S.
Caring for Southern Maidenhair Fern
Watering Requirements
This plant hates to dry out. I water mine about every 3 days. It also loves moisture and humid air which can be a problem in the winter. This is probably why some people grow them in bathrooms with a window. Another solution is adding a pebble tray underneath the plant or placing one in a terrarium to increase the humidity.
Interesting Fact
If you forget to water it and the maidenhair fern looks like it's dying, try cutting back any brown foliage. It has an amazing Lazarus effect of returning from the dead.
Note: Even though this plant loves water and high humidity, it does not like to sit in water. Most plants will suffer if left to sit in water. Make sure it's in a pot with drainage holes and drains well after watering and pour out any extra water left in the saucer.
Light Requirements
Like many houseplants, the Maidenhair Fern likes bright indirect light, not direct sunlight. This means you should have it near but not in a window or light source. If you have bright direct light use a sheer curtain to filter some of the light. If left in direct sun the leaves may burn. You can also use supplemental full spectrum lights
if you want to grow one somewhere in your home that just doesn't get enough light.
In summary, if you love the look of this pretty fern don't be afraid to try one in your own home. They are a little finicky but once you get them established you'll be good to go. And don't forget, if it looks like it's dead, try cutting back the fronds and see if it doesn't just bounce back.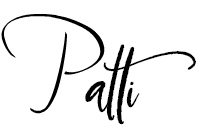 ---