Here's a quick and easy Christmas gift project. Create a salt and pepper gift in one grinder for all the foodies in your life.
I was given a gift of a similar salt and pepper mix in one of those disposable grinders. It turned out to be one of my favorite "go-to" things in the kitchen. I'd grind a little on a hard-boiled egg, over a baked potato, and in a bowl of soup. It sits on the counter next to the stove for a pinch of salt and pepper for whatever I am cooking. So I thought why not make some to use as nice holiday gifts?
This post contains some affiliate links (that means if you make a purchase after clicking a link, there's no additional cost to you, but I will earn a very small commission. ) i.e. as an Amazon Associate, I earn from qualifying purchases. Click here to read my full disclosure policy.
Salt and Pepper Grinder Gifts
The original salt and pepper mix appeared to have more salt than pepper so I decided to make this gift close to a 2:1 salt to pepper ratio.
I bought sets of grinders and used them individually for the mix. Each grinder held about 6 oz. So after a bit of trial and error, I came up with the mix of 1/4 cup of peppercorns to 2/3 cup of salt for each grinder.
Once I mixed up the salt and peppercorns I used a simple piece of paper to make a funnel. This made it easy to fill the jars.
I love the look of the rainbow peppercorns in this pretty grinder.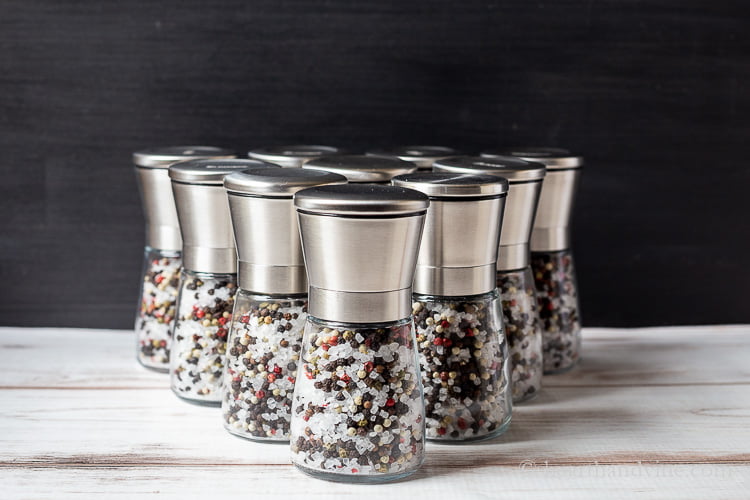 I ended up with 12 salt and pepper grinder gifts and the cost came in just over $10 each. Not bad for a small Christmas or stocking gift.
Here are a few simple tags that you can tie on if you'd like. Just click on the image above and you will be redirected to a pdf page of the tags to print out and use as you wish.
Since my family is a bunch of foodies I know this will be a big hit.
If you have a lot of food lovers on your list you may also like this homemade mixes to give as gifts post with several other foodie ideas. 'Tis the season.