A recipe with salted caramel chocolate, pecans, pretzels and a few more goodies. It's easy to make and freezes well too.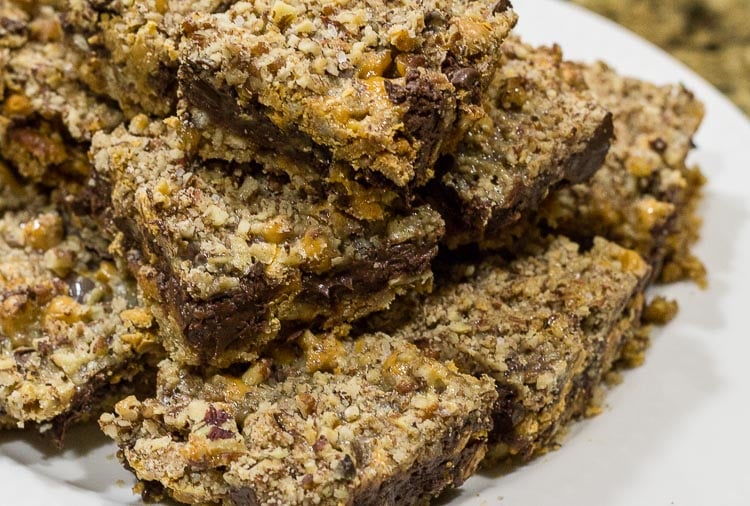 This decadent salted caramel chocolate dessert came to me while thinking of something to bring to my sister's house for a Saturday night football game. She already had a bunch of great food prepared but I always like to bring something, and the game didn't even start until 8pm. So, I asked her if she would like me to bring something sweet because by that time of night I am usually craving a little chocolate.
So I looked through Pinterest and some of my favorite cookbooks. One trend I kept seeing was salted caramel, and I really loved the salted caramel chocolates that my husband bought me for Christmas so I thought maybe I should make something with this trendy topping. So with two ingredients in mind, salted caramel and chocolate and not much time I thought about seven layer cookies. You know, the recipe that has been around forever. You can always find it in a local church or neighborhood cookbook. By now I know the recipe by heart.
Salted Caramel Chocolate Bars
To change it up I used pretzels for the bottom layer and drizzled salted caramel on top. They turned out great and it was so easy I will certainly make them again.
Salted Caramel Chocolate Pecan Pretzel Bars
Ingredients
2 cups crushed pretzels
2 T sugar
1 stick of butter melted, 1/2 c
1 12 oz bag of chocolate chips
1 12 oz bag of butterscotch chips
1 can of sweetened condensed milk
1 cup finely chopped pecans
1/2 c salted caramel sauce
Instructions
Preheat oven to 350 degrees
Coat a 9 x 13 inch glass pan with cooking spray
Mix chopped pretzel pieces, butter and sugar together and press into the bottom of your pan
Sprinkle chocolate and butterscotch chips over top
Drizzle the sweetened condensed milk over entire pan until empty
Sprinkle pecans evenly
Drizzle caramel over the top for the final layer
Bake for 35 minutes.
Cool and cut into bars
Freezes well.