Learn some easy recipes for wonderful smelling homemade cleaners that you can use in your home, made with simple ingredients and essential oils.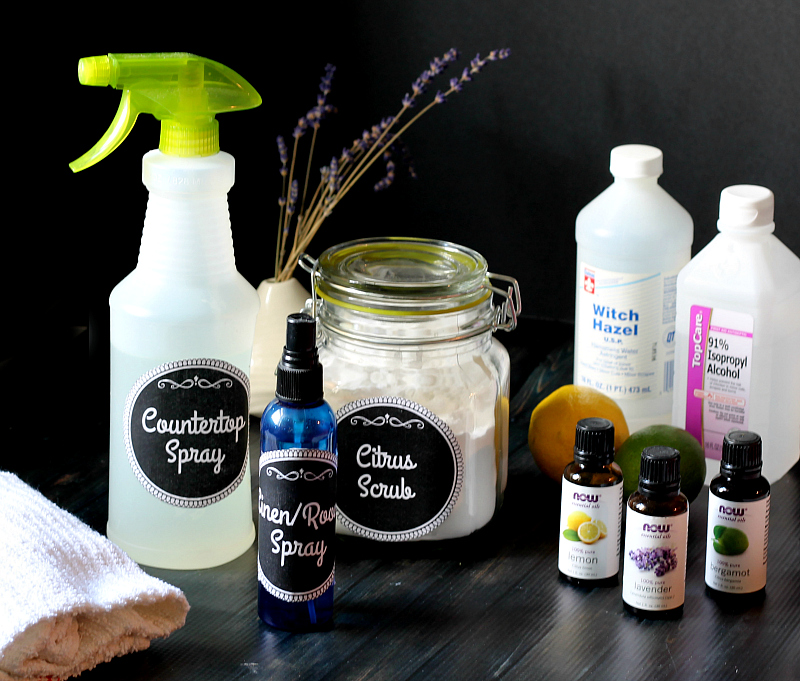 I don't know if it's because I have allergies or just a sensitive nose, but sometimes I just cannot stand commercial cleaners. Still, I do want to make sure that my home is clean and safe from bacterial problems, especially in the kitchen.
So, I've researched and tested some homemade cleaners using essential oils and other simple ingredients to be able to clean well, without dealing with harsh chemicals.
This post contains some affiliate links (that means if you make a purchase after clicking a link, there's no additional cost to you, but I will earn a very small commission. ) i.e. as an Amazon Associate, I earn from qualifying purchases. Click here to read my full disclosure policy.
Homemade Cleaners with Essential Oils
My two favorite essential oils are lemon
and lavender
. Lemon because nothing could smell fresher, in my opinion, and lavender because it is the queen of all essential oils and provides a calming effect on the mind and body.
Both are great for cleaning because they are anti-fungal, antibacterial, and antiviral. I have also started using bergamot
which is the scent of an orange, native to the Mediterranean, and used to scent Earl Grey tea. I just love the way it smells.
Countertop Spray
I use it every day on our granite countertops. You probably have heard that vinegar and citrus are bad for your granite countertops, but a little bit of essential oil is not acidic and should be safe for granite.
Pour the alcohol, detergent, and essential oils into the bottle. Then fill the rest of the way with water. Shake it up and spray.
Citrus Scrub -Baking Soda and lemon essential oil
Use this as a great gentle scrub for sinks and tubs. It's also good as a carpet freshener. Just sprinkle lightly on the carpet wait for about 20 minutes and then vacuum.
box of baking soda
Lemon essential oil
Find a nice glass jar. I bought this one at dollar general but even a recycled pickle jar works well. Then pour 1/3-1/2 of a box of baking soda in the bottom. Next liberally shake several drops of lemon essential oil, 10-20 drops. Repeat until the jar is full.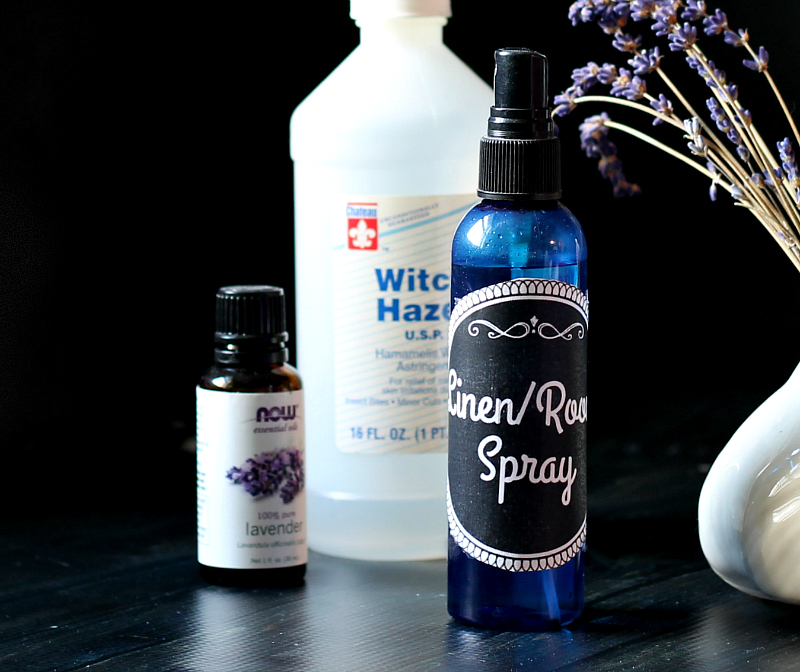 Linen or Room Spray
Here's where lavender comes in. You are sure to have a good night's sleep with lavender on your pillow.
2 teaspoons of witch hazel
15 drops of lavender oil
4 ounces of distilled water
small fine mist spray bottle
Use 2 teaspoons of witch-hazel, combined with 15 drops of lavender oil and 4 oz. of distilled water in a small, fine-mist spray bottle
. You don't have to use distilled water. It is just a precaution, in case you have any heavy minerals in your tap water that might stain your good linens.
Bonus: Here are the labels I used for my cleaners. Feel free to print them out for your own use.