A look at our dining table all dressed up for Easter, along with more than 20 other bloggers sharing their spring tablescapes, to inspire your own home decor.
Today I'm sharing my tablescape as part of a blog hop hosted by Tammy from Pink Peppermint Design. If you're coming over from Katrin of Kreativ K's gorgeous Nordic decor, welcome! I hope you enjoy my take on spring decor as well as all the other beautiful spring tablescapes on the tour. Spring is finally here and I'm getting ready to have some of my family join us for a festive Easter Celebration.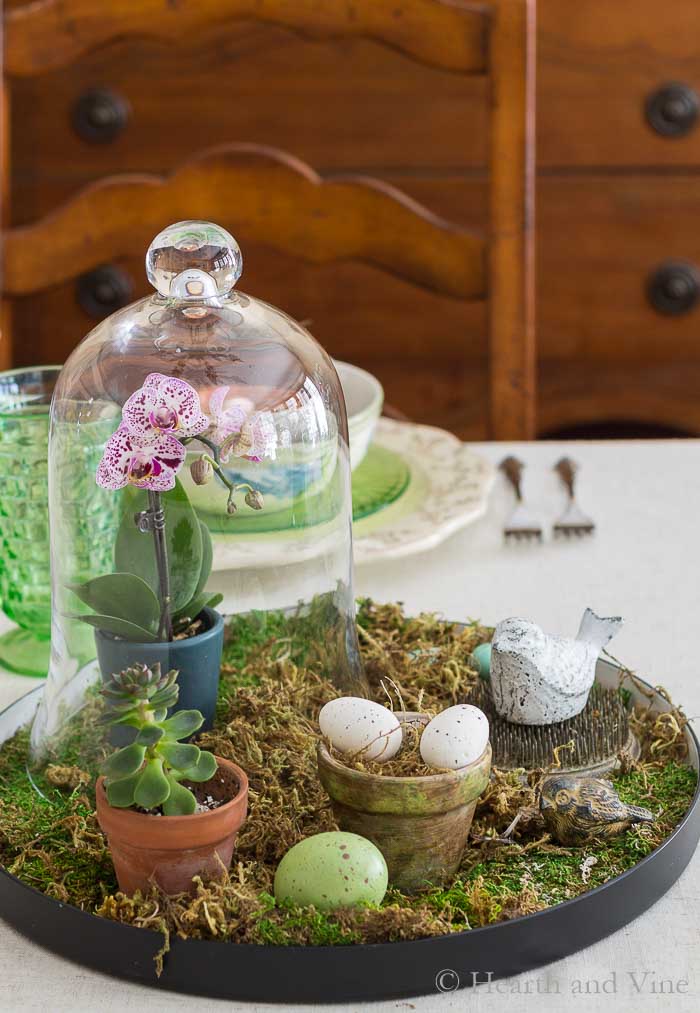 Let's start with the centerpiece. I like using trays or boxes that you can easily remove from the table when it's time to eat. A little moss makes a nice bed for small clay pots, and one of my rustic antique flower frogs. Accents of birds and eggs, signs of spring, renewal and rebirth. Of course, I always have to have some kind of florals. This time I chose a mini orchid, placed under a glass cloche. It should do well there for a while since they like some humidity, but the succulent loves it dry so it needs to stay outside the glass.
A closer look a the place settings. I just bought these pretty floral bowls at the local Lenox outlet. The are from the Southern Gatherings collection. In the center, wrapped up cute clay pots with straw and Cadbury mini eggs in a linen napkin, is a takeaway treat for my guests. The salad plates and water glasses are all in shades of spring green. Depression era glass in this shade is one of my favorites to collect. The cube tumblers were bought at an antique shop, but the hobnail glasses are reproductions and were given to me by a dear friend. Smith Glass which use to be produced locally, made the most beautiful reproductions, but a few years ago they closed their doors.
Sunny daffodils, which many of you probably have blooming right now, are placed in simple vases on the table. I like that their green stems reflect the other light green pieces on the table.
Here's another piece of Smith Glass in the shape of a bunny holding a rainbow of jelly beans.
Here's a view looking from the hallway, showing my small jungle of plants. If you look close you can see I have a poinsettia blooming in the background. It's funny because I cut off all the blooms on this plant for a centerpiece two years ago at Christmas. It grew back and is now blooming in March.
Also, blooming right now is the Meyer Lemon tree, which really makes the room smell nice. The daffodils have a nice light scent but not as much as the lemon blossoms.
I hope you enjoyed this tour of my Easter table. Next on the spring tablescapes tour is Angie from Postcards From the Ridge. Stop by and see what she has created. I know you will love and love her casual eclectic style as much as I do.
Here's a list of the entire spring tablescapes lineup:
Monday March 26

Pink Peppermint Design

Almafied

2 Ladies & A Chair

Our house now a home



Tuesday March 27

Meaningful Spaces

Atta Girl Says

Green With Decor

Red Cottage Chronicles

Little Bits of Home



Wednesday March 28

11 Magnolia Lane

Noni's House

Kreativ K

Hearth and Vine

Postcards from the Ridge



Thursday March 29

Spicy Salty Sweet Home

My Life From Home

Monica Wants It

Shine Your Light



Friday March 30

Home Made Lovely

Charleston Crafted

Addicted 2 DIY

Major Hoff Takes A Wife

Saw Nail and Paint