A sugared fruit centerpiece looks great on your holiday table or any time you want to dress your table for a festive occasion.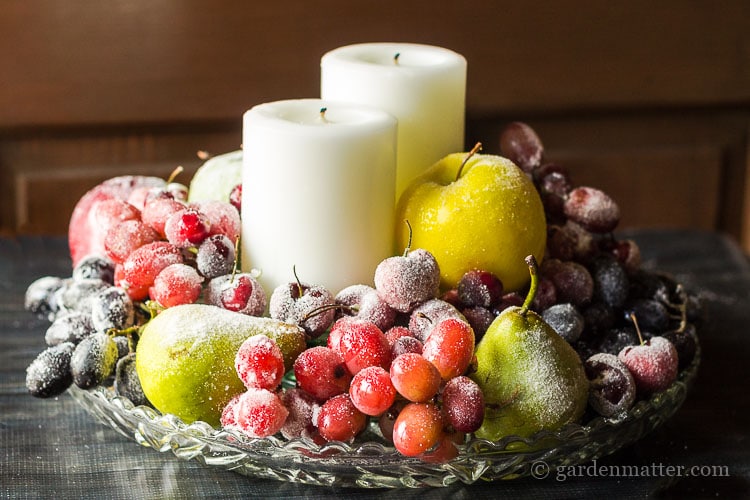 This post contains some affiliate links (that means if you make a purchase after clicking a link, there's no additional cost to you, but I will earn a very small commission. ) Click here to read my full disclosure policy.
The holidays, or any special occasion for that matter, require a little something special for the table. Although I love using my flowers for a centerpiece, there are times, like during the winter, or even certain times during the growing season, where I just don't have the right materials available. You can always buy flowers at the store, but today I'm going to show you how to make a sugared fruit centerpiece that your guests will love.
Sugared Fruit Centerpiece
Supplies
Fruit - best choices are those with smooth skin such as grapes, cherries, apples, pears, peaches, nectarines, etc..
Superfine sugar
Egg whites or powdered egg whites (in case you want to eat the fruit)
First, you need to find something for the foundation. I'm using an old crystal tray with a slight lip on the edge. This is nice because you can remove it from the table pretty easily. Other trays or even cutting boards would work well.
Next, you want some items to add height. I'm using a small cake stand and a little tin to offset the height of the candles. Play around with the larger pieces to get a feel of how you want to display the fruit.

To sugar the fruit, first make sure it is washed and dried well. Paint on, or dip the fruit into some egg whites. If you want to eat the fruit and are worried at all about the possibility of salmonella poisoning, I suggest you purchase powdered egg whites. In this case, I am creating this centerpiece purely for decorative purposes and will make sure to keep it out of reach of small hands.
After you dip or paint on the egg white, you can spoon on the sugar, or roll the fruit in it. I found that dipping the cherries and rolling them in the sugar worked well. However, that was a little harder to do with the larger pieces of fruit.
Work with the largest pieces first and then fill in with the smaller fruit. Don't worry about it looking perfect. I don't think mine is, but I really like it and feel it adds something a little different and a nice sparkle to our holiday table.
Once dinner is served, I plan on moving the whole centerpiece to the buffet next to the table.
The sugared fruit centerpiece should last for several days, up to a week, depending on the heat and humidity of your home.
It's one of those satisfying creative projects, where the beauty of nature makes it easy to create something beautiful. I hope you try it. I think you will love the results.