This thumbprint cookie recipe with buttercream icing is an extra special treat that freezes well for any time of year.
More Favorite Cookie Recipes: Fresh Cranberry Shortbread, Sugar Cookie Cups, Pumpkin Spice Cookies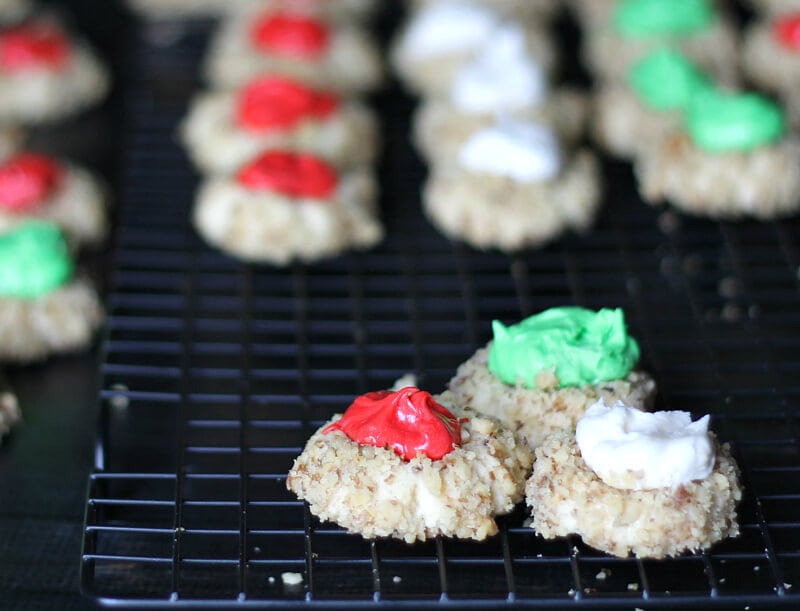 My mom used to have us help her with thumbprint cookies when I was a kid.
They are very buttery and are topped with a rich buttercream icing.
It's a real treat that I continue making to this day for the holidays.
This thumbprint cookie recipe with buttercream icing is an extra special treat that freezes well for any time of year.
The recipe makes a little more than three dozen cookies, depending on how big you make the dough balls.
They need to be rolled in egg whites, then walnuts.
Make sure you chop your walnuts pretty fine or else they tend to fall off.
After 5 minutes in the oven, you take them out and use your thumb to "print" the center of the cookie, thus the name.
However, if your thumb gets too hot, a finger works just as well.
Also, if you'd like you can skip the butter in the icing.
Using just powdered sugar and milk works also, but I like this recipe because it freezes well, and it's how my mom made them.
You may also like my sugar cookie cups recipe which is great if you are short on time and uses a very similar icing.
Thumbprint Cookie Recipe with Buttercream Icing
Ingredients
Cookie
2 c flour
1 c butter softened, 2 sticks
1/2 c sugar
1/2 t salt
1 t vanilla
2 egg yolks
1 1/2 c walnuts, finely chopped
Icing
4 T butter, softened
1 1/2 c powdered sugar
1 T milk
food coloring
Instructions
Chop walnuts and place in a shallow bowl.
Separate eggs and place yolks in a large mixing bowl and the whites in another shallow bowl.
Combine butter, sugar, vanilla and salt with the egg yolks.
Gradually add in the flour.
Using a small cookie scoop or teaspoon make balls of dough.
Roll each ball first in the egg whites.
Then roll in the walnuts.
Place on a cookie tray and bake in a preheated 350 degree oven for 5 minutes.
Remove and using your thumb make an impression in the center of each dough then return to the oven for 7-10 more minutes.
Remove from oven and let cool.
Make the icing by combining all ingredients adding enough milk to give you a smooth, workable consistency. Keep some of the icing white and portion out the rest for as many colors as you'd like and add food coloring. Top each cookie with icing.
Makes approx. 3 dozen cookies
Notes
This is a good recipe for freezing because the richness of the butter and egg yolk keeps the cookie tasting fresh.