Learn how to create word clouds to make personalized gift tags and cards. It's easy to do and you can get very creative at basically no cost to you.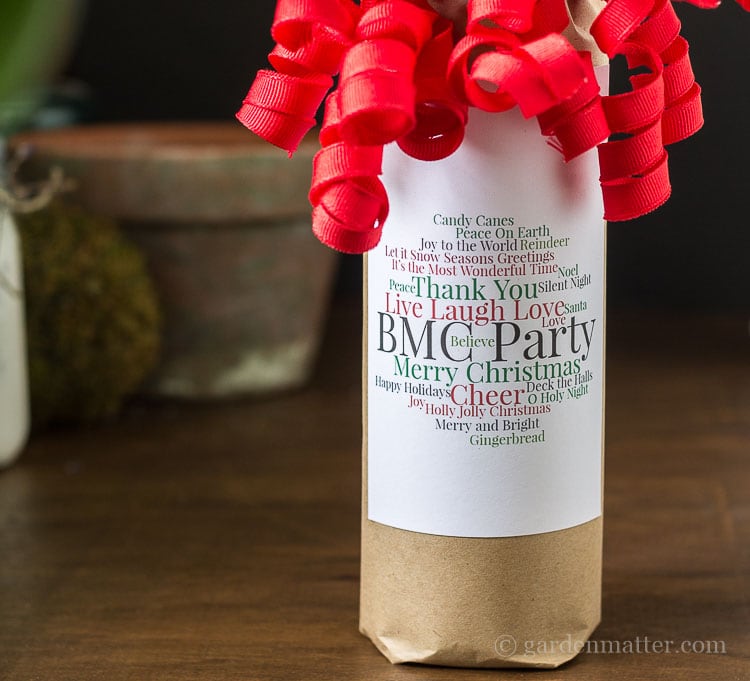 My Christmas stencil challenge inspired me to look into word clouds. These are the images composed of a group of words in different directions, colors and sizes. The stencil I used was a square but I've noticed they can be any shape, even a Christmas tree.
Creating Gift Tags & Cards with Word Clouds
I wasn't sure, but I suspected that there are free programs online that allow you to create word clouds for a number of uses.
I used one to create a gift tag. The program was called wordclouds.com. It took me a little while to get the hang of it, but the result was pretty great.
This post contains some affiliate links (that means if you make a purchase after clicking a link, there's no additional cost to you, but I will earn a very small commission. ) i.e. as an Amazon Associate, I earn from qualifying purchases. Click here to read my full disclosure policy.
I used the gift tag to decorate some Kraft paper, which was used to wrap a nice bottle of wine, for my husband's work Christmas party. He works for a company called BMC. So I made the words "BMC Party" more dominant than the others. If you use wordclouds.com you can increase the number under the "word list" tab. The higher the number, the bigger the word.
This was so fun I ended up making another one, to use as our Christmas card this year. I had intentions of getting a family picture taken at Thanksgiving, but that never happened. Last year I showed you how to make an image of your home into a Christmas card. This year I got creative with a word cloud, and all I had to do was upload it to snapfish.com. Any online or local printing service will do. I had them make 100 5 x 7 prints from the file I uploaded, and ordered a stack of envelopes to match.
You can create word clouds from many sources. Your favorite poem, lyrics to a favorite song, or simply a group of words that have meaning to you, and those who will be reading it.
Just another creative project to have fun with that won't break the bank.