Learn how to turn a wood round into a beautiful serving tray with this basic acrylic pour painting technique.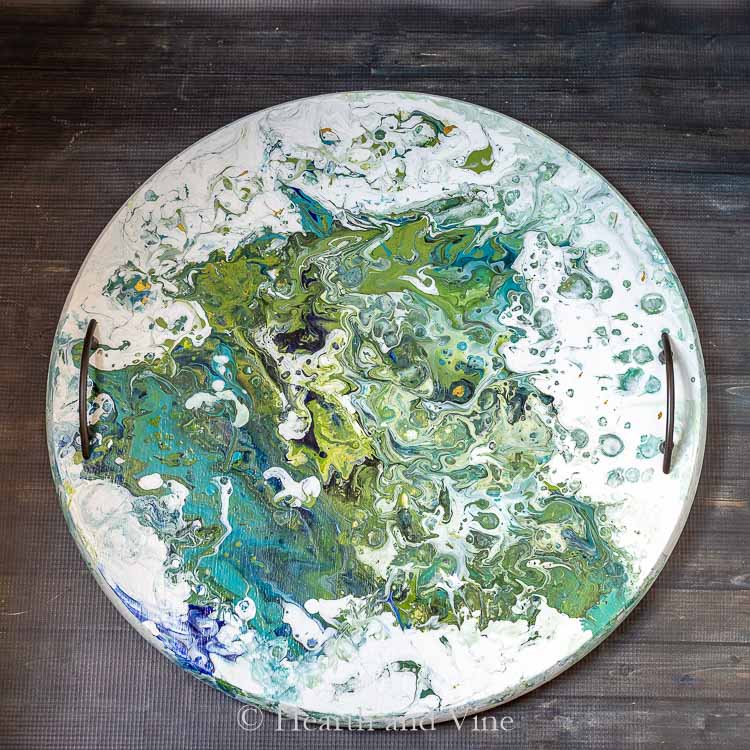 If you haven't tried acrylic pour painting yet you are in for a treat. It's so fun! I tried it on this round wood piece and added a couple of handles to make a beautiful serving tray.
Perhaps some of you have seen this technique on Pinterest or Instagram. I have been admiring it for a while and had to try it. There are many, many posts and video "how-tos" about this subject. This post just touches on some of the basics from my experience.
This post contains some affiliate links (that means if you make a purchase after clicking a link, there's no additional cost to you, but I will earn a very small commission. ) Click here to read my full disclosure policy.
Before attempting the "dirty pour" on the wood I experimented on a couple of canvases to get the feel for the process. Even though I used the same paint colors they both turned out completely different.
What's a Dirty Pour?
A dirty pour is what some refer to as the process of combining several different paints into one cup on top of each other to pour onto the canvas.
Supplies for Acrylic Pour Painting Tray
Most of the time you will see this art technique on prepared canvases so I thought I better prime the wood first to make sure it had a nice slick surface.
I also drilled my holes for the handles ahead of time but in hindsight, it may have been better to wait until later. Some pieces of yarn were placed through the holes to keep the paint from filling in.
Creating a Serving Tray with Acrylic Pour Painting
This is a very messy project. Be sure to cover your working space and perhaps the floor. ( I used garbage bags). Also, you will definitely want to wear gloves.
Lift the wood up off the table by placing blocks, jars or anything you have underneath.
Here are the paint colors I decided to use. The choice is totally up to you.
Start by pouring some craft paint into your cups. Some may be thicker than others. Add the pouring medium. For me, most required a 50/50 ratio, but if your craft paint is very thin you may want to add less pouring medium or you may end up adding more craft paint if the result is thin. The same goes for thick paint. Ultimately you are looking for a consistency of paint that pours off the stick like warm honey. Not too fast and not in gloppy drips.
Next, add a few drops of silicone. This helps the paint repel each other and create those interesting cells within the acrylic pour.
Stir well.
Now you are ready for your dirty pour. Start pouring your prepared paints into one larger cup one on top of the other. Again, this is a matter of choice. You can pour each one completely or just a small amount. I ended up using some of each and kept some for a second pour.
Next, use one hand to hold the tray as you flip the cup upside down.
Then slowly lift the cup up allowing the paint to pour onto the surface.
Now you can tip the tray back and forth allowing the paint to run over the wood to cover.
Add a second pour if needed. The teal color on the right came from a second pour. Then I ended up using white on the outer edges to give the piece some white space which I really liked.
After that, it was a free-for-all where I dripped a little here and there of the leftover paint to create this beauty.
Make sure to cover the edges and use your fingers to dab off the extra and dab on the empty spots.
Acrylic Pour Painting Issues:
You have to be a little free with this technique and see where it takes you. Not always easy for us control freaks.
You need to know when to stop. It's easy to get carried away adding more and more. But, sometimes more is just more and doesn't add value.
After the tray has totally dried (24 - 48 hours) use a couple of coats of your favorite polyurethane to protect the tray and enjoy.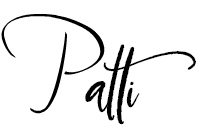 ---
P.S. If this kind of project is something you liked then you may also enjoy working with alcohol inks. I have made alcohol ink jewelry dishes and alcohol ink metal tins and a few other fun projects. You can find them and many more on my DIY/Projects page.