Learn how to make these fun and festive apple head doll witches to display in your home for Halloween. Carve and dry an apple for the head and use other basic crafts to make a simple witch doll.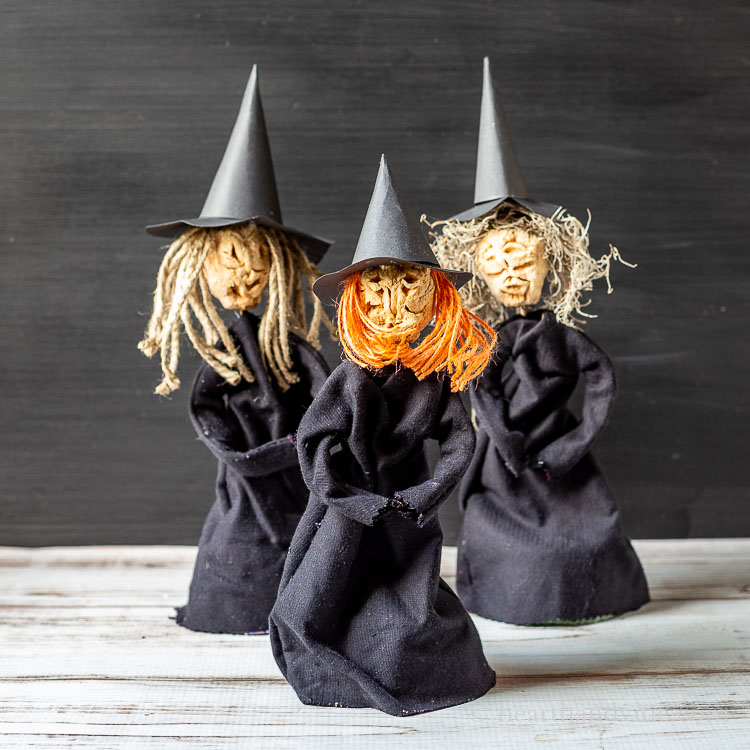 I remember making these with my mom as a kid. They were ordinary doll faces, not witches but the shrunken faces of dried carved apples always made me think of something on the spooky side.
The last Halloween craft I made was this Scary Bird Silhouette Craft, but this year I decided to add a few more.
This post contains some affiliate links (that means if you make a purchase after clicking a link, there's no additional cost to you, but I will earn a very small commission. ) i.e. as an Amazon Associate, I earn from qualifying purchases. Click here to read my full disclosure policy.
How to Make Apple Head Doll Witches
Supplies
crisp apples like Granny Smith green apples
lemon juice
twine, moss, or yarn for the hair
black fabric
black card stock paper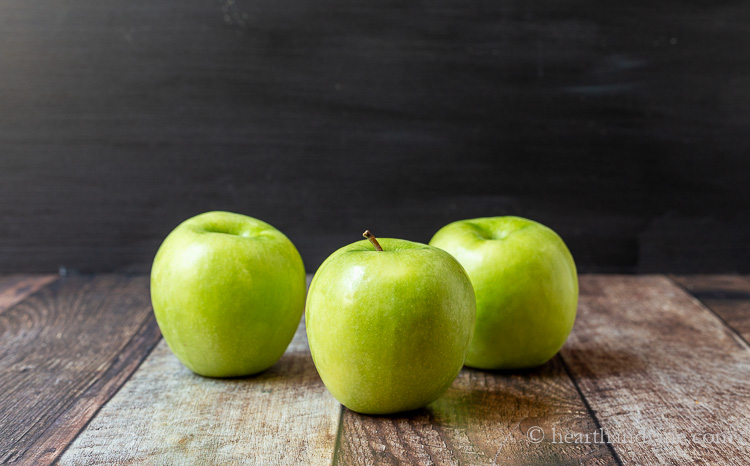 You can use any kind of apple for this craft. I used Granny Smith because they are a little crisper and less juicy than something like a red delicious apple.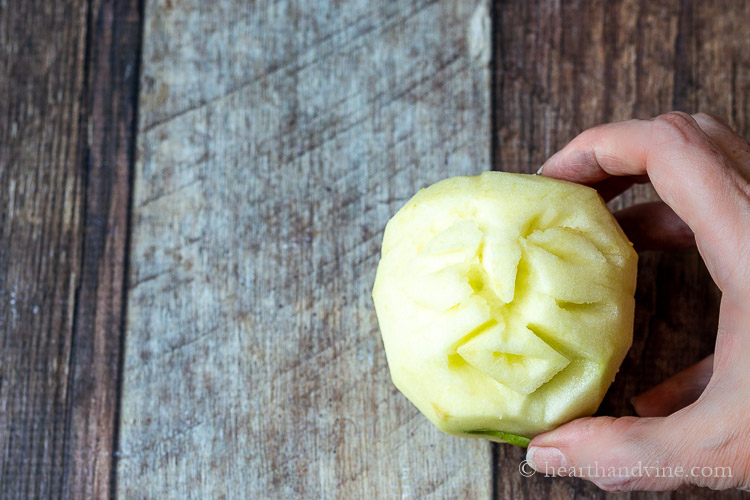 How to Carve an Apple Head
First peel your apple.
Then use a small paring knife for carving. A small penknife will work well too. You could even try using the tip of a vegetable peeler.
You can carve the face however you want it. Just remember to make the features exaggerated as the entire apple will shrink quite a bit while drying.
For my apple head I carved sections of the apple away to bring forth the eyes and lips. I also made slits to carve in cheeks.
Some people actually do the opposite and carve out the feature. For example, carving a hole out of the apple for each eye.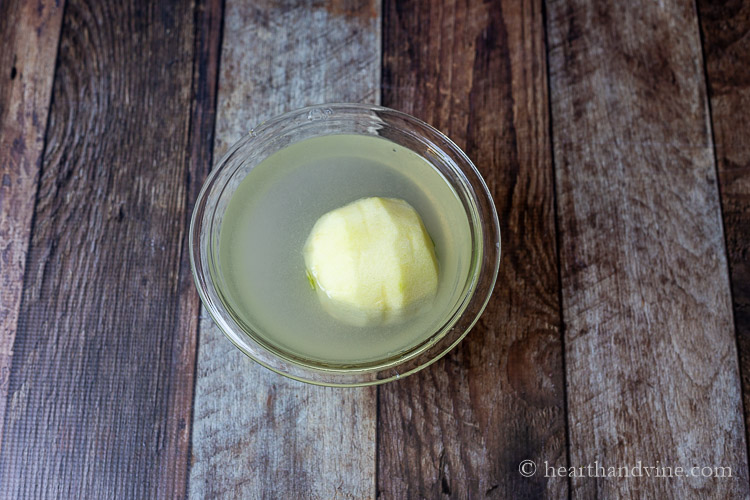 Once you are done carving, soak the apple in a mixture of lemon juice and water for 10 minutes. I used the juice of a fresh lemon to 1.5 cups of water. This is supposed to help the apples from turning brown too quickly.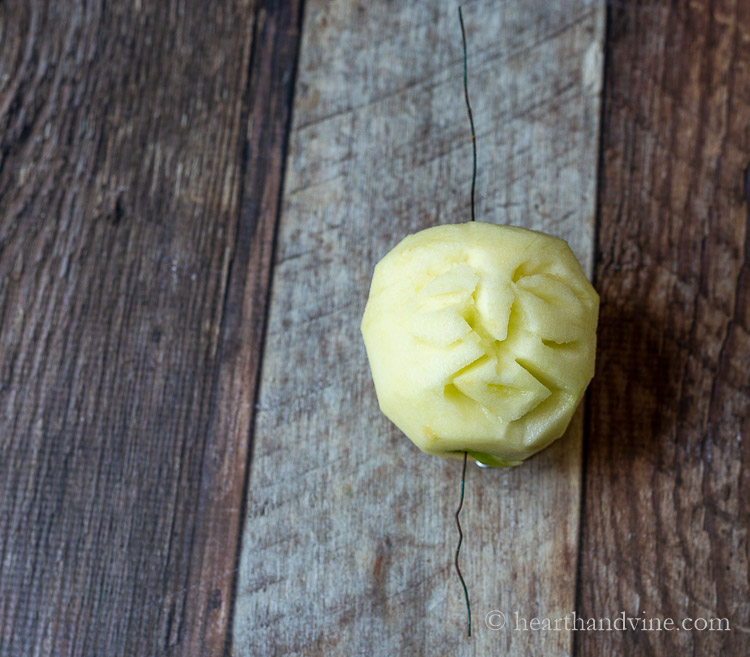 Next thread a piece of floral wire through the apple. Make a hook at the bottom and pull up on the wire until the hook embeds into the bottom. Then make a hook at the top of the wire to hang the apple.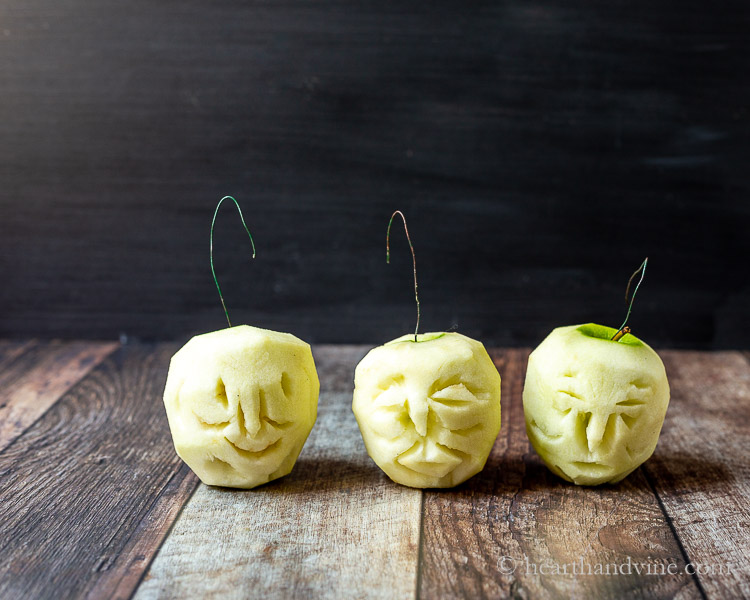 Now your apples are ready to dry. Hang them somewhere dark and dry with good air circulation.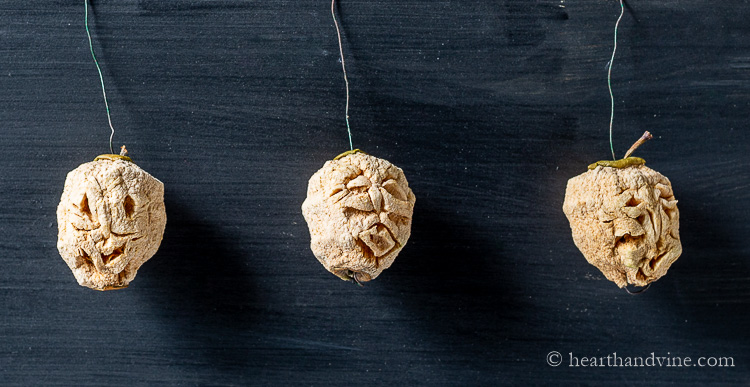 After about 2-3 weeks they should be well dried and ready for doll making.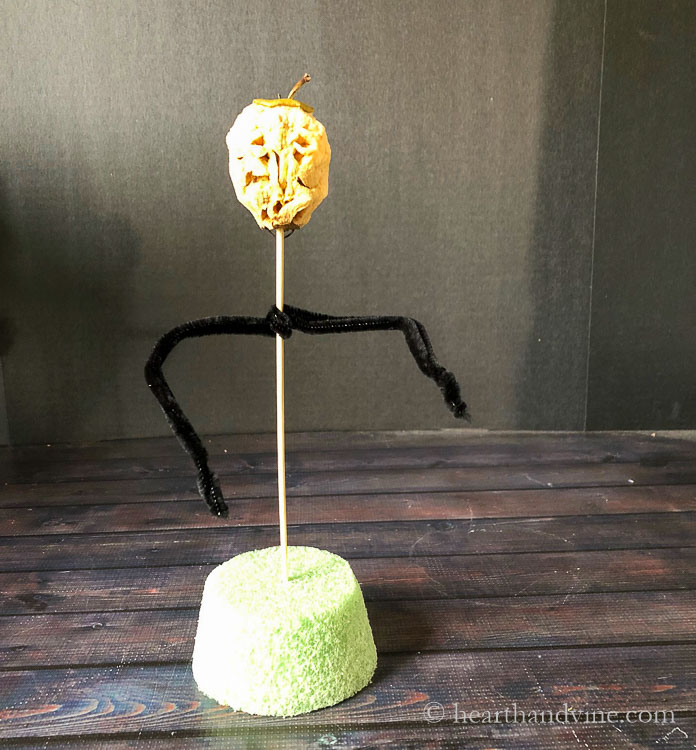 A wooden skewer is used for the body. Set it in a foam pot insert to act as a base.
Two pipe cleaners are wrapped around the wooden skewer for arms. You could probably use only one.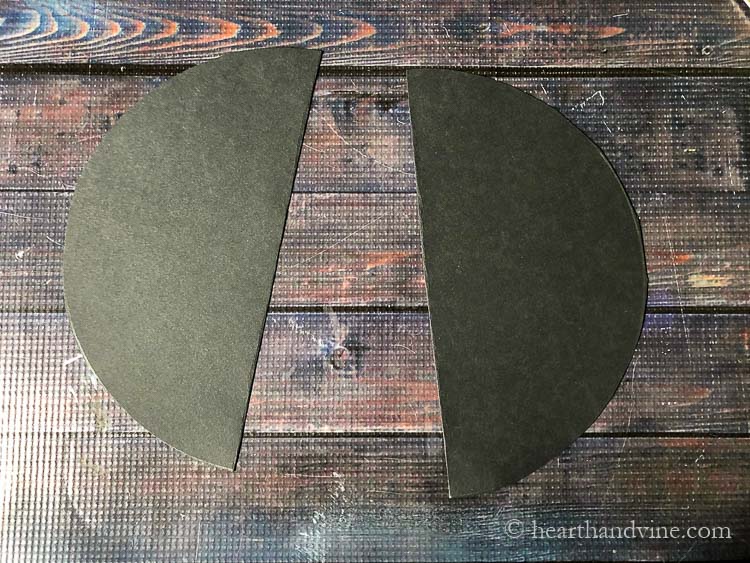 Making the witch hats
To make a witch hat cut a circle of black card stock in half. This will make two hats. This circle was 6 inches in diameter but you can make them different sizes.
Roll the half circle into a cone and glue the edges.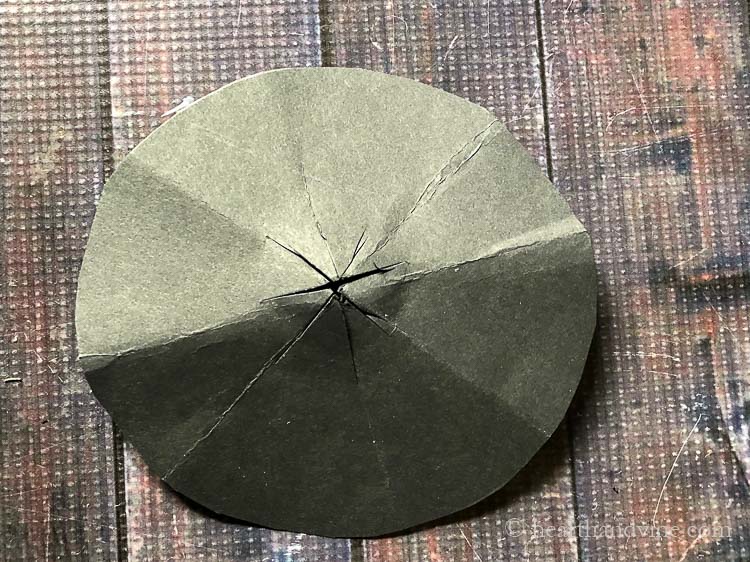 Next cut another circle from black card stock paper for the brim. This one is about 3.5 inches in diameter.
Fold it in half and then again to find the center. Then cut slits to make an opening as shown above. Push out the center and glue it up inside the cone.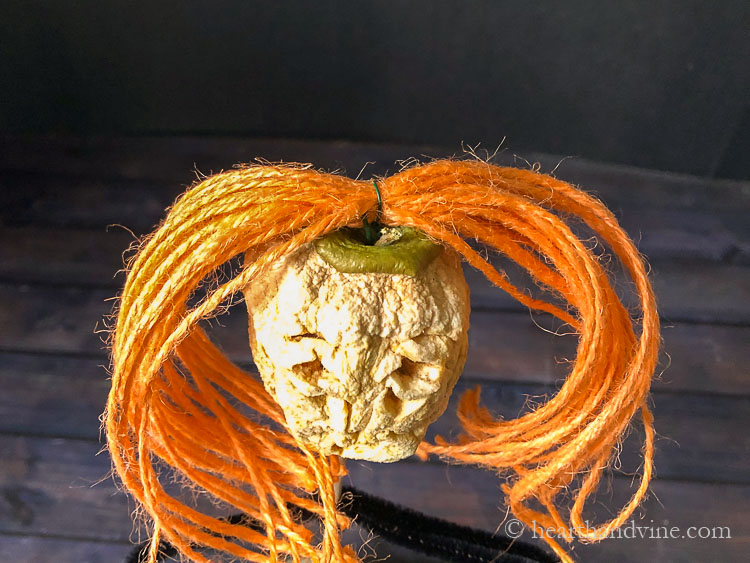 For the witches' hair you can use pieces of twine held together in the middle with wire. Then push the wire end into the top of the apple head to hold it in place. I also used moss for one of the witches. The moss was hot glued directly to the top of the apple.
Finally, make a simple dress from black fabric. This is an old bit of upholstery fabric with a pattern on one side and black on the back. Use two pieces of fabric. Then take a piece of chalk to loosely mark around your witch figure. Ideally, you should have the right sides together, so in this case, you would see the printed fabric. However, I am showing it this way to make it easier to see the markings.
Then sew up the sides and arms, with the black fabric facing each other, and leave an opening at the top for the head. Then turn it right side out and slip it onto the pipe cleaner arms and skewer body from the bottom.
If you want you can use picking shears to trim the sleeves and the hem. This made the craft easier and more primitive looking.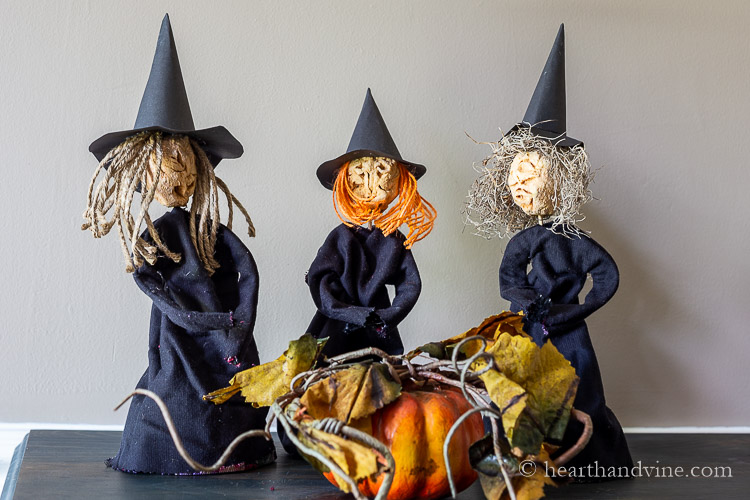 To style the witches bend the arms toward the middle.
Wouldn't mini broomsticks look great here too? I might have to make them next.
Three witches around a pumpkin. Looks like Halloween is coming.