See how easy it is to make a Christmas table centerpiece with fresh evergreens a few ornaments, and some pine cones.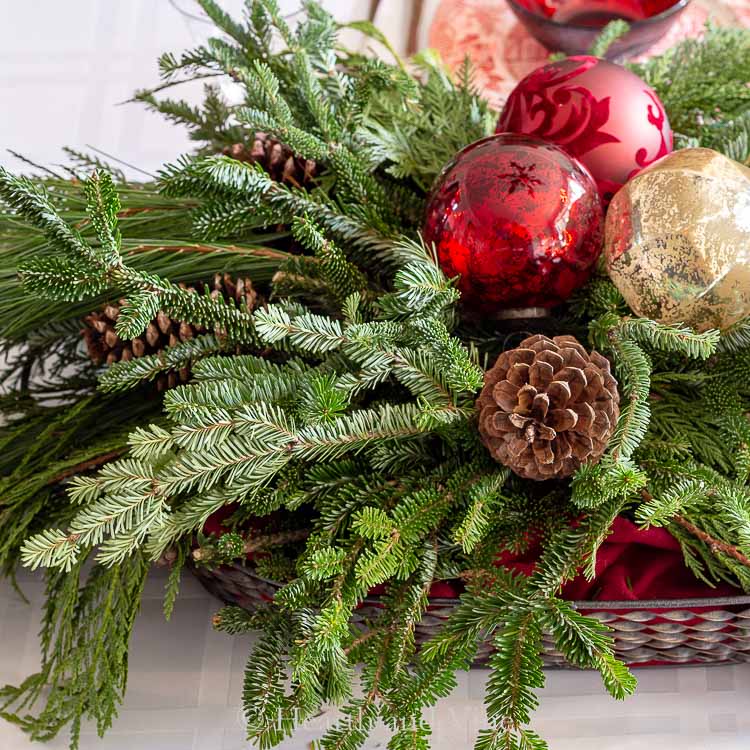 Having a Christmas table centerpiece is a given in our house. Even if we spend time at some of our families for our actual celebration I still like to decorate our formal dining room.
How to Create a Simple Christmas Table Centerpiece
One of the first things I think about is the base or container for my centerpiece. Having a container to me is important because I like to be able to easily move it out of the way so we can eat family style.
Being able to move the centerpiece also allows for a tall centerpiece if you like. However, if you plan on leaving it on the table, keeping it low is important so that you can see and talk easily across the table.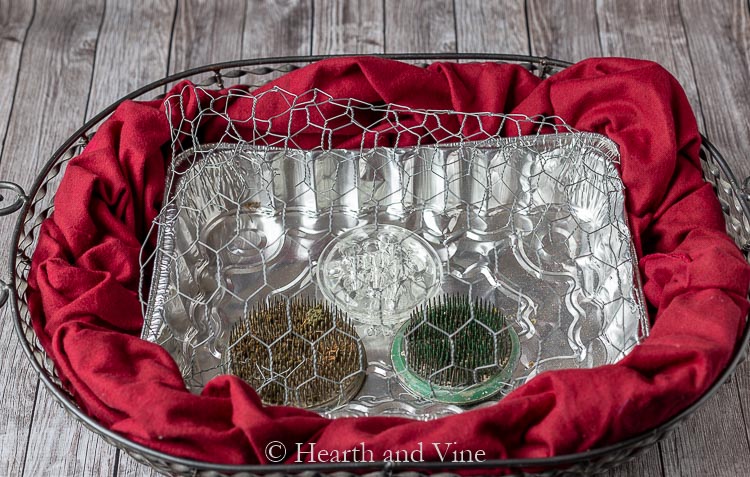 This year I went with this large wire basket. I tucked some Christmasy red fabric on the bottom for color and to fill in around and hide the aluminum pan.
Since I am planning on using fresh evergreens the pan will hold water and help keep the centerpiece fresh much longer.
Then I added some flower frogs and some chicken wire on top. These will all help hold my branches in place.
Even though I plan on moving this centerpiece for dinner, I want to keep it low.
So, starting with the cypress branches, because they drape well, place branches on each side at an angle. Then continue to fill in with more evergreens. This time using white pine and spruce.
The greenery can be cut from whatever evergreens you have access to. If you don't have any in the yard try the local big box stores or nurseries. I've also noticed several options at Trader Joe's recently.
For a little festive color, I added some large ornaments in the middle. Simply add a bit of wire to the top. This way you can use the wire to secure the ball to the branches.
Add a few large pinecones. Again, use a little wire around the bottom to help keep them in place.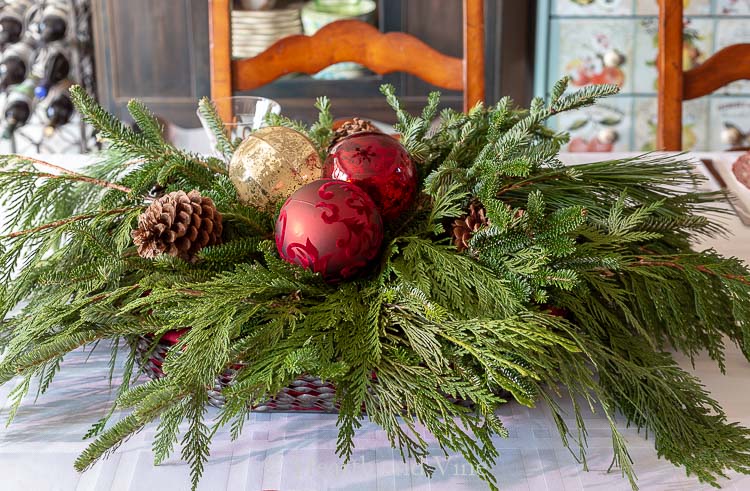 Very simple and easy to do and you can use whatever you have access to, making this a zero cost centerpiece. Even if you buy a package of evergreens your total cost will be minimal.
Other Centerpiece Ideas
Artificial greens work just as well.
Fresh fruit like apples, oranges, pears, and pomegranates. (Stick wooden skewers in them to help keep them in place.)
Set a large pillar candle in the middle, instead of ornaments
Use large artificial or fresh flowers such as poinsettia in the middle instead of ornaments
Add some faux or fresh berry branches in among the evergreens
This is where you can get creative and make it your own. Not hard at all and I promise you will be so pleased with the results.
Don't forget to add water every few days. Just stick a finger in the side and see if there's still plenty of water in your pan. I typically check every 3 or 4 days but this will vary depending on the temperature and humidity of your house.
This Christmas table centerpiece should last at least 2 weeks, making it one less thing to prepare for during the days leading up to Christmas. You might have a few needles drop but as long as the stems are in the water they should stay looking great.
The fresh greenery smells and looks so pretty with our red tableware and white tablecloth.
The only other decoration I've added to the table is two simple white taper candles.
Super simple but I love our table all ready for Christmas day.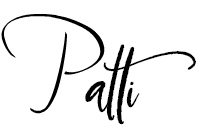 ---
P.S. You may also like this Wood, Candle, and Cranberry Christmas centerpiece, or this simple Poinsettia centerpiece. You can find them and much more on my Decorate Page.
Print
Christmas Table Centerpiece Made with Evergreens and Ornaments
Make a beautiful Christmas table centerpiece using evergreens and pinecones. Add pretty ornaments and whatever decorative items you have available, like berries and acorns.
Yield:
1
Christmas Centerpiece
Materials
Evergreens

Pinecones

Ornaments

Basket

Pan for water

Fabric

Flower Frogs

Chicken Wire
Instructions
Tucked red fabric on the bottom of your basket to hide the aluminum pan.

Place the aluminum pan into the basket.

Add flower frogs and some chicken wire on top.

Add water to the pan if you are using fresh evergreens.

Start adding your greenery to the pan and place branches on each side at an angle.

Continue to fill in with more evergreens.

Add some large ornaments in the middle with wire.

Place a few pinecones also securing them with wire.

Fill with water every few days.