Learn how to easily make these fun and colorful fabric twine potholders from leftover fabric scraps in your stash.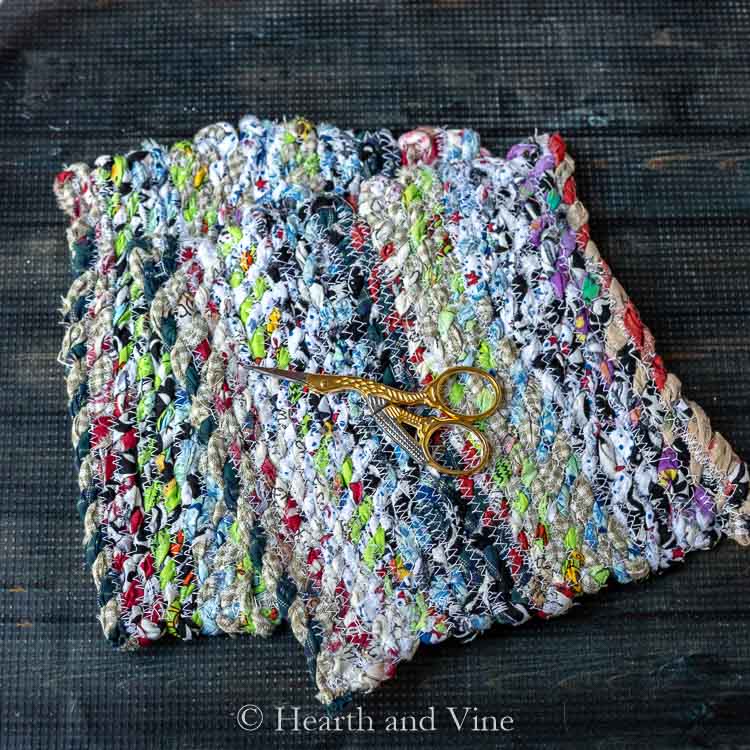 After I made the Fabric Twine Plant Hanger I had plenty of leftover fabric twine for another project. What not make fun and colorful potholders or trivets?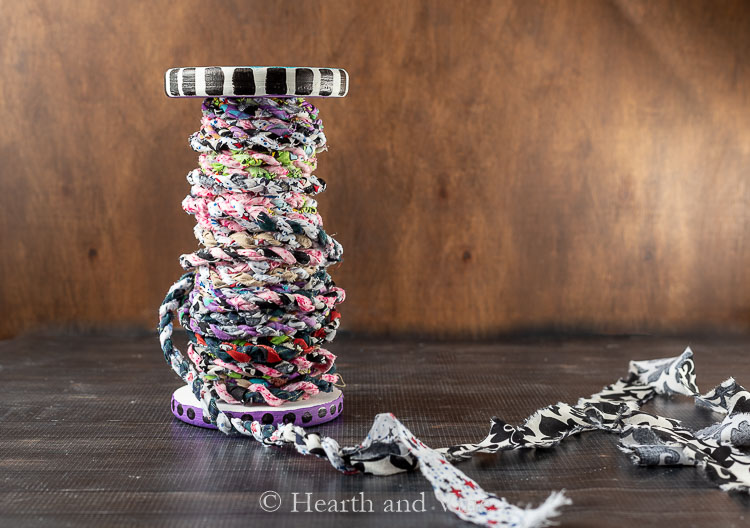 How to Make Fabric Twine Pot Holders
If you haven't made fabric twine it's an easy craft and a great way to use up scrap fabric. You can find tons of videos online on how to make fabric twine to get started.
You could also use clothesline or cotton roping for this project, similar to my Easter Basket DIY.
You'll need to decide on the size of your potholder or trivet. I made mine 7 inches by 5 inches.
These required a little over 4 yards of fabric twine for each potholder. However, it may vary on the thickness of your fabric twine, the overall size, and how tightly you sew the twine together. But, at least it gives you a place to start.
Start sewing your potholder by folding the twine the length you want and using a nice wide zigzag stitch to attach the two pieces together.
I used white thread, mostly so that it would show up in the photos for you to see. However, you could choose a dominant color from your fabric twine or even black.
I have to say that I actually like the white.
When you get to the end, keep the needle in place as you turn the piece and continue to add more twine from the spool, and sew it to the previous piece.
Continue adding lengths until you get to the size you want.
Finish with some back stitches and then cut the twine off from the spool.
If you notice any large gaps you can easily slide the potholder under the presser foot to the gap area and sew it closed.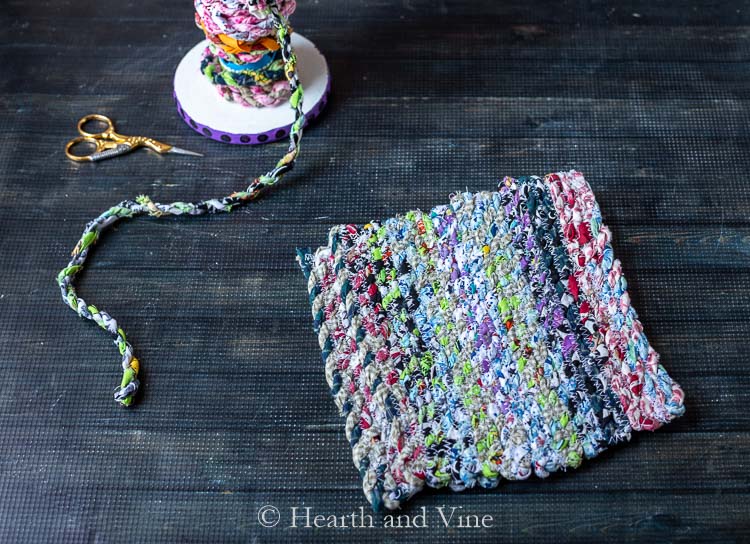 As you can see my edges could be a little straighter but you could certainly take more care and make your own a little more unified if you prefer.
These are a little rustic but I always love that look.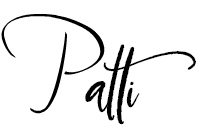 ---
P.S. In addition to the fabric twine plant hanger mentioned above you may also like this DIY Ribbon post made from leftover drop cloth fabric. Or you may enjoy this DIY Tea Towel Apron with Houses Applique. You can find these and much more fabric inspired ideas on my Projects Page.
Click Here to Save to Pinterest!