DIY wax seal stamps can be made with sentimental or heirloom items you have kept from a special occasion, or those handed down from loved ones.
While watching Outlander on TV, I noticed they were using sealing wax to send a note, and it brought me back. I remember my older sister had one of these stamps, and as a young girl, I was in awe.
Though most of us don't write letters much anymore, it occurred to me that this craft still has a place for our holiday cards or special thank you letters. Wouldn't it make a nice gift for someone? A wedding shower or housewarming gift? And, while we're at it, why not make one? You could use an antique button from grandma, or something beautiful that you found in a vintage store.
This post contains some affiliate links (that means if you make a purchase after clicking a link, there's no additional cost to you, but I will earn a very small commission. ) i.e. as an Amazon Associate, I earn from qualifying purchases. Click here to read my full disclosure policy.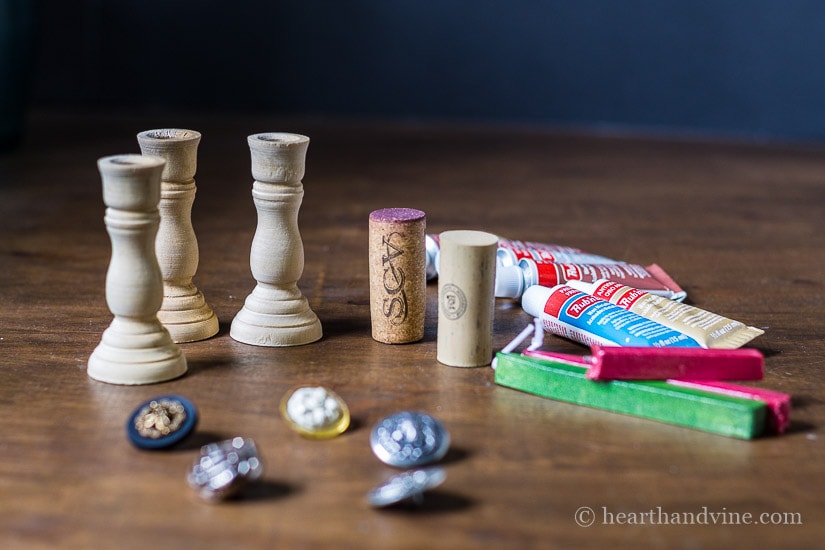 DIY Sealing Wax Stamps
The process is simple. Use buttons that you already have, or ones that you've acquired, old and new. Attach them with hot glue to a wine cork. Maybe that same cork came from a celebratory bottle of wine that you've kept as a memento of a special occasion.
A little less personal, but still just as fun, are these mini wooden candlestick holders which just happen to be the perfect size for these buttons. I used Rub 'n Buff® to enhance them, but you could paint or stain them any way you like.
They are so quick and easy you could make many in one sitting. Great for thank you gifts or stocking stuffers. You can even buy wine corks in bulk and the buttons too. Add one sealing wax stick and you have a fun gift for just a couple of dollars.
It's another oldie but goodie, but also one that you can really get creative with, and tie in some nostalgia and a warm personal touch.