Learn how to make a winter wreath for your front door using fresh and faux materials, that will look good and last well past the holidays.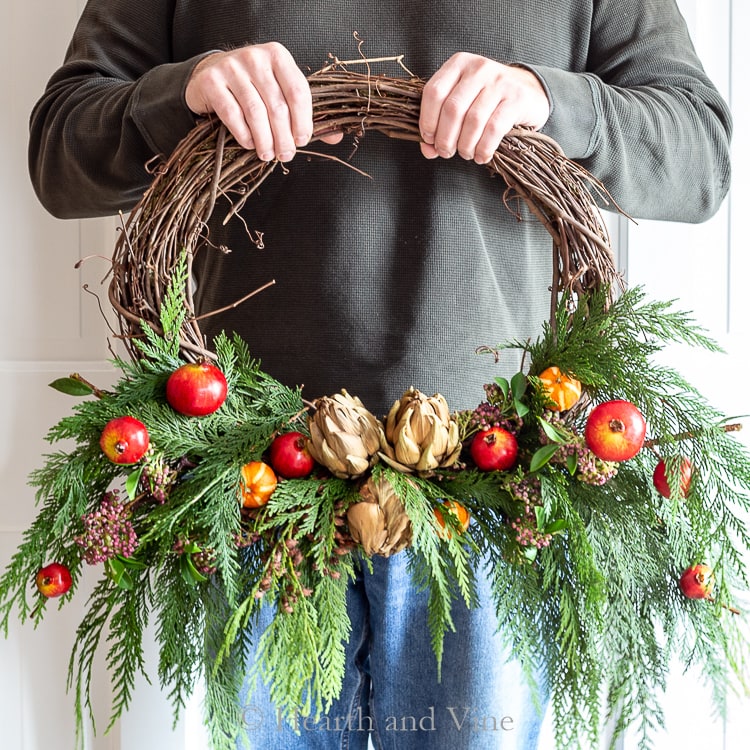 Time for a new winter wreath for the front door.
I was thinking of the beautiful Della Robbia wreaths like you might find in Colonial Williamsburg.
Wanting to use all natural materials is tough because I don't have access to any natural reds. Even some of my berries don't stay red and often they fall off the wreath. So, this year I decided to make a winter wreath with fresh and faux materials.
PS: That handsome model is my husband. He was such a good sport helping me get a picture of the completed wreath.
This post contains some affiliate links (that means if you make a purchase after clicking a link, there's no additional cost to you, but I will earn a very small commission. ) Click here to read my full disclosure policy.
How to Make This Winter Wreath
You need a grapevine wreath
to use as a base. I like them because they are natural and you can make your own if you have wild grapevines lying around your property. Also, their tight woven branches make it easy to nest and hold the other materials.
For greenery, I couldn't resist purchasing this gorgeous red cedar bunch from Home Depot. However, a little pruning from your own evergreens, or someone's you know, is perfect for this project too.
Purchase some faux berries with color like these pomegranate branches and pretty purple berries
. The great thing about artificial berries is that you can use them over and over again. In fact, you may already have some in your craft stash that would work well in this winter wreath.
Artichokes are beautiful when they are fresh or dried, and they last a long, long time. Just hang them somewhere in a cool dry place for a couple of weeks. I hang mine in our basement with butcher's twine.
These dried artichokes have a nice long stem but you can reinforce it by attaching a wired floral pick
.
Arrange your materials on the grapevine base. Then using a paddle of wire attach them onto the base by wrapping the wire and pulling the paddle tight.
Stick the artichokes in between the grapevine branches and wires.
At this point, I like to lift the wreath from the table to see how it will look hanging.
Next, fill in with more greens and smaller items like these dried clementines.
Hang the wreath on the door and see if it has any bare spots. You can even trim some of the cedar if it looks too full or long.
The grapevine branches easily slip over a command hook so there is no need to create a hanger.
I think it turned out pretty nice, and I'm so glad that I can keep it there until spring.