Learn some DIY wrapping paper ideas created from ordinary kraft paper for all of your gift giving needs this season.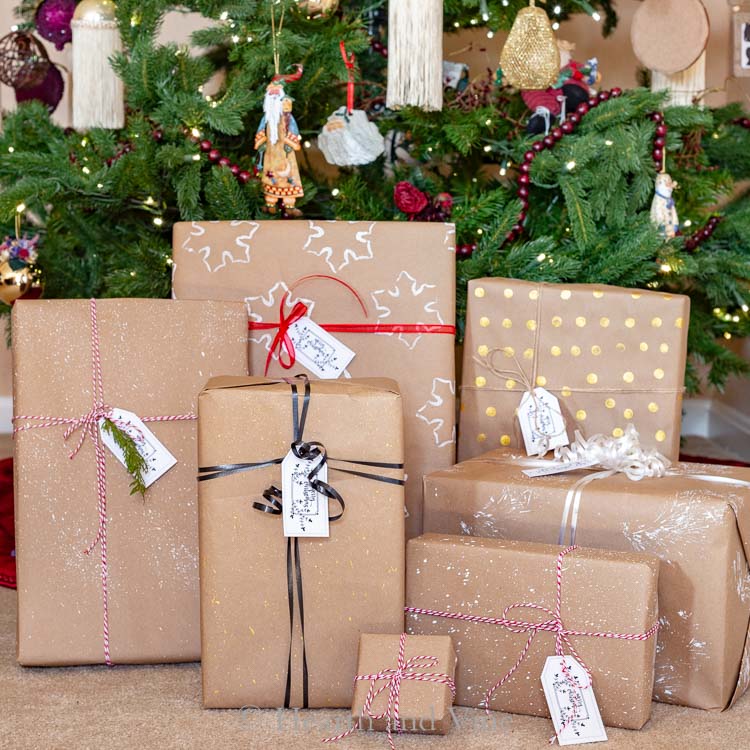 If you enjoy crafting and creating you might enjoy making your own wrapping paper. Many people like to present their gifts in bags and do not enjoy the art of wrapping presents. But if you like to take the time to wrap a present, even if only a few, then these DIY wrapping paper ideas may be just right for you.
This post contains some affiliate links (that means if you make a purchase after clicking a link, there's no additional cost to you, but I will earn a very small commission. ) i.e. as an Amazon Associate, I earn from qualifying purchases. Click here to read my full disclosure policy. Click here to read my full disclosure policy.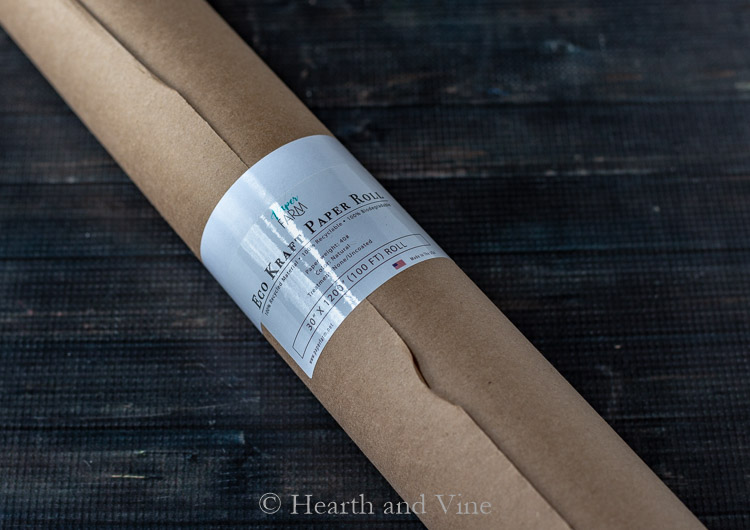 DIY Wrapping Paper Ideas with Brown Kraft Paper
There's something about brown kraft paper that looks fresh and clean and it provides a nice neutral base for any decoration. I picked up this lightweight kraft paper
because it's easier to work with than the heavy paper often found in stores. If you already have the heavy kind that would work fine too.
To dress up this paper choose one or a couple of paint colors. I love the look of crisp white and shiny gold with brown kraft paper so that's what I used.
This first pattern is made by using a bit of the leftover artificial garland that I used to make the wreath gallery above our mantel.
Simply brush some white craft paint on one side and press it onto the paper in a random pattern.
The next one is made with a bright metallic gold paint
and a dowel rod. You could also use the eraser on the end of a pencil to create dots. See what you have laying around the house and give them a try.
Pour a bit of paint onto a dish or paper plate. Dip the dowel into the paint and dab it off on the side of the plate or on a paper towel. Then holding the dowel straight up dot the paper. You can get two or three dots before dipping again. Some will only partially be filled but I like that look. If you want them all filled you will need to dip the dowel in the paint before making each new dot.
This pattern was made with the back of a large snowflake cookie cutter. The handle is rubber and it held the paint well. Just use a sponge brush to lightly coat the cookie cutter and then flip it over onto the paper. For this one, I needed to recoat the cutter each time before making a new print.
The final technique and I think it's my favorite is the splatter technique. Using a dry bristle brush dip it into some paint and using your hand pull back on the bristles to splatter the paint onto the paper.
You almost can't go wrong with this one but you may want to have a practice piece to see how little or how much paint you prefer.
Now, take it one step further with ribbon and tags. The kraft paper works great with natural jute
and I think inexpensive white and black curling ribbon
works well too.
I think my favorites are the white splatter package with red and white twine
. The pop of red looks so festive.
If you like the Merry Christmas tags I made, you are free to print a set out for yourself Click here for the pdf.
Here's a closeup of the gold splatter present. Doesn't it look great with the black ribbon?
DIY Paper Bags for Gifts
Finally, if you're more of a bag person, you can make a bag from this paper with a little help from Origami. There are detailed videos all over YouTube. Here's the video I used to make the bag pictured above.
My only concern would be the weight of the present you place inside. Perhaps a bit of cardstock or cardboard on the bottom would give it extra support.
One last note: I made several of these large sheets of decorated wrapping paper in about an hour and they dried very fast.
Don't they look nice all coordinated under the tree?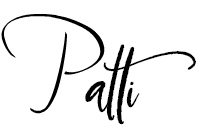 More DIY Gift Wrapping Ideas: