I made these simple ornaments many years ago. Since the are made with dried flowers they can only hold up for so long, but they were so pretty I thought I try them again. You can make these dried flower ornaments with a simple glass or plastic ball, some dried flowers and a hot glue gun.
The idea is to make it look like a little bouquet or arrangement coming out of the top of the ball.
I started with a few eucalyptus leaves on the sides.
Then build your arrangement with a few larger flowers. Fill in with smaller ones and taller thin pieces as you like.
Slip a cord or ribbon through the hook and tie it in a knot. Then you can carefully turn it so that the knot is hidden by the flowers. Use a little cup to set it on and turn it as you go to see where you may need more plant material.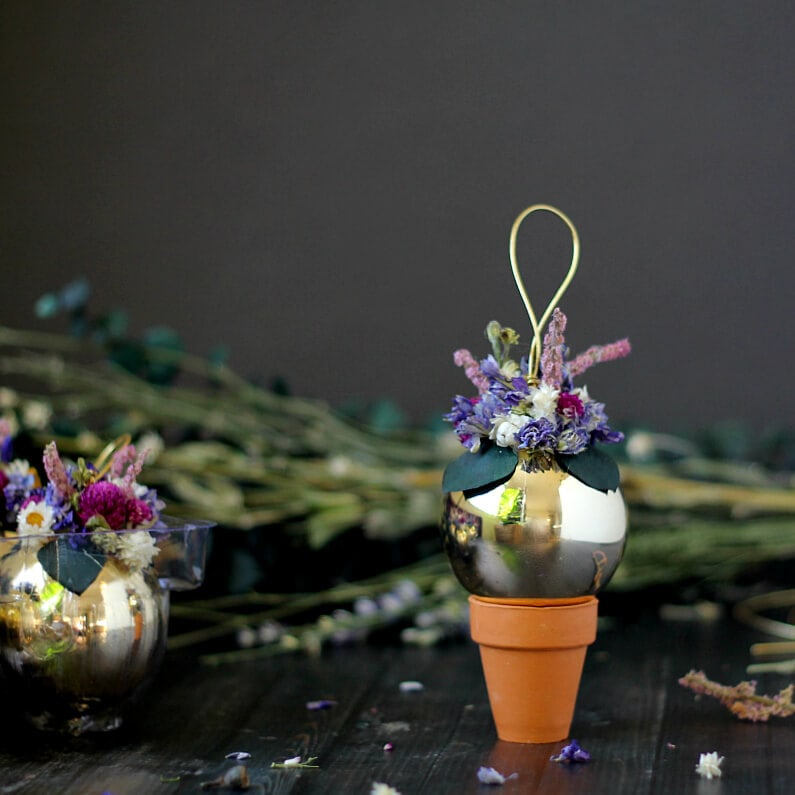 Storage is somewhat of an issue. The best way I found is to use the interior plastic holder that the ornaments came in and set it in a larger box or cover with tissue paper.
Dried flowers are harder to come by these days, but you can find them online, and if you have some that you have dried from your garden, you are way ahead of the game. I bought my bunch from Curious Country Creations. I already had the eucalyptus but it can also be found online and in many craft stores. You can make many ornaments from one bunch, making this an easy and inexpensive craft to decorate your tree, or to give as a gift.