Enjoy this quick and easy quilted sunglass case tutorial. It only takes about 1/2 hour to make this beginner sewing project which makes a great gift.
A few years back I became obsessed with all the beautiful fabric by designers like Amy Butler, Heather Bailey and many others. I bought several charm packs which are usually 5 inch squares of coordinating fabrics used to make quilts. I never made any quilts, but I did find some uses for the squares like these spice filled mug mats, or more recently, the fabric card holder.
One of the easiest projects, and most used by me, is a case I made for my sunglasses. I never buy expensive sunglasses but I do hate it when there are big scratches on them, because I've just tossed them in my bag, so this case has become very handy and it's pretty easy to find in the bag, even by touch.
This post contains some affiliate links (that means if you make a purchase after clicking a link, there's no additional cost to you, but I will earn a very small commission.) Click here to read my full disclosure policy.
The Materials
♦ 1 piece of quilted fabric approximately 8 inches by 9 inches
♦ coordinating or contrasting thread
♦ Velcro buttons adhesive backed
or buy fusible tape
to adhere
The Process
Many designer quilted fabric has a separate pattern on each side. Pick the side that you want and place it on the table with the wrong side showing. Fold the top edge down about 1/4 inch and sew all the way across. You can use a straight stitch, a zigzag stitch or some other decorative stitch for this step.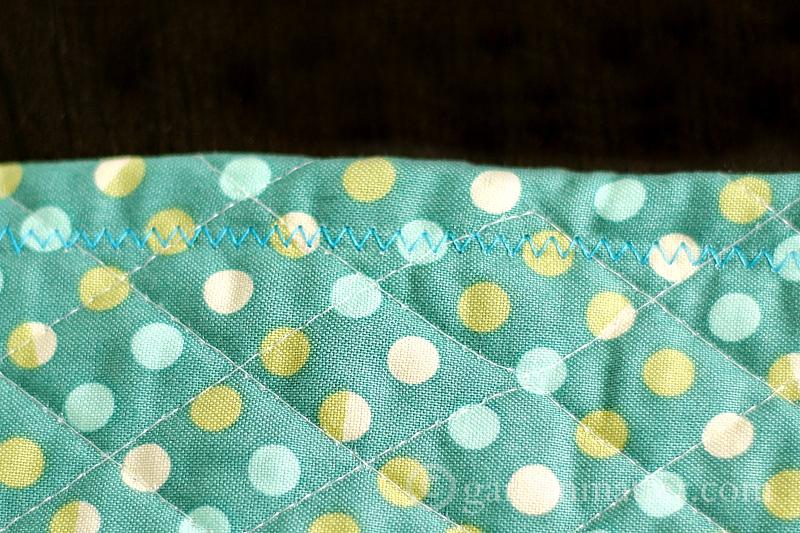 Then fold it in a half, right sides together, and pin. Sew 1/2 seam along the bottom and sides. Trim the seam and cut the corner as shown.
Turn it right side out and it's almost complete. Add a set of Velcro button just inside the top to keep the sunglasses from falling out. In the past I have found some that had adhesive backing but this time I could only find the ones that you sew on, which I didn't want to do because the stitching may show through. So I used some fusible tape.
All you do is match up the Velcro and place some pieces of the tape on both sides. Set in to place inside the case and press with an iron on both sides.
The whole project probably takes less than 1/2 hour. Wouldn't this make a nice gift?
Quilted Sunglass Case Tutorial