Learn about growing epiphytes in the home. These air plants derive much of their water and nutrient needs from the air and surroundings.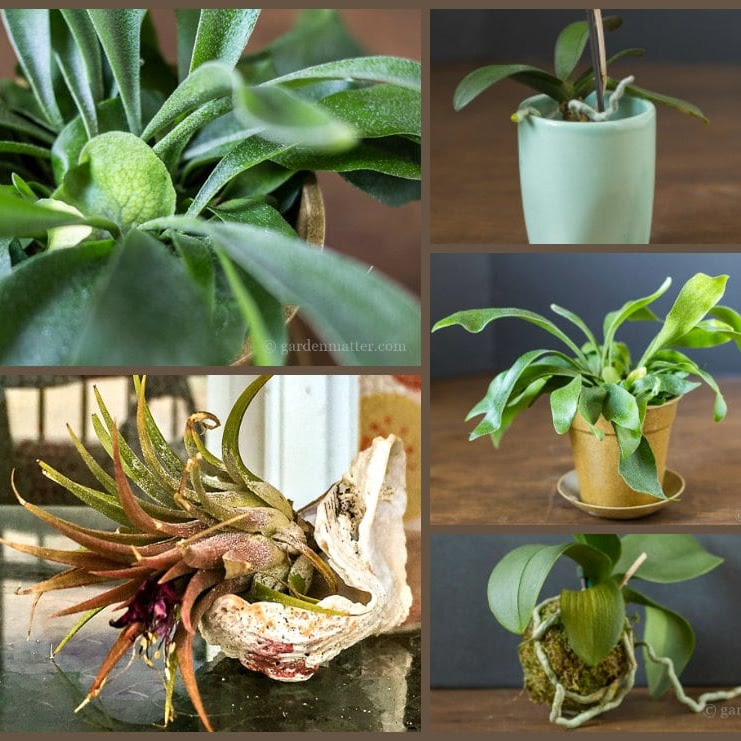 Ever since I created Kokedama, I began to think about growing other air plants. Also known as Epiphytes, they are those plants that receive their nourishment, i.e. water and nutrients from the air, and other surroundings. However, Epiphytes are not parasites. They grow on the host plant for support only.
This post contains some affiliate links (that means if you make a purchase after clicking a link, there's no additional cost to you, but I will earn a very small commission. ) i.e. as an Amazon Associate, I earn from qualifying purchases. Click here to read my full disclosure policy.
Growing Epiphytes
Take a look at this orchid from the Kokedama project I made last year. It is doing well and getting ready to bloom again. Look at how the roots have made their way out of the moss ball.
Here's another mini orchid growing in a pot. It also has a couple of "aerial roots" coming up and out of the pot. This is typical for orchids. In tropical rain forests of South America, you can see orchids growing off the trunks of trees. Orchids' fleshy roots allow them to absorb and store water.
Both of these orchids are phalaenopsis orchids. Most orchids are epiphytic but not all. You'll notice that orchids are planted with bark medium and not potting soil.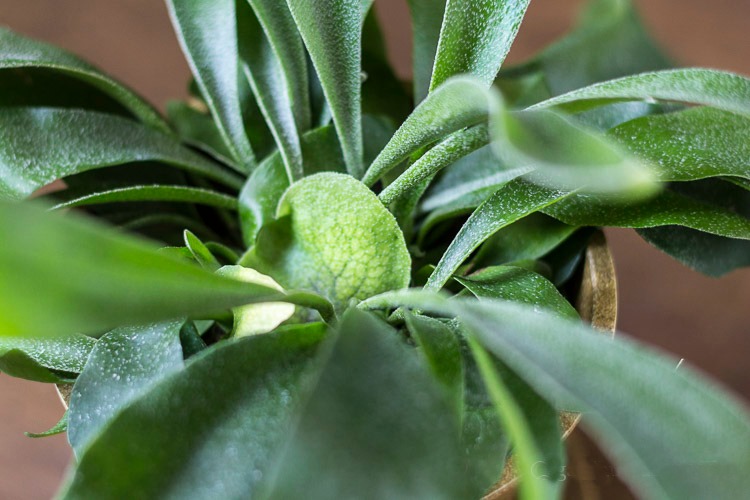 Another epiphyte that I recently purchased is a staghorn fern
. Here's a look at the staghorn fern when I first purchased it.
They have two types of leaves or fronds. Basal fronds (see in the middle) that cover and shield the root system and foliar fronds, sometimes referred to as "antler fronds."
Later I mounted the staghorn fern to hang on the wall like it would in the wild. Mounting a staghorn fern is easy to do and makes a beautiful statement in the home.
Finally, the most common of the group is Tillandsia. These are the guys you see sitting in a nursery with no roots or soil of any kind. Here's a pretty blooming Tillandsia
that I photographed at my sister's place in Florida with my iPhone. It looks so pretty in this shell they found on the beach.
I think the biggest issue with growing these guys is the moisture in the air. Many say you can mist them from time to time. You can also set out trays of water with pebbles to help release moisture into the air. However, I usually give all my houseplants a weekly soak, and that seems to work well for the epiphytes too. Sometimes during the winter, they look a little tired but they perk back up in the spring.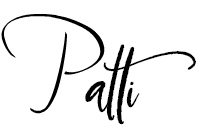 ---
Want More? Here are a few great articles from some of my gardening friends about the care of air plants:
How to Grow Air Plants - Empress of Dirt
Caring for Air Plants (Tillandsia) - House of Hawthornes
Get Creative with Air Plants - Our Fairfield Home and Garden