Staghorn fern mounting is an easy indoor gardening project. A wonderful way to create beautiful living art for your walls.
More Indoor Gardening Projects:
Kokedama String Garden, Succulent Birdcage Planter, and DIY Modern Indoor Plant Stand
Have you ever seen a wall mounted staghorn fern?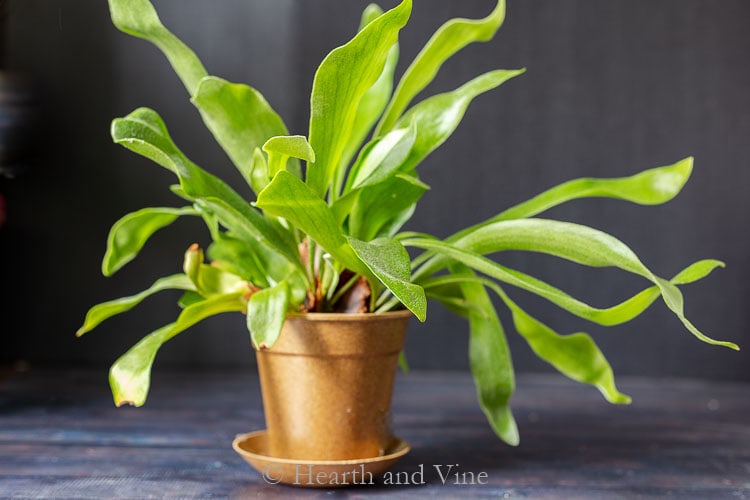 I've had this one for a couple of years in my home office. It's doing okay but I've wanted to mount it on the wall for a long time. This particular one is Platycerium bifurcatum 'Netherlands,' commonly known as Compact Staghorn.
This post contains some affiliate links (that means if you make a purchase after clicking a link, there's no additional cost to you, but I will earn a very small commission. ) Click here to read my full disclosure policy.
Staghorn Fern Mounting Instructions
First water the staghorn fern
well.
Then remove the plant from the pot and pull away excess soil and some of the roots so that you don't have too big of a base to work with.
Place a handful of damp sphagnum moss
on the front side of the mounting plaque
.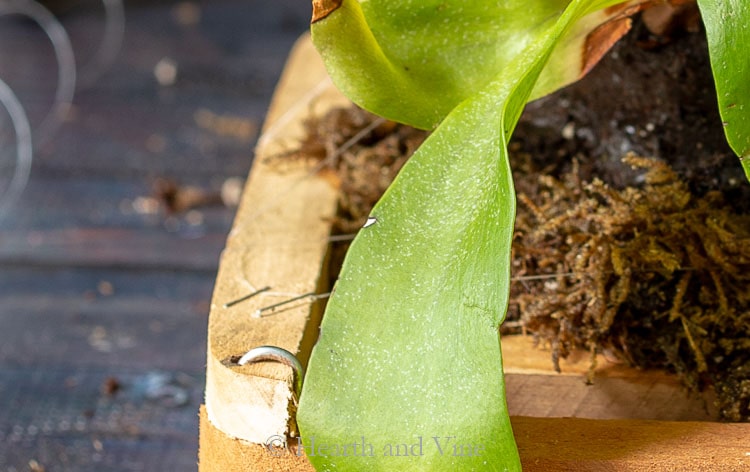 Place the fern on the sphagnum moss and staple one end of some fishing line
to the side of the plaque.
Wrap the fishing line around and between the fern leaves from top to bottom and side to side.
Finish by stapling the end to the plaque.
Twist picture wire
onto the loops on the back of the mounting plaque and hang.
Mounted Staghorn Fern Care
Hang the mounted staghorn fern in an area where it will receive moderate light.
Once a week take it down and water it well in the sink.
Try to water it at the base and not on top of the leaves. So many plants have issues of rot when they are watered from the top.
Then let it sit there a while to drain (~ 15 mins) before hanging it back up on the wall.
You can also spritz it mid-week, especially if the air is dry, with a spray bottle.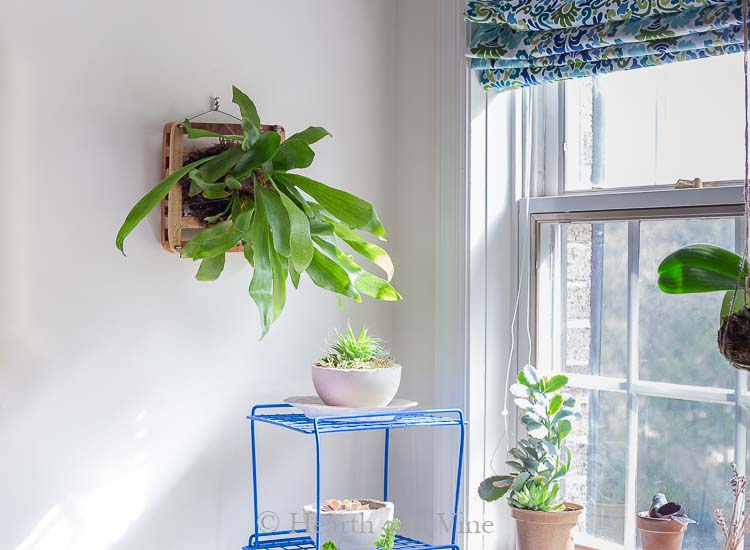 I absolutely love the way it looks and it seems to be very happy in its new home.