This recipe for a homemade hand sanitizer spray, made with alcohol, aloe vera juice, and essential oils, is a fun gift to make for everyone on your list.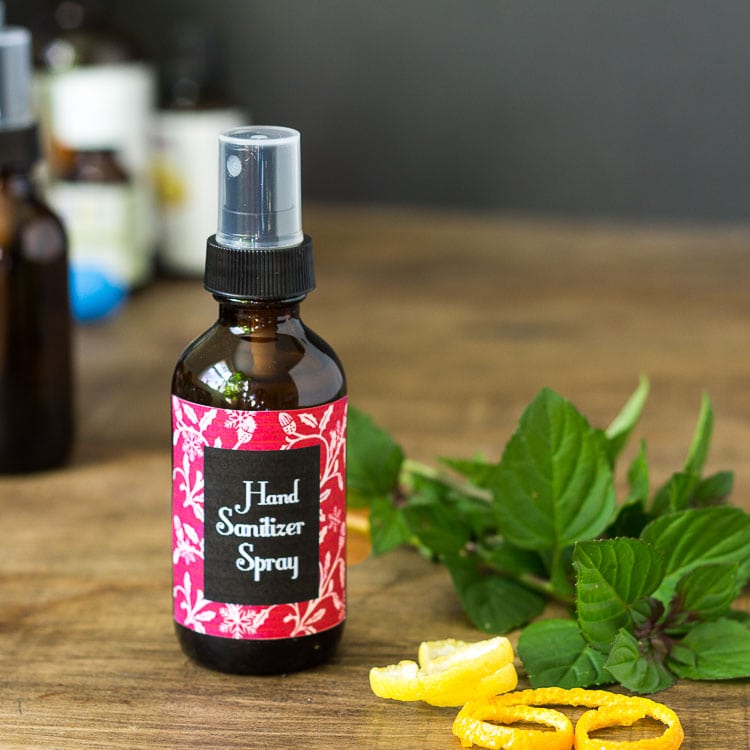 This homemade hand sanitizer spray is simple to create and makes a great gift too. Recently I was talking with my friend about the contertop cleaner I make to use on my granite. I like the way it smells, and it's great for disinfecting the kitchen. I wondered if I could bottle this same recipe, as a hand sanitizer, and give it out as a gift.
This post contains some affiliate links (that means if you make a purchase after clicking a link, there's no additional cost to you, but I will earn a very small commission. ) i.e. as an Amazon Associate, I earn from qualifying purchases. Click here to read my full disclosure policy.
So I did a little research. The counter-top spray has rubbing alcohol as the active ingredient. My research showed that rubbing alcohol, or isopropyl, can be harmful if ingested, and even though I don't expect people to drink it, they may be using it often, and it would be absorbed through the skin.
I also found that quite a few people are using witch hazel in their recipes. However, I could not find enough information to confirm its effect on bacteria.
Finally, I found some using grain alcohol or ethyl alcohol. Dr. Bronner's is a well known respected brand, and their hand sanitizer contains ethyl alcohol. Since this type of alcohol is safe for human consumption, I felt good about it being applied to the skin.
Homemade Hand Sanitizer Spray
Supplies
Ethyl Alcohol (grain alcohol like Everclear)
Aloe Vera Juice
Essential Oils
Dark Glass Spray Bottles
Disclaimer: The information on this site is not intended or implied to be a substitute for professional medical advice. If you have any concerns about using these materials please check with your doctor first.
UPDATE: I am not a scientific or medical professional. For a definitive recipe please consult The World Health Organization's Hand Rub Formula.
I also learned that you should have around 60% of the active ingredient for this to be effective. To balance the harshness of the alcohol smell and to prevent dryness, I added aloe vera juice and some lovely essential oils.
For this spray I used a combination of lemon, orange, peppermint, and a little tea tree. The citrus and mint mainly for their fragrance, and the tea tree because it has been said to be a great anti-bacterial agent. I used a dark glass spray bottle because the essential oils should last longer when not exposed to the sun, and I like the idea of a spray-on sanitizer.
Hand Sanitizer Recipe (2 ounce bottle)
8 teaspoons of Ethyl Alcohol
4 teaspoons of Aloe Vera Juice
4 drops of Tea Tree Essential Oil
8 drops of Peppermint Essential Oil
10 drops of Lemon Essential Oil
1/8 teaspoon of Sweet Orange Essential Oil
Bonus: If you like this label you can click on the pic below and it will open to a pdf page which can be printed or saved. It's 2 x 2 inches and fits perfectly on the 2 oz. bottles.
I plan to make at least a dozen of these to hand out during the holidays. Just one of many little gifts I like to make and give this time of year. Of course, this hand sanitizer spray recipe would be great any time of year, and I think the citrus mint scent is appropriate for both men and women.