This tutorial about how to make potholders is a great beginner sewing project. With a few materials you can easily complete this diy in about one hour.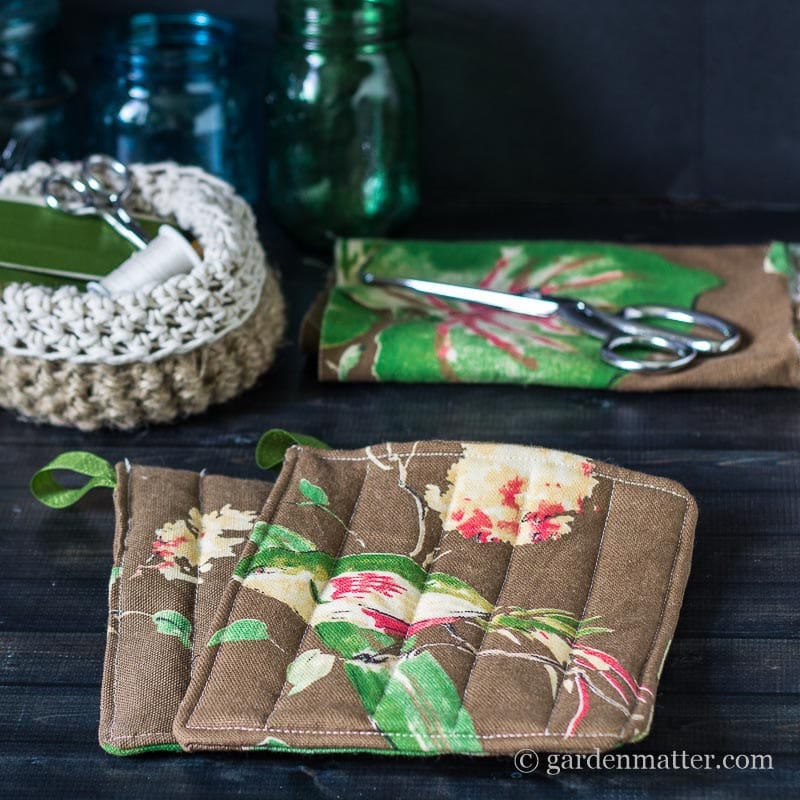 This is a very easy beginner sewing project. Potholders are something that I find just need to be replaced now and then. I do try to wash them, but even then, they never seem to be the same afterwards. So when I was shopping for fabric to cover my lampshades, I found this adorable nature print and purchased it too. I thought it would look great in the kitchen. I think this was also a drapery fabric remnant. It has a cute little frog and a couple of birds on it.
This post contains some affiliate links (that means if you make a purchase after clicking a link, there's no additional cost to you, but I will earn a very small commission.) Click here to read my full disclosure policy.
Materials
1/4 – 1/3 yard of pretty cotton fabric
1/4 yard of cotton batting
1/4 yard of Insul-Bright
Matching or contrasting thread
To make a simple template I used that old trick of taking a piece of 8 1/2 by 11 inch paper and folding over the bottom edge to the side. Cut off the remaining piece and you have a perfect 8 1/2 inch square.
I cut out a piece with the frog and one with the bird. Then I cut out two more pieces from the background fabric.
Here's how you set it up for sewing.
1 Background or plain fabric right side up
2 Pretty side (frog or bird) right side down,
3 Cotton batting
4 Insul-bright, shiny side up.
Sew 1/2 seam allowance all around leaving two inches open for turning.
Turn the potholder right side out, by turning the first fabric (background print) right side out.
Fold the opening edge under and place a piece of binding tape (optional) just inside, and top-stitch a 3/8 seam on all four sides.
Then sew vertical lines about 1 1/2 inches apart along the entire potholder. I used the edge of my stitch plate as a guide to start me off, but you can really just eyeball this step.
How to Make Potholders
I used a cream colored thread, but I could have used a light brown which would have faded more into the background.
Another great gift idea? Something to match your friend's, sister's, mother's …. new kitchen? Or, something to make with the many extra fabric swatches you have lying around. Time to put them to good use. 🙂