Melt and pour soap with sweet orange and cinnamon oil adds a nice cozy feel to any room. Great for showers, weddings, hostess, and helper gifts.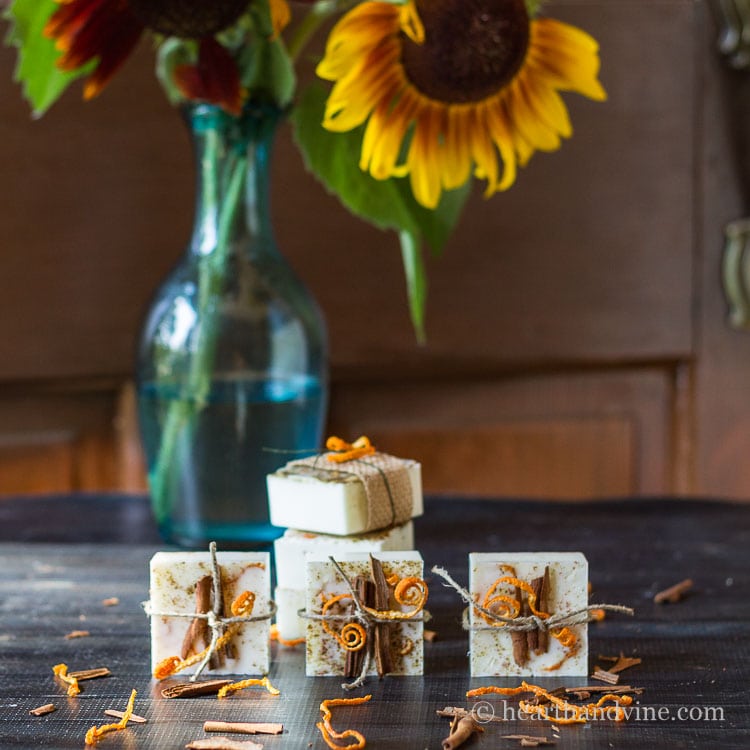 Who doesn't love the smell of oranges and cinnamon? They help give your home a nice cozy feel. That's why I decided to make a soap with this homey fragrance combination.
Since I'm using melt and pour soap, the process is simple. In fact, what you are really doing it taking the soap base, and dressing it up with fragrance, color, and other additives. A super fun creative project, that's easy enough for the kids to join in on.
This post contains some affiliate links (that means if you make a purchase after clicking a link, there's no additional cost to you, but I will earn a very small commission. ) i.e. as an Amazon Associate, I earn from qualifying purchases. Click here to read my full disclosure policy.
Supplies
(for 1 pound of soap)
Melt & Pour Soap Base

Sweet Orange Essential Oil

Cinnamon Essential Oil

Silicone Mold

Orange Peel & Cinnamon Sticks
(decoration)
Safety Note: I use this soap as more of a decoration or sachet to set in a room. The cinnamon essential oil can be a skin irritant. Especially with those who have sensitive skin. Just make sure that you use a very small amount of oil if you are going to use it to wash your hands or body.
Aren't these orange peels fun? All you need to do is take a garnishing tool
and peel the rind around the orange. They will curl up while drying, and you can let the oranges dry out too, to use in another project. Just make sure the orange has good airflow or it may start mold and rot.
Above is a photo of the soap base. It's soft enough to cut with a knife and melt in the microwave.
How to Make Melt and Pour Soap
Start by melting the base in a glass cup for 30 seconds in the microwave and stir.
Repeat until melted. This batch took me about 4 times at 30 seconds or 2 minutes. However, everyone's microwave is different, so yours may take longer or less time.
You can also create a double boiler, by placing this Pyrex glass in another pot of simmering water on the stove and melt it that way.
By the way, one pound of soap filled this mold with enough leftover to make a couple more bars.
Once the soap is melted, let it cool for a minute or two before adding fragrance.
I used essential oils but you could use fragrance oils too. Here's a handy chart from my friend Jan Berry who makes amazing soaps, on how much to add: Essential Oil for Soap Making Chart
Pour the melted soap into your mold.
Here, I tried to place some of the orange peels in the bottom of the mold first, however, they floated to the top. If you really want them to stay on the bottom, then I suggest you place your orange peel in the bottom and add just a little bit of soap to cover.
Wait for a while, maybe an hour, before adding any more soap. I didn't mind the look of the peels floating, so I let it go, and added some ground clove and cinnamon to the top.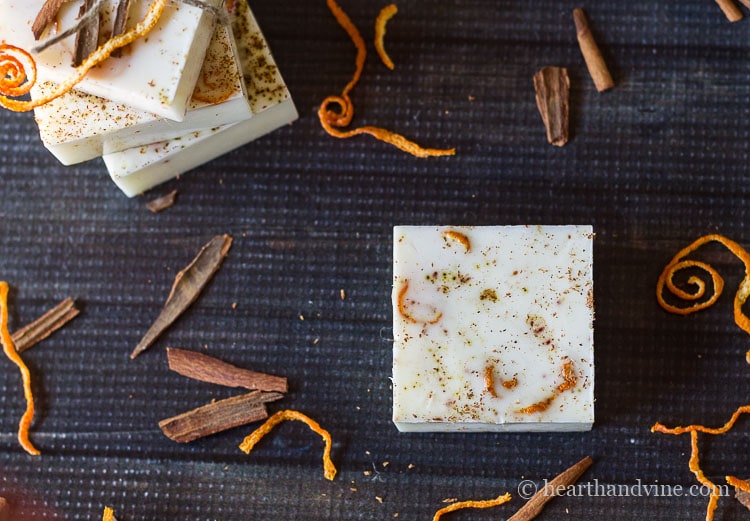 Let the soap dry for 24 hours before removing them from the mold.
Decorating the Soap
Then you can have fun decorating them with pieces of cinnamon sticks and more of your dried orange peel. Tie some twine around them to look like beautiful little packages.
This melt and pour soap works with many other great scents and botanicals such as:
lavender flowers
rose petals
other citrus fruit such as lime or lemon peels
coffee grinds
mint leaves
calendula petals
rosemary leaves
Make it your own orange cinnamon soap and have fun creating these little fragrant beauties for your home, or as gifts for your family and friends.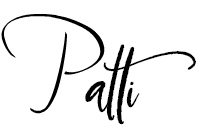 ---
P.S. I've shared a few other fun DIY soap ideas such as Handmade Soap Balls or this super is Rose Petal Glycerin Soap project idea. You can find them and much more on my DIY Projects Page.
Click Here to Save to Pinterest!