This naked cake recipe is a great way to get creative, by focusing on decorating the top with beautiful fruits and botanicals.
Not that long ago while I was sitting in the hair salon, I started having a conversation with the woman sitting next to me. After a while I realized she was the owner of a gift/bakery shop nearby, which is known for the most delicious cakes and cupcakes. She mentioned that it was her twin daughters who were the masterminds behind the bakery, working with all the latest trends. In fact, one of them was getting married soon, and she would be making a naked cake for her own wedding.
"A naked cake?" I asked. She then explained this trend that shows off the sides and layers of the cake, by using very little or no frosting. The top is frosted and the entire cake is then decorated with natural elements, giving it an overall rustic, but beautiful look.
You may have already noticed these cakes. I know I have seen them on Pinterest and in magazines. My husband's cousin had one for her wedding cake too.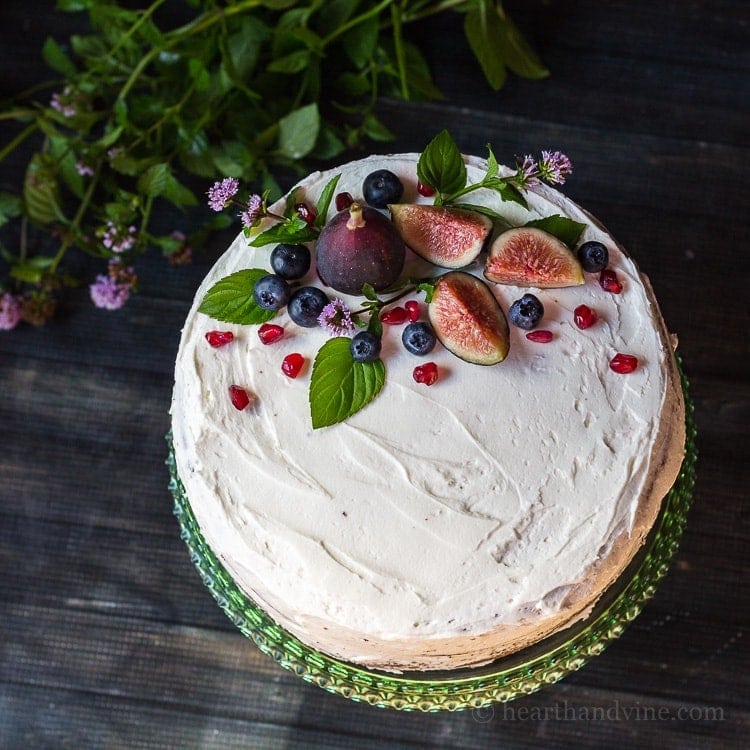 So, when I was at Trader Joe's I saw some beautiful fresh figs and colorful pomegranate seeds, I thought I'd try my hand at a naked cake.
I have to say it was so much fun to make, and my family loved it. Also, it tastes almost as good as it looks.
Naked Cake Recipe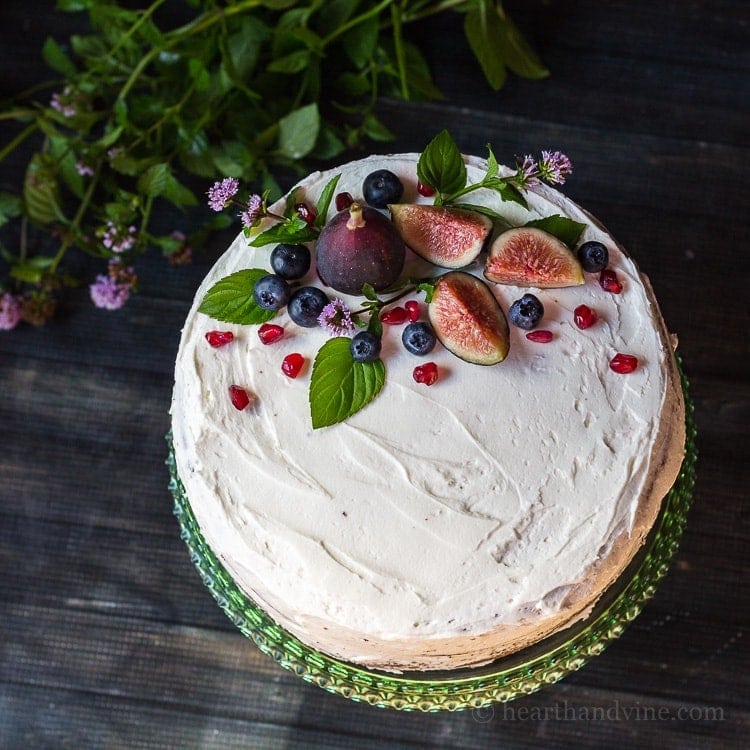 Naked Cake
Ingredients
1 box chocolate cake mix (and all the ingredients specified), ie, water, oil, eggs
1 4 oz. box of chocolate pudding mix
if box mix calls for 2 eggs add a third
Frosting
4 cups powdered sugar
1 cup butter, softened
1 tablespoon vanilla extract
2 tablespoons milk
Decoration
Mix of fruits, nuts, herbs and edible flowers
Instructions
Make two layers of chocolate cake from the box mix as directed. Add an additional egg if the package says 2 eggs. Also add in a box of chocolate pudding mix.
Make the frosting by combining the sugar and butter on medium speed. 
Add vanilla and mix well
Add milk and mix well. You can add more milk if the consistency is not thin enough to spread.
Frost the cake by starting with the filling between the two layers. Use a baggie with a corner cut, filled with the frosting to pipe a tube around the edge of the bottom layer, then fill in with more frosting.
Set the second layer on top of the frosting. Then frost the sides by barely covering them. You can also leave the sides completely "naked."
Frost the top just like the filling.
Complete the cake with a combination of fruits, nuts, herbs and edible flowers as you wish. Place in the refrigerator until you are ready to serve.
You May Also Like: