This nature inspired fall owl wreath tutorial is easy to create. You may already have the materials to crafts this fun project to add to your home decor.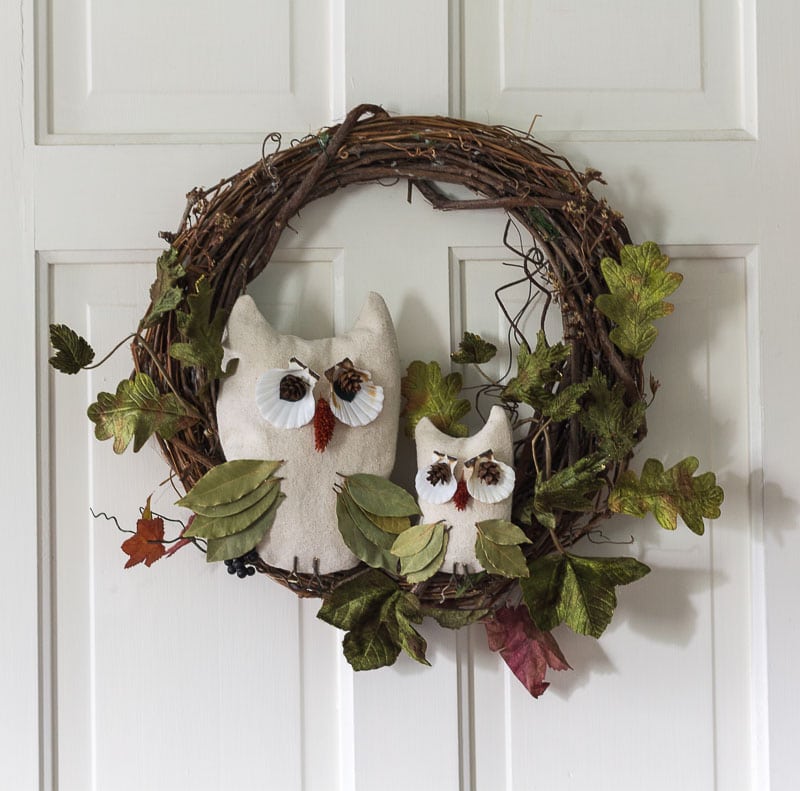 Not too long ago, we noticed some adorable owlets in our backyard, thanks to the cat, who kept staring at this birch tree in the garden. It was dusk, so I guess that's why we were able to see them up close. These little cuties inspired me to make a fall owl wreath, with elements of nature, to add to our fall decor.
Nature Inspired Fall Owl Wreath Tutorial
I love using nature when decorating our home. All of the items used for this craft were things I already had on hand. If you want to make this wreath, don't be discouraged if you don't have all of the exact elements. Experiment with different materials. Believe me, you will feel so much joy by creating your own unique art.
I used some leftover drop cloth fabric to draw a pattern for the owls. Don't have drop cloth fabric? Use muslin or cotton. How cute would a couple of denim owls be made from old jeans?
Cut them out leaving just 1/4 inch for a seam allowance.
Sew along the line leaving a small opening for turning.
Turn right-side out, and stuff with some poly-fill, or anything you have, such as cotton balls, old clothes or socks, even newspaper. Then hand sew the opening closed.
Decorate the front by hot gluing natural elements to the bodies to give them some personality. Here I used sea shells, eucalyptus leaves and pine cones for the eyes. A piece of dried orange grass for the nose, and some bay leaves for the feathers. Use your imagination to find similar pieces to use. You could draw on the features with sharpie pens.
Using more glue, attach the owls to the wreath, and add some silk or real leaves, to give it a woodsy feel. Oh yeah, if you look close you can see that I added some twigs for feet
This fall owl wreath turned out really cute, and looks great on the side of our entrance. I especially like the way it complements the neighboring felt flower wreath, hanging on the front door. Looking at it now, I think this one could work for any time of year. After all, who doesn't love a cute owl.