Pickled vegetables made with spices and brine can be kept in the refrigerator for several weeks, are easy to create, and make a great healthy snack.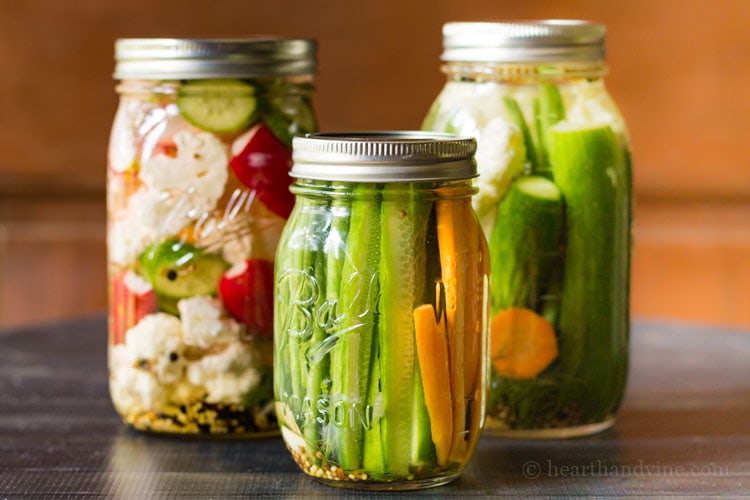 As you may know, I'm more of an ornamental than an edible gardener. I do grow a lot of herbs and have dried many flowers, for use in the kitchen or home decor.
However, with the addition of the CSA subscription this year, I'm finding myself with lots of vegetables and decided to try my hand at refrigerator pickled vegetables. However, you can find these vegetables in just about any grocery store.
Refrigerator Pickled Vegetables
This type of pickled vegetables is super simple to do. All you need are some spices and herbs, and a simple brine. They do need to be kept in the refrigerator but they will keep for several weeks.
I promise you will want to eat them up long before their expiration time.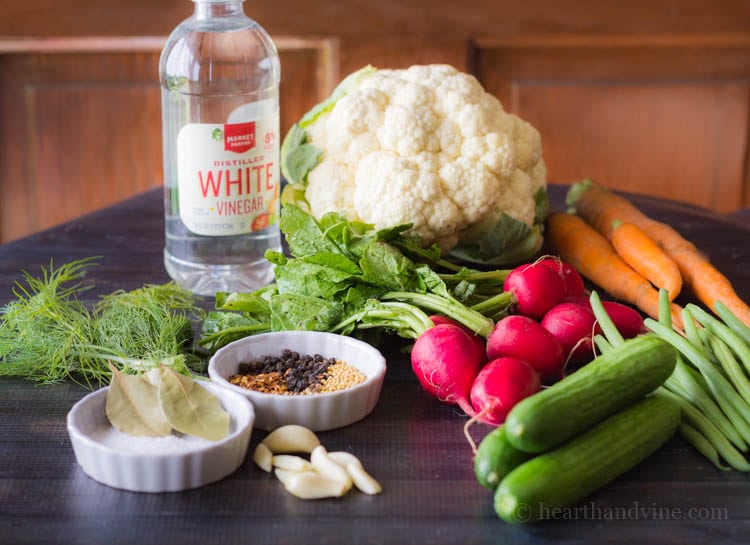 Both my sister and brother were into this practice last year so I thought I'd give it a try.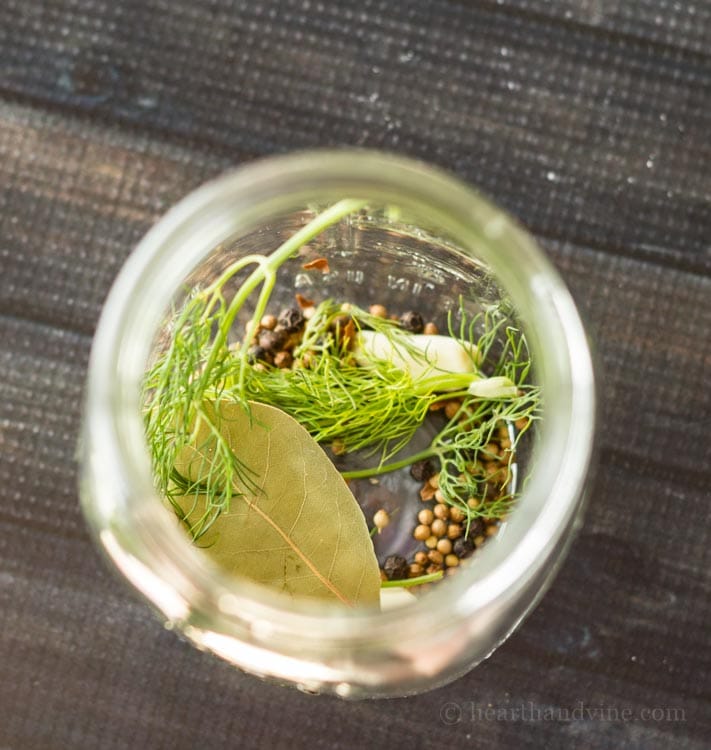 You can use a variety of vegetables for this recipe. I like a good bit of crunch so I chose those that were on the harder side in texture.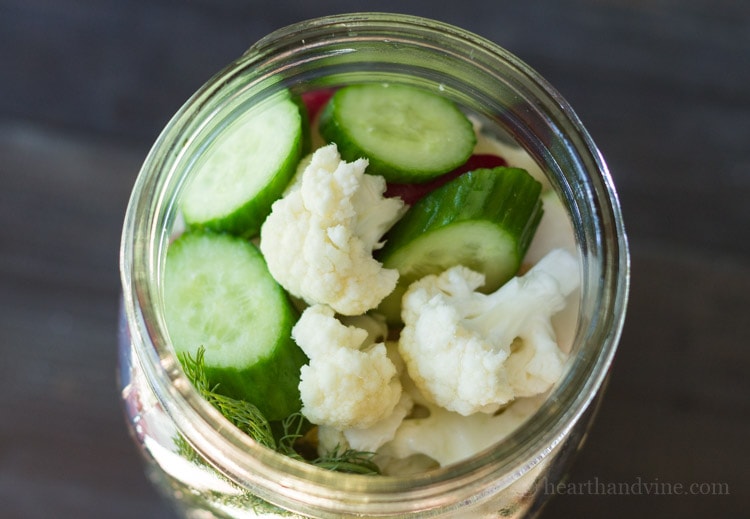 The herbs and spices can also vary. Sprigs of fresh dill are popular but you could use other herbs such as basil or parsley.
Hearty seeds work well too, such as coriander. Did you know that coriander is the seeds from a cilantro plant?
Pickled Vegetable Herbs & Spices:
fresh garlic cloves
sliced onion
shallots
sliced fresh ginger
bay leaves
dill sprigs
basil leaves
parsley
cilantro
peppercorns of all color
red pepper flakes for heat
celery seed
fennel seed
mustard seed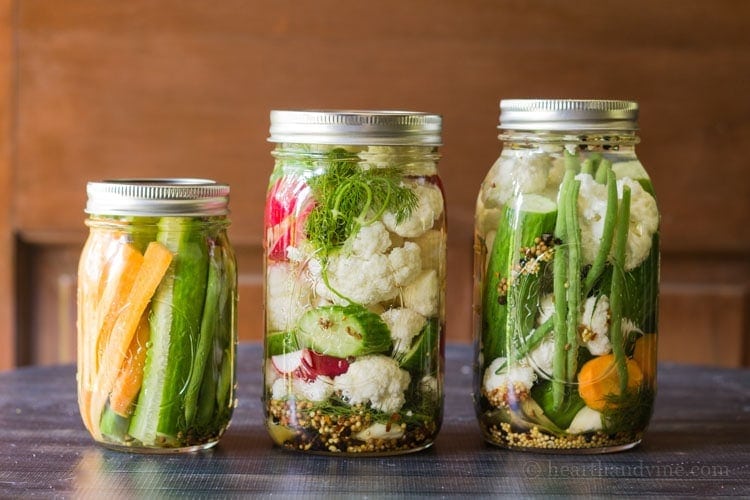 This recipe has red pepper flakes making for some spicy pickled vegetables but you can easily leave them out.
Place them on a pretty platter for a wonderful, colorful appetizer for your guests to enjoy.
Wouldn't this make a great gift? I brought them to the beach for our family vacation and as a hostess gift while visiting with friends. They were a big hit!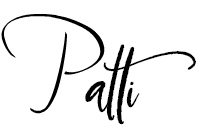 ---
P.S. Another easy and fun recipe for pickling is making Pickled Beets and Eggs. This is something my husband grew up with and he keeps a batch going in the refrigerator all year long.
Click Here to Save to Pinterest!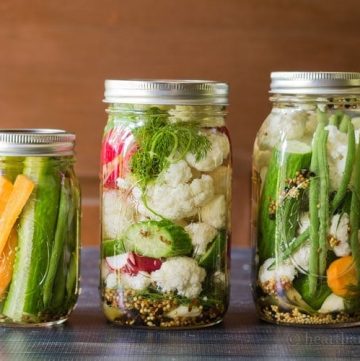 Pickled Vegetables
Yield:
This recipe was enough to fill two quarts and 2 pints sized mason jars.
Additional Time:
10 minutes
These pickled vegetables are easy to make. They are super flavorful and pretty. Plus their calorie count is low so you can feel good about snacking away.
Ingredients
8 garlic cloves
4 teaspoon mustard seeds
4 teaspoon coriander seeds
2 teaspoon red pepper flakes
4 teaspoon black peppercorns
8 sprigs fresh dill
4 cups water
3 cups white vinegar
2 tablespoons kosher salt
vegetables carrots, green beans, cauliflower, radishes, cucumbers
Instructions
Clean and trim your vegetables. Cut up in slices or small chunks so that they are easy to pack into the mason jars.
Clean your mason jars in the dishwasher. Then, at the bottom of each jar sprinkle a little of the spices, a bay leaf, and a couple of garlic cloves.
Pack the vegetables into the jars along with a couple of sprigs of dill.
Bring the water, vinegar and salt to a boil to create the brine. Once the salt is dissolved let cool slightly and then pour over the vegetables, making sure to cover them but leaving a little bit of space at the top of the jar.
Once the jars have cooled down a bit. Cover with the lid and place in the refrigerator. They will be ready to eat the next day and taste even better after a few days. They should keep for up to 2 months refrigerated.
Nutrition Information:
Yield:

10
Serving Size:

1
Amount Per Serving:
Calories:

50
Total Fat:

1g
Saturated Fat:

0g
Trans Fat:

0g
Unsaturated Fat:

1g
Cholesterol:

0mg
Sodium:

1290mg
Carbohydrates:

7g
Fiber:

3g
Sugar:

2g
Protein:

2g
Nutritional information for the recipe is provided as a courtesy and is approximate only. We cannot guarantee the accuracy of the nutritional information given for any recipe on this site.