Cut out pieces of fabric in fun shapes and sew them onto a background for an interesting art technique called raw edge applique. Use your art to create wall hangings, pillows, or other home decor items.
Here's another fabric craft that's new to me. It's called raw edge applique. Basically, all you are doing is creating a fun scene with fabric cutouts and applying it to a background fabric. You glue your pieces down and then you sew just inside the edges for permanency, leaving a raw edge, and more importantly an artistic flair to the piece.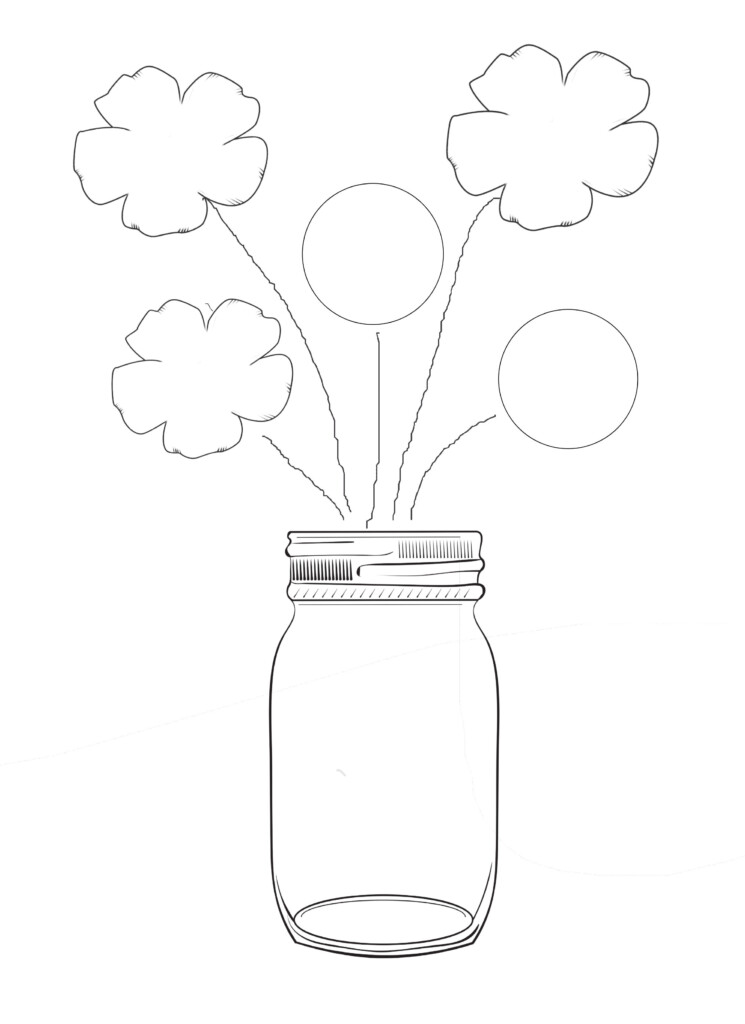 Steps for Creating Raw Edge Applique
Create a pattern on the computer or use mine (shown above).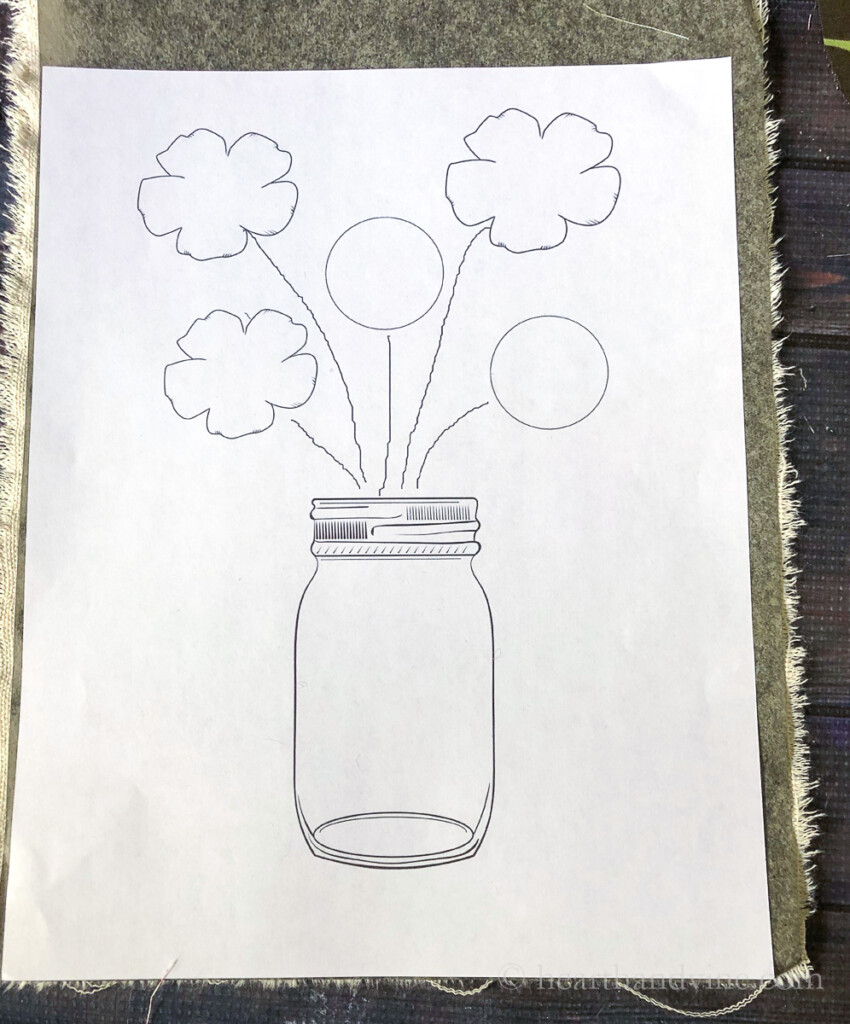 2. Transfer the pattern to a fabric backing using carbon paper. I used some leftover drop cloth material but you can use plain cotton or muslin too.
Now that you have your backing fabric with a traced pattern you need to add fabric pieces to the different shapes.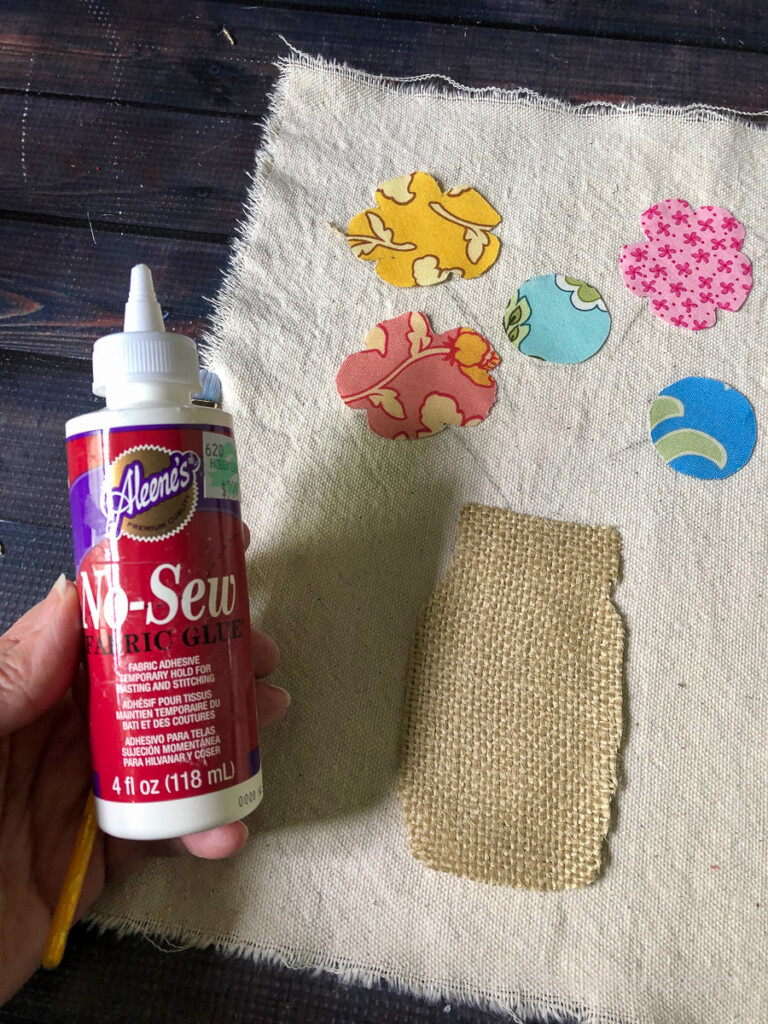 3. Cut out the printed pattern pieces then trace them on scraps of fabric. I chose some burlap for the jar and bright colored cotton for the flowers.
4. Glue the pieces in place and let them dry.
5. Next, go to the sewing machine and sew around each piece outlining it with black or other contrasting thread. Be sure to sew just inside the edge of each piece. Over time the edges will fray giving the piece a nice rustic look.
Continue sewing other lines and embellishments wherever you like.
Tips for Sewing Raw Edge Applique
This one is a little hard to do unless you are really good at sewing or you have lots of patience. However, I found the following to be helpful.
Practice on an extra piece of cloth to get the length of stitches you like first.
Use the slowest setting on your sewing machine.
Be sure to anchor your sewing with the needle in the down position as you make turns.
Try manually turning the wheel for difficult movements.
How to Use the Applique Art
Frame your raw edge applique in a picture frame.
Make a hanging scroll with the art.
Create a pillow with the applique in the center.
Use it in a quilt.
This was very fun and I'll say that it does take some patience to move the fabric around on the sewing machine. However, I expect that all it takes is a little practice.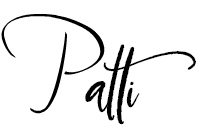 Print
Raw Edge Applique - A Basic Tutorial
This fun raw edge applique fabric craft is easy to do and can be used in a variety ways that will show off your creative art.
Equipment
Scissors

sewing machine

Contrasting thread
Materials
Fabric backing - canvas

muslin or plain cotton

Fabric scraps - for each area of applique

Carbon Paper for tracing

Fabric or white glue
Instructions
Print out the image above or create your own.

Trace the image with carbon paper on your backing fabric.

Cut out individual pieces of the pattern and trace them onto fabric scraps.

Glue the fabric scraps to the backing fabric.

Once dry sew around the inside edges leaving some to ravel over time.

Continue to sew other lines for stems and accents in the pattern as desired.

Frame or create a scroll wall hanging. You can also use it as part of a pillow or quilt.