This shrimp and crab amaranth soup is creamy and hearty. Great comfort food with the health benefits of a high protein nutrient-packed grain.
More Yummy Soup Recipes:
Cream of Crab Soup, Roasted Cauliflower Soup, and Easy Potato Soup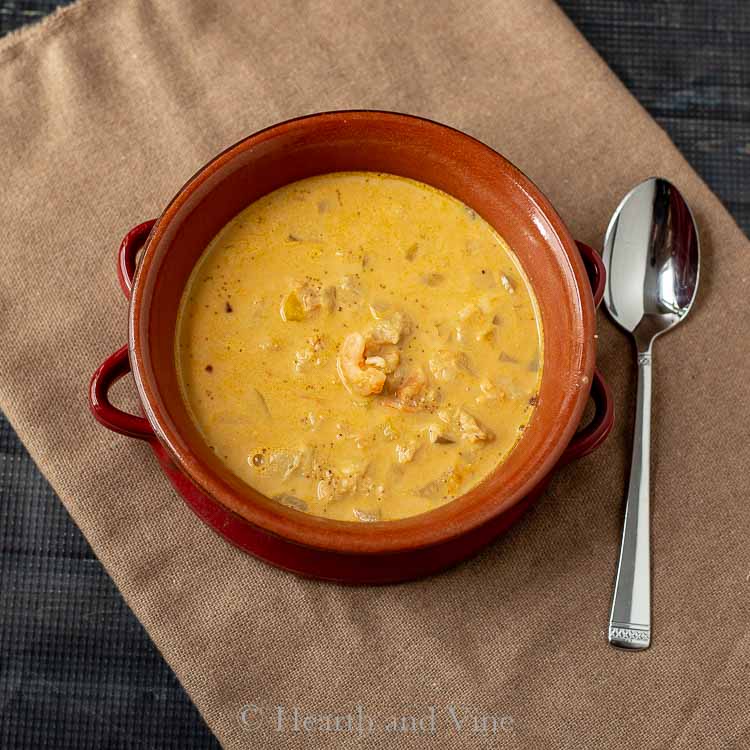 Have you heard of Amaranth yet? It's a crop similar to quinoa with a ton of great nutritional health benefits.
Considered a superfood, amaranth contains higher levels of protein than similar grains. It also contains calcium and is naturally gluten-free (though you may want to check the label).
This post contains some affiliate links (that means if you make a purchase after clicking a link, there's no additional cost to you, but I will earn a very small commission. ) Click here to read my full disclosure policy.
Like quinoa, it's not actually a grain but a seed. Some call it a pseudo-cereal. However, it's usually listed with other grains due to its nutritional profile.
As you can see from the picture above it's even smaller than quinoa.
Originally when I picked this up in the supermarket I thought it would be good with leafy greens in a salad. However, after cooking it I noticed that it has more of a porridge consistency and decided to make a soup or stew.
I was in the mood for seafood so I picked up some medium shrimp and crabmeat at the store and made a yummy creamy, yet light, soup for dinner.
My husband loved it. He is a big seafood lover and puts Old Bay seasoning
on everything so it's no wonder he liked the soup. He also said he enjoyed the amaranth and that it reminded him of a savory cream of wheat.
I used a can of evaporated milk instead of cream to lighten the soup but still keep it creamy.
No potatoes or noodles needed as the amaranth offers plenty of starch. And, in addition to the high levels of protein, amaranth also offers a nice supply of magnesium, zinc, iron, and B6 making this a very healthy dinner.
Knowing how nutrient-rich the amaranth is made me feel good about eating this dish. We even helped ourselves to seconds.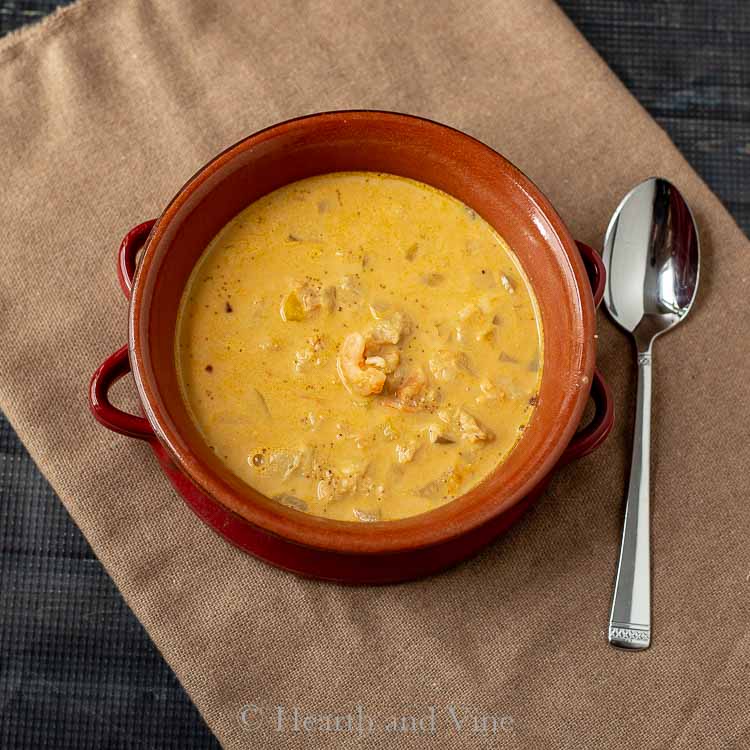 Shrimp and Crab Amaranth Soup
Ingredients
8 oz fresh crabmeat
1 pound medium cooked shrimp (chopped into bite sized pieces)
2-3 tablespoons of olive oil
1/2 cup chopped sweet onion
1/3 cup diced carrots
4 cups (1 qt) vegetable broth
1 can (12 oz) evaporated milk
1 cup Amaranth
1 tablespoon Old Bay Seasoning
1/4 teaspoon ground black pepper
1/4 teaspoon salt
1/2 teaspoon red pepper flakes
Instructions
Saute onions and carrots in olive oil for a few minutes
Add Old Bay, salt and pepper and saute for a few more minutes.
Add broth and bring to a boil.
Add amaranth, lower heat, cover and simmer for 20 minutes
Add shrimp and crab, stir well.
Add evaporated milk and red pepper flakes.
Simmer for 3-5 minutes until heated through and serve.
Recommended Products
As an Amazon Associate and member of other affiliate programs, I earn from qualifying purchases.
Nutrition Information:
Yield:

4
Serving Size:

1
Amount Per Serving:
Calories:

546