Smoky jalapeno cheddar cornbread is easy to make. The key is blistering jalapeno peppers over a flame to give the cornbread a nice smoky kick.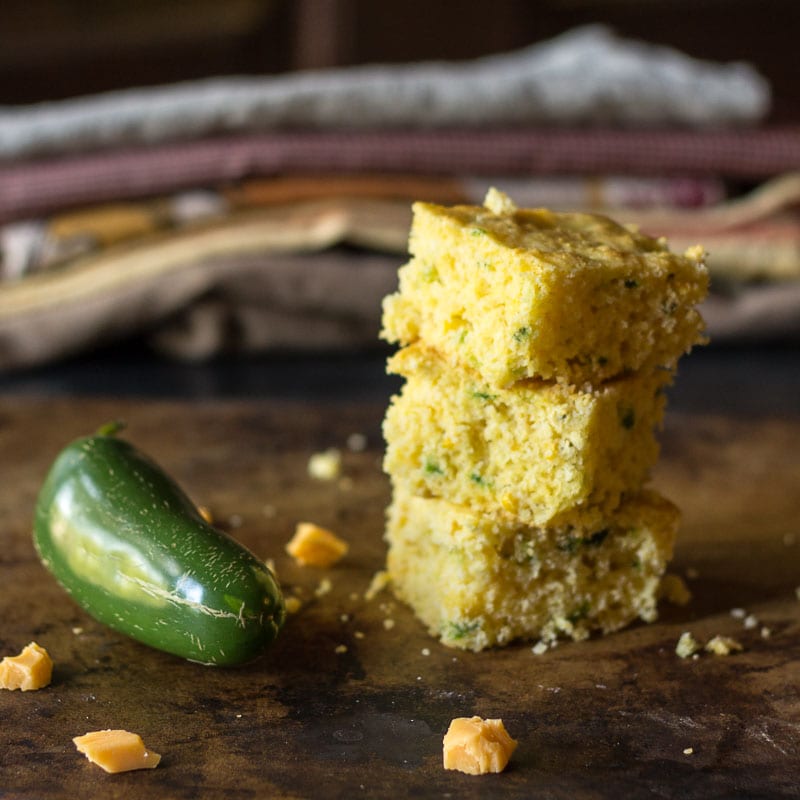 this post contains affiliate links for your convenience. Click here to read my full disclosure policy
This recipe for smoky jalapeno cheddar cornbread was inspired by a visit to a local restaurant. A while back, my daughter and I went to a local Mexican restaurant and she ordered some grilled jalapeno peppers. They were really good, and not as hot as you would think. Ever since then I've been thinking about ways to incorporate grilled jalapenos in a recipe. So, when I was looking for something to serving with my Jambalaya dish I came up with the idea to add them to cornbread.
Smoky Jalapeno Cheddar Cornbread
Two other ingredients I add were cheddar cheese and a can of creamed corn. They were good additions but I have to say that the smokiness of the blistered peppers are what makes this dish.
Instead of grilling the peppers I held them over a flame on the stove.
This gave them the same smoky flavor I remembered at the Mexican restaurant.
I used Jiffy cornbread mix
to save time and added a little cheddar cheese. I will say that the cheese didn't throw a lot of flavor. Next time I will either skip the cheese or increase the amount.
The smoky jalapenos, on the other hand, added a great flavor and now I don't think I will be making cornbread without it.
Here's the Recipe:
Smoky Jalapeno Cheddar Cornbread
Ingredients
2 boxes Jiffy Cornbread Mix
2 eggs
3 large jalapeno peppers
1/2 cup shredded cheddar cheese
8 oz can of creamed corn
Instructions
Preheat oven to 400
Blister pepper by holding over a flame on a gas stove or grilling, finely dice.
Beat eggs in a small bowl
Add all ingredients together in a large mixing bowl.
Pour into a greased 9 x 13 baking pan.
Bake for 20 minutes or until a toothpick comes out clean when inserted into the center.