This steak seasoning recipe makes the perfect gift for all the men in your life who enjoy a tasty steak on the grill. Tastes great on chicken and pork too.
This post contains some affiliate links (that means if you make a purchase after clicking a link, there's no additional cost to you, but I will earn a very small commission. ) i.e. as an Amazon Associate, I earn from qualifying purchases. Click here to read my full disclosure policy.
Mother's Day is usually easy to figure out, but Father's Day has always been a little tougher for me. In fact, I think women are easier to buy for in general. However, most of the men in my life enjoy a good steak off the grill. So, I thought it would be fun to come up with a homemade steak seasoning, or rub, to give to the fathers in our family.
Using nine of the many spices in our cupboard I came up with this blend, and so far we are loving it.
Homemade Steak Seasoning Recipe
Ingredients
2 Tablespoons Black Peppercorns
2 Tablespoons Kosher Salt
1 Tablespoon Onion Powder
1 Tablespoon Garlic Powder
1 Tablespoon Mustard Seed
1 Tablespoon Coriander Seed
1 1/2 Tablespoons Paprika
1 Tablespoon Dried Thyme
2 Teaspoons Red Pepper Flakes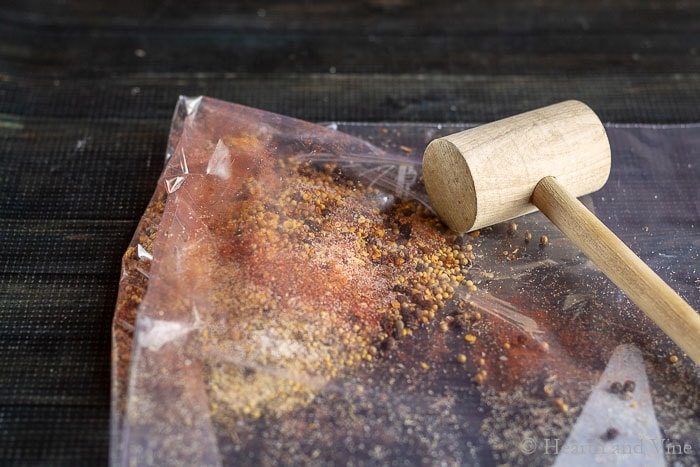 Since I don't have a spice grinder, I used a large plastic bag and a wooden mallet to crush some of the seeds and peppercorns.
I wasn't worried about getting them 100% crushed, because I kind of like the rustic nature and texture that the seeds add.
This recipe is enough to fill this 4 ounce spice bottle
, so if you want to make it for gifts, you can increase the amount accordingly. You certainly want to make sure that it's kept in some type of airtight container.
How to Use the Steak Seasoning Rub
To use, rub the steak seasoning liberally on both sides of your steak. Grill your steak to the perfect medium rare or whatever your favorite cooking temperature is and enjoy.
We found this recipe to be a great all-purpose steak seasoning blend as it tastes great on other cuts of meat, such as pork chops, or chicken. I haven't tried it on seafood yet, but I would suspect that it would be great on a meaty tuna steak. Perhaps on grilled vegetables too.