This Moroccan beef stew recipe is full of robust flavors, using ten different spices, that are sure to tantalize your taste buds.
If you've been following me for a while, you may remember that I have a middle eastern background on my father's side. Beef stews served over rice were a big part of many meals growing up. So, it's no wonder that I would enjoy a Moroccan beef stew, that has a similar flavor palette, and is really easy to make.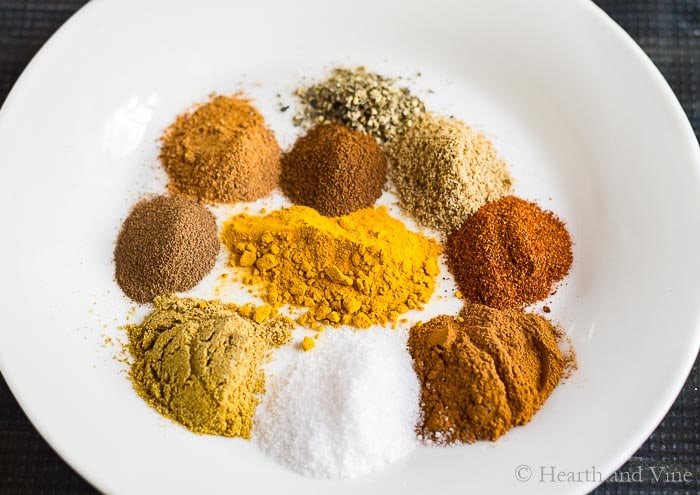 This post contains some affiliate links (that means if you make a purchase after clicking a link, there's no additional cost to you, but I will earn a very small commission.) Click here to read my full disclosure policy.
This recipe has ten different spices but you could probably add more. I love the bold flavor and smell from all of them cooking in the kitchen. My husband even made a comment about it smelling like my grandmother's house. You could make it even easier by buying a jar of Ras El Hanout
, a Moroccan spice blend.
I made this in a large dutch oven but you could make it in an Instant Pot or a slow cooker.
Moroccan Beef Stew
I served it over rice with a little turmeric, because that's the way I was taught growing up. However, couscous and other grains like quinoa, even noodles would work just as well.
It's the spices that are key here in my opinion. So if you would rather use chicken, lamb or make this vegetarian, with extra veggies or tofu, it should taste just as good.
Morrocan Beef Stew
Ingredients
2 tablespoons extra virgin olive oil
1 teaspoon cinnamon
1 teaspoon salt
1 teaspoon cumin
1 teaspoon turmeric
1/2 teaspoon black pepper
1/2 teaspoon cayenne
1/2 teaspoon corriander
1/4 teaspoon clove
1/4 teaspoon allspice
1/4 teaspoon nutmeg
1.5 pounds beef stew meat
2 cloves garlic, grated
1 medium onion, diced
3 carrots, sliced in rounds
1 can (15 oz.) chick peas
2-3 cups beef or chicken broth
2 tablespoons fresh parsley, finely chopped
zest 1 lemon
Instructions
Saute onions in olive oil for several minutes until wilted.
Add garlic and stir.
Add all spices and cook for another minute.
Add beef and sear on all sides for 2-3 minutes
Add carrots and broth.
Bring to a boil, cover and reduce heat to low. Cook for 2 -3 hours.
Add chick peas, lemon zest and parsley.
Cook for another 15 minutes and then serve with rice.
Other Recipes You May Like:
Harvest Vegetable Beef Stew: Hearty and Simple
Slow Cooker Chicken Cassoulet: A Taste of the French Countryside
Millie's Chicken Pot Pie Direct from Pennsylvania Dutch Country