Learn how to make a stretchy bracelet with beautiful tila beads. Once you make one you'll want to have several for yourself and maybe a few more for friends.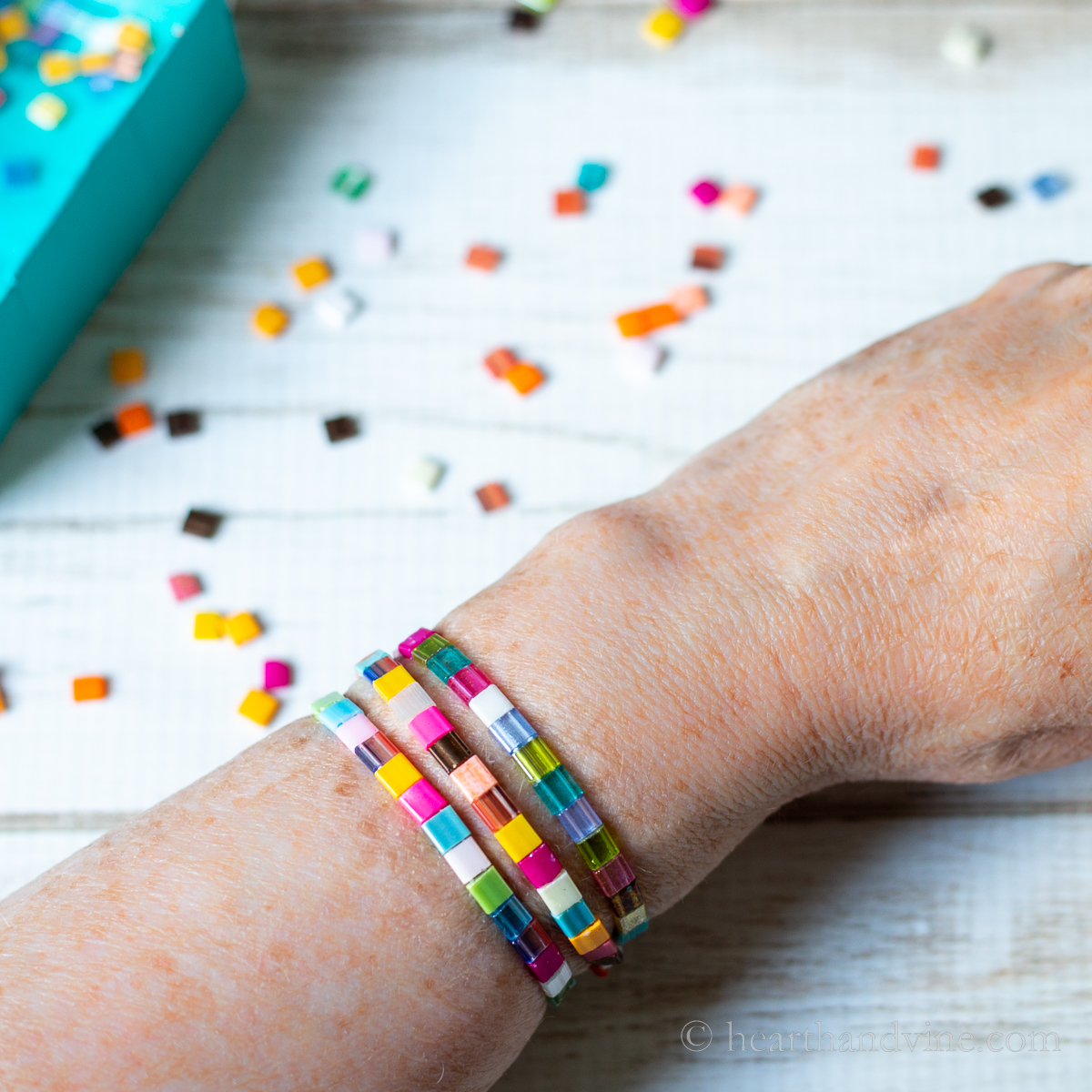 Today I'm sharing a fun creative project with step-by-step instructions on how to make stretch bracelets with pretty tila beads.
There's something about these flat rectangular-shaped tila beads that I really like.
This post contains some affiliate links (that means if you make a purchase after clicking a link, there's no additional cost to you, but I will earn a very small commission. ) i.e. as an Amazon Associate, I earn from qualifying purchases. Click here to read my full disclosure policy.
How to Make a Tila Bead Bracelet
Start with two pieces of elastic cord about 15 inches long. You want them to be much longer than you ultimately need to make it easier to tie together after you string the beads.
Make a knot at one end of the cords to anchor the beads. You can also add a little dot of clear nail polish or glue to the knot. This will help the knot stay in place because the stretchy cord can easily become undone.
You could also use a bead stopper, a binder clip, or a piece of tape at one end of the strands.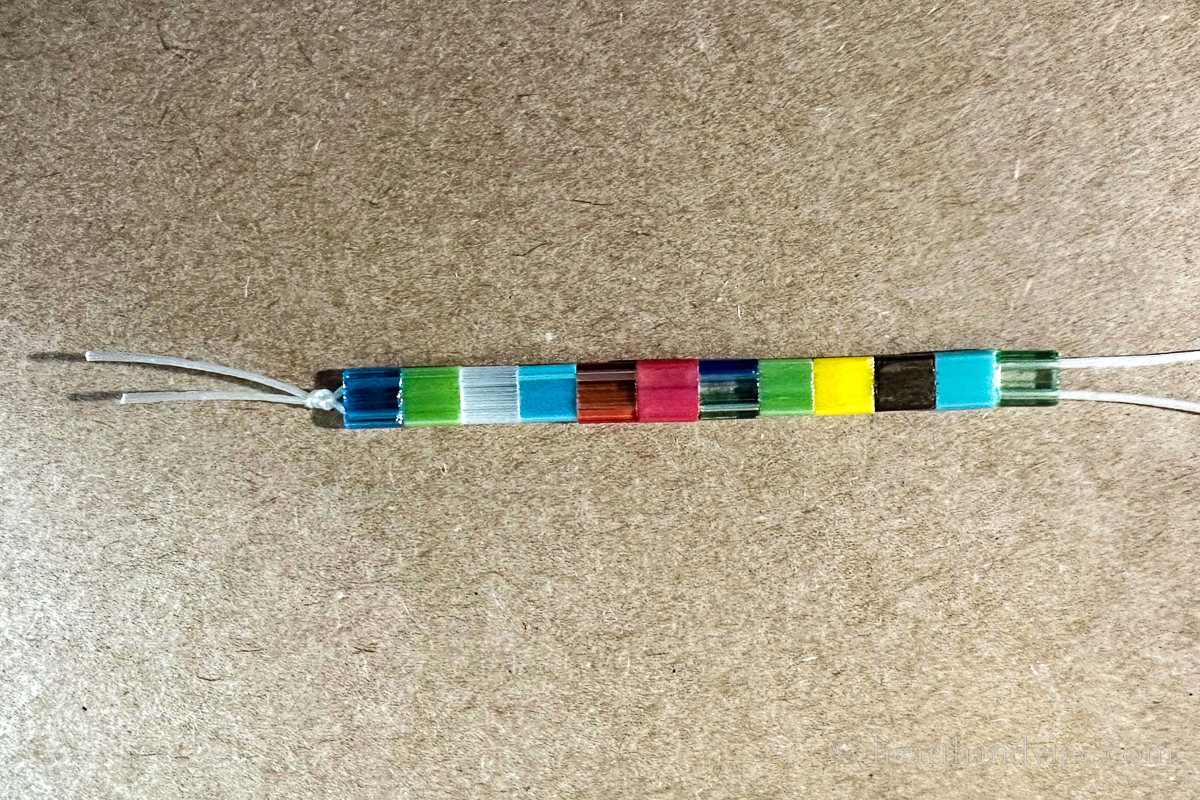 Start threading the beads onto the cords. You can get creative here and make any pattern you like or create an entire bracelet out of one color bead.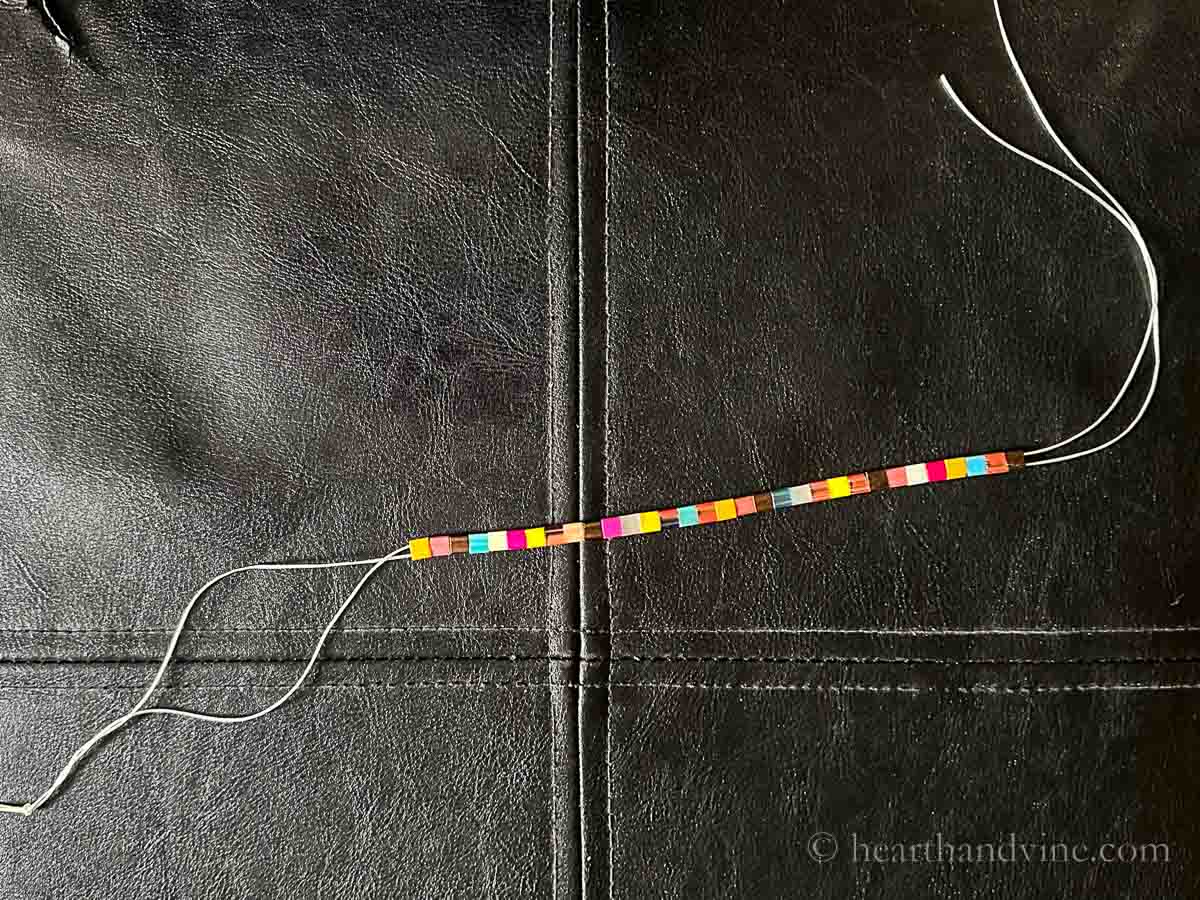 After you've reached around 25 beads hold the bracelet to your wrist to see how it fits. Then add as many as you need. I ended up using about 31 beads for my bracelets.
Next, move all the beads to the center of the strings. (see image above)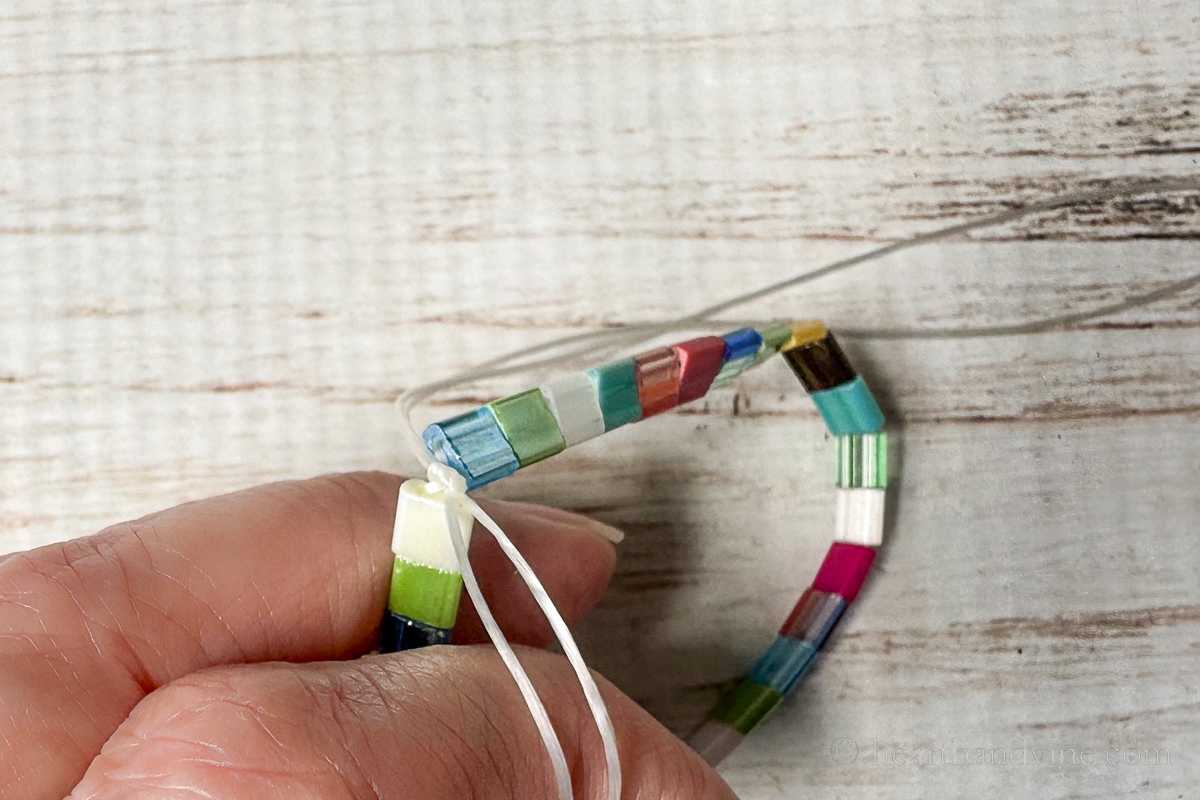 Tie the cords together in a double or triple square knot as tight as you can. I also tried a surgeon's knot but it didn't seem to hold any better.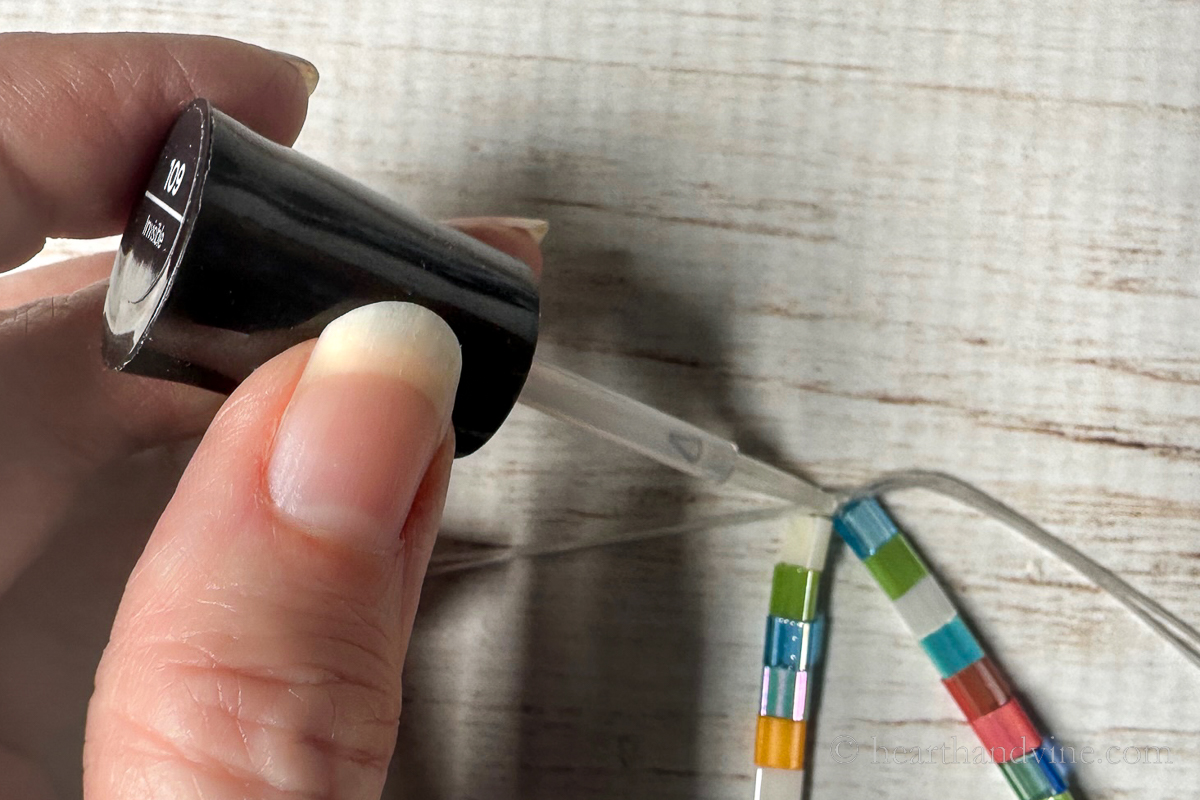 Then dab on some clear nail polish or super glue to hold the knot in place and make it more durable.
Once the polish or glue has dried, cut off any excess thread.
Try on the bracelet(s) and enjoy. Wouldn't these make a great gift?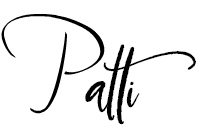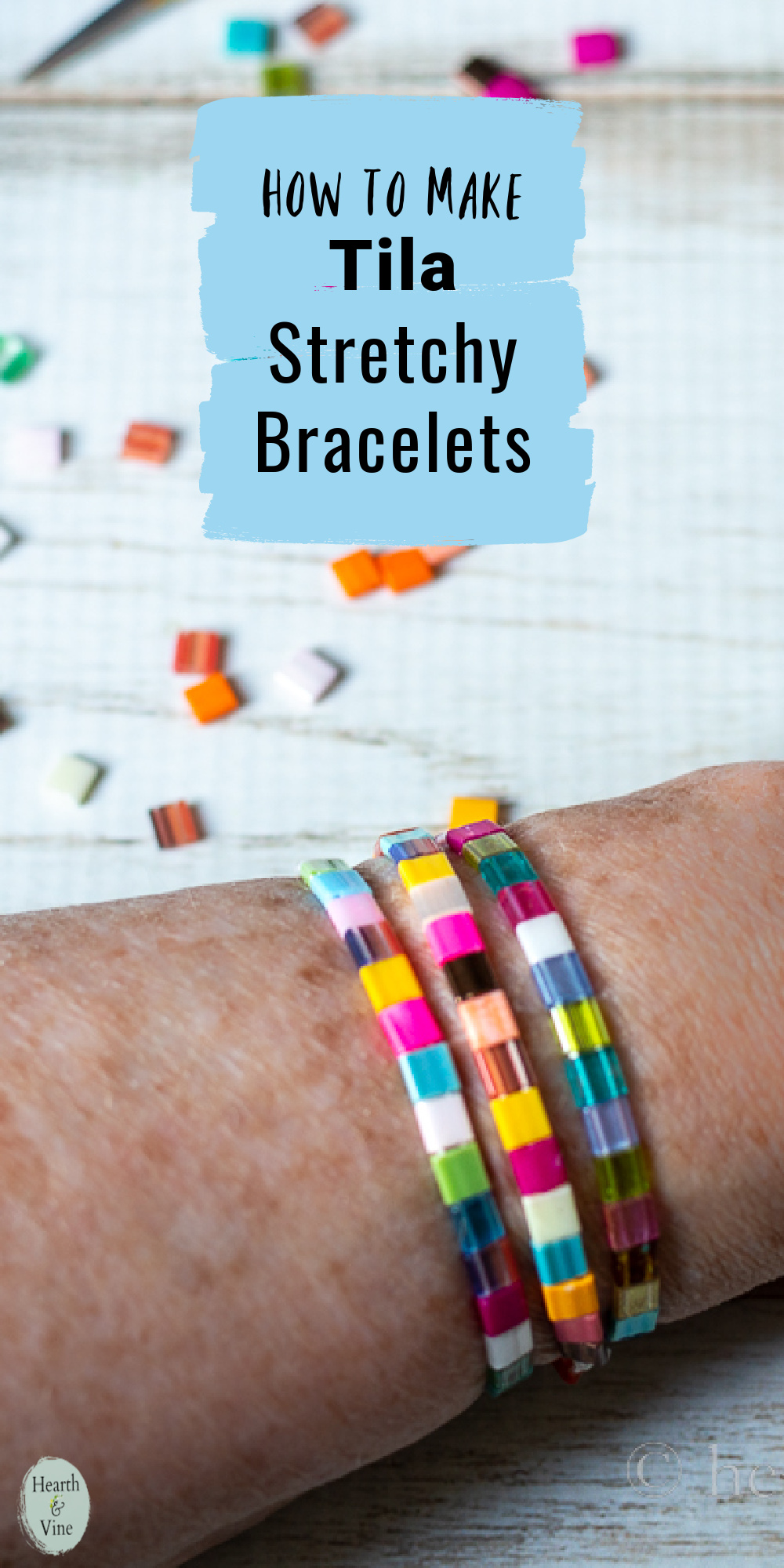 Print
Tila Bead Bracelet Tutorial
Learn how to make a stretchy bracelet or two or three with beautiful tila beads.
Instructions
Cut two 15 inch pieces of the elastic string.

Tie a knot on one end with both pieces

Add a drop of clear nail polish to the knot to secure it.

Start threading on the tila beads in any order you like

When you reach the 25th bead check the bracelet on your wrist and add as many more beads that you need to cover your wrist. Mine ended up around 30-31 beads.

Next, move all the beads into the center of the strings leaving plenty of room to tie them together.

Tie the cording into a double knot as tight as possible.

Dab on some clear nail polish to secure the knot.

Once the polish or glue has dried slide your new bracelet onto your wrist and start a new one.
Notes
I used clear nail polish to my knots but you could use super glue or jewelry glue if that's what you have on hand.
You can make a multi-colored bracelet or one with all the tiles in the same color.
Stretch Magic is a popular elastic thread or stretch floss that you can get at many craft stores. I just used a standard elastic string from Amazon.