Learn how to make this terracotta pot wreath with faux succulents for your front door for the summer season or keep it up all year long.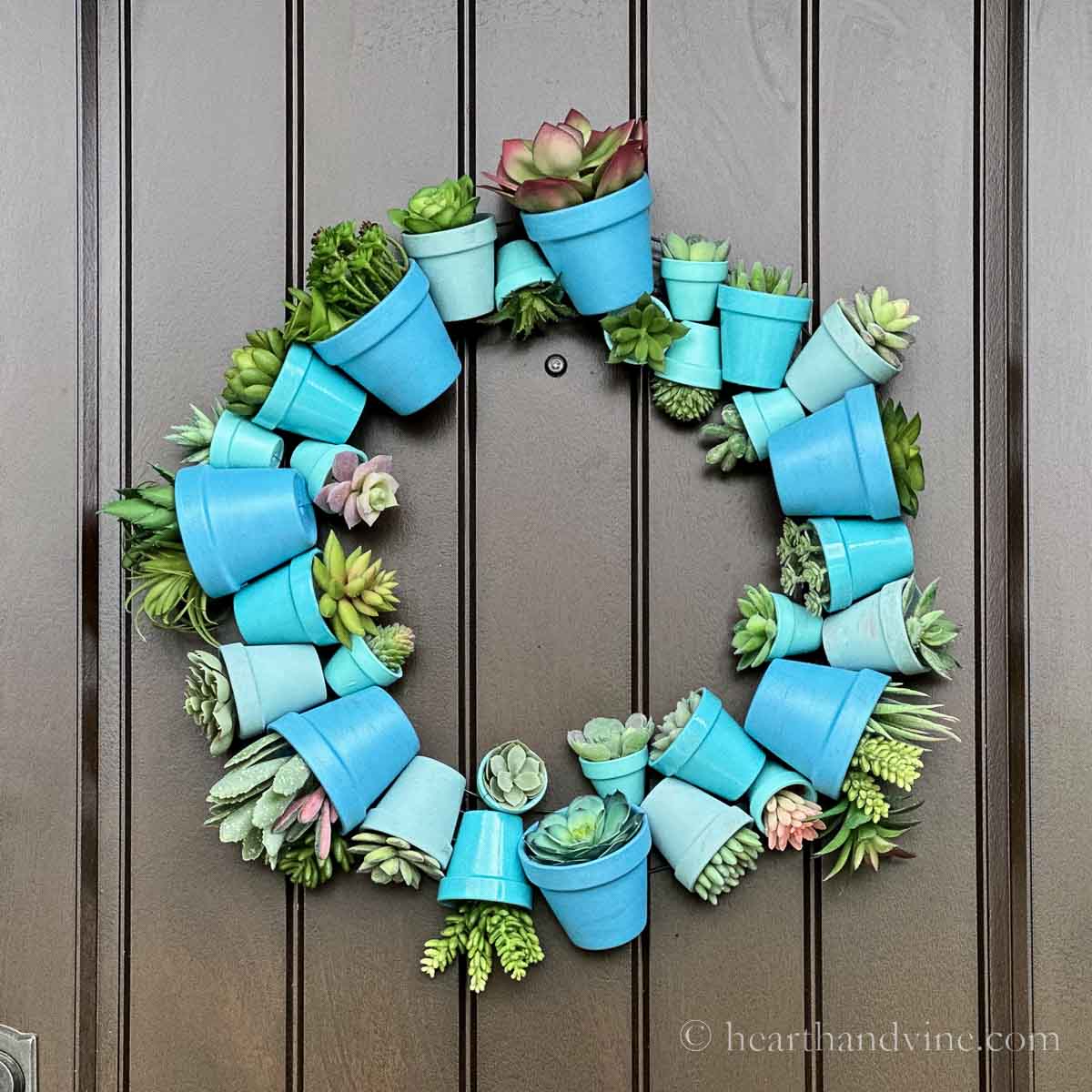 I've seen this fun flower pot wreath craft before. Maybe you have too. Or maybe this is the first time for you. It's always been on my list to try and I couldn't be more thrilled with the way it turned out.
This post contains some affiliate links (that means if you make a purchase after clicking a link, there's no additional cost to you, but I will earn a very small commission. ) i.e. as an Amazon Associate, I earn from qualifying purchases. Click here to read my full disclosure policy.
Supplies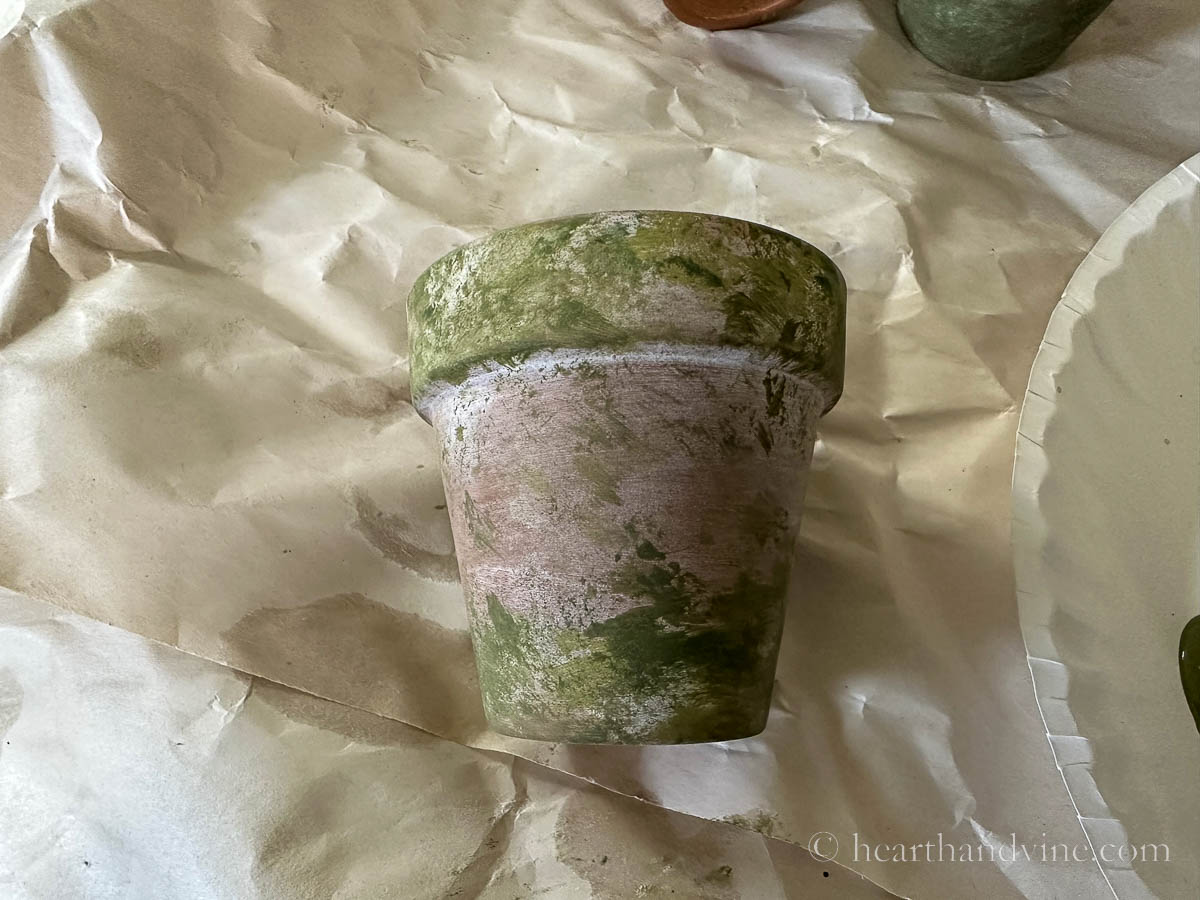 How to Make a Terracotta Pot Wreath
Decide if you want to paint the pots. You don't have to. I tried giving the pots an aged look (see image above) but then I realized most of my plants were green so I decided to paint them in shades of blue similar to my tin can organizer from a while back.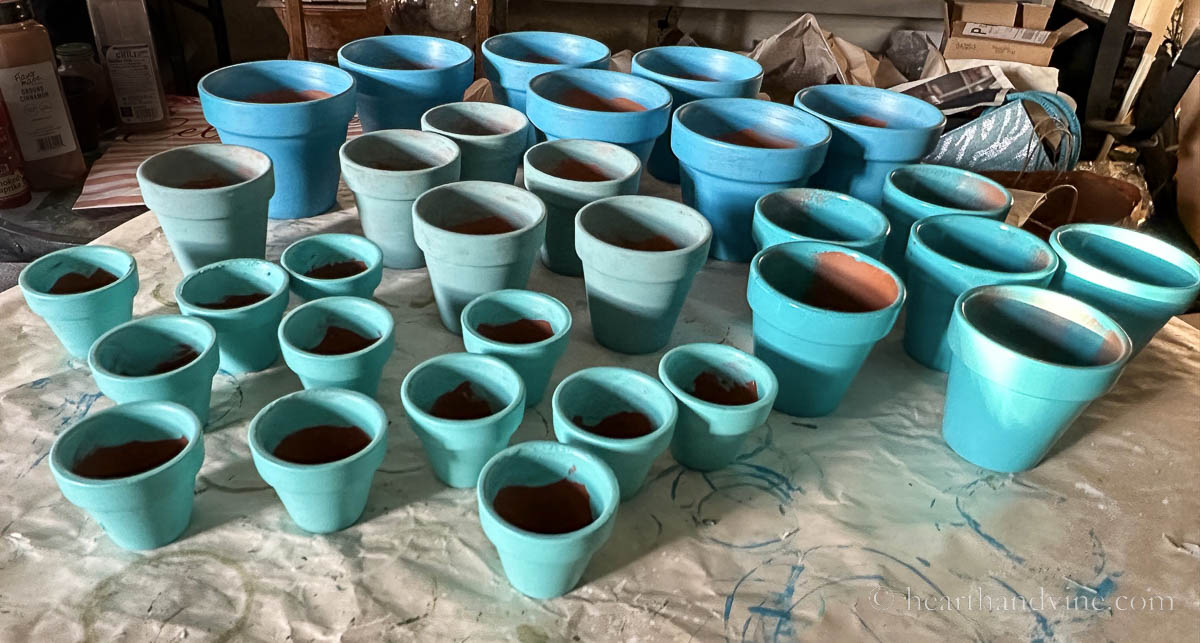 Blue is my favorite color and I think it looks great with green.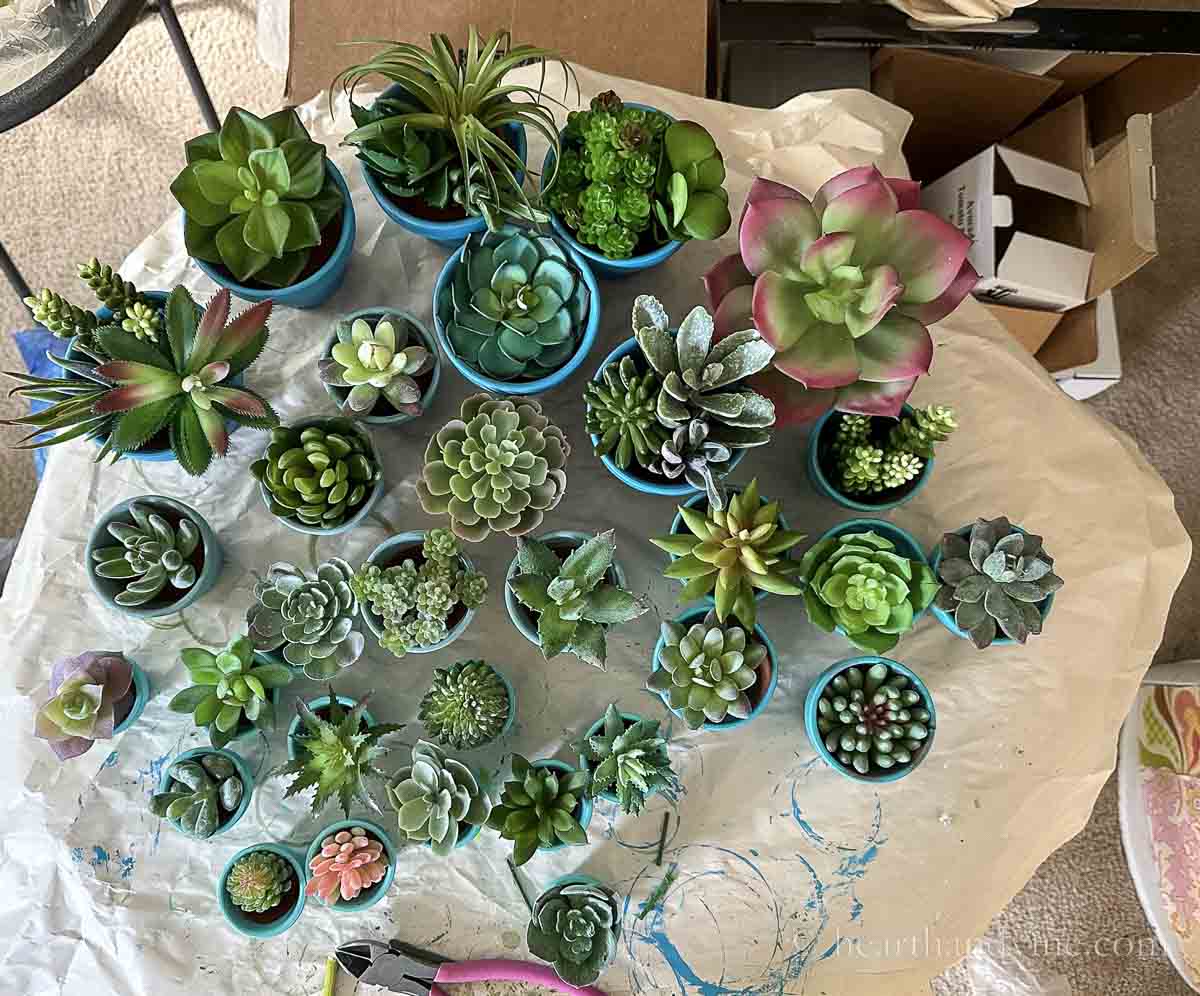 Next, I fit the succulents into the pots. For the larger ones I needed two or three to completely fill them. However, you could also use a little moss to fill in the pots that have extra space.
Note: Take a picture with your phone so you can refer back to the succulent and plant combination you just created.
Starting with the largest pots thread some floral wire through the bottom drainage hole and twist the top and bottom of the wire together in the back of the wreath holding it into place.
Spread them out equally around the wreath form. You can also position them in different ways. Some upright, on an angle, upside down. It's up to you.
Continue with the next largest group of pots in the same way and finish with the smallest.
Then cut up some styrofoam to fit into the bottom third or half of each pot. I did not glue mine but you can if you want to.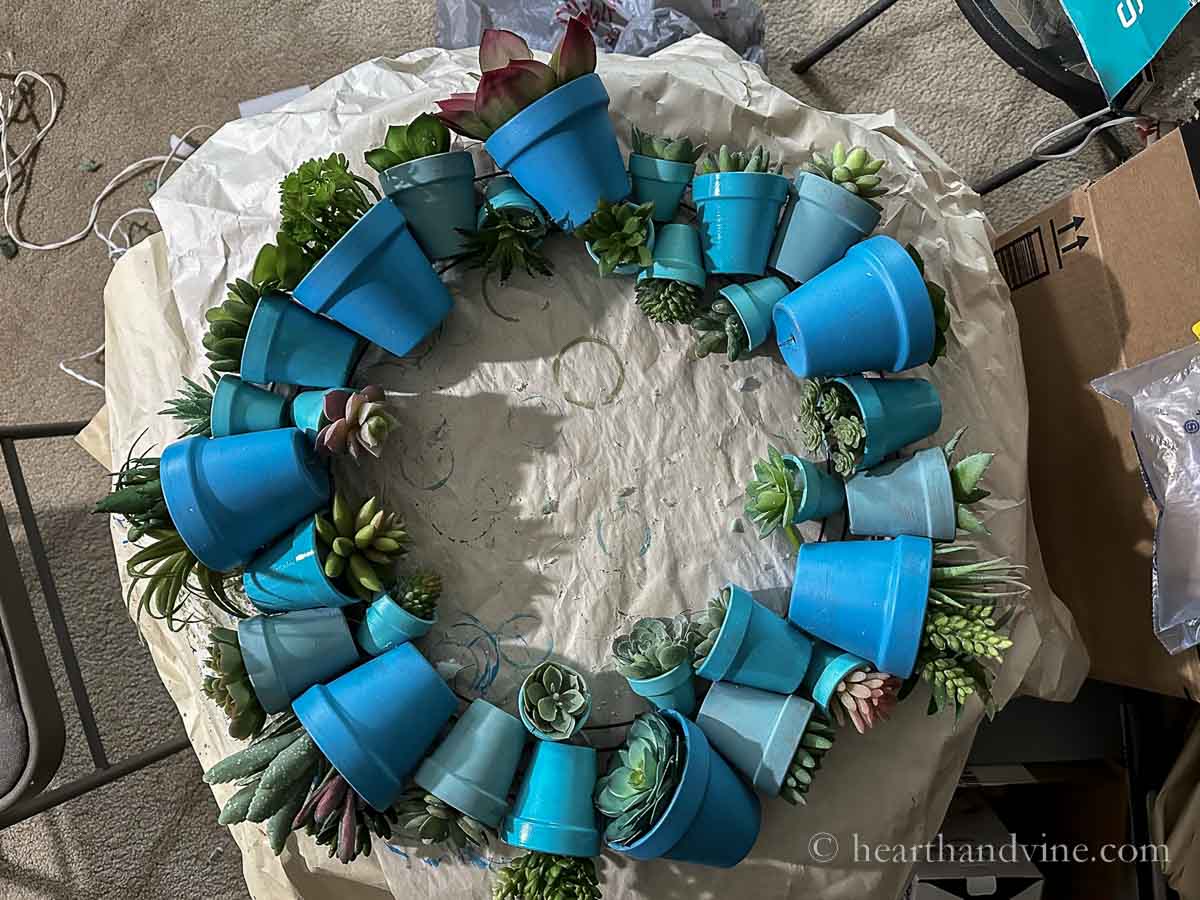 Then, referring to my picture I cut off some of the stem of each succulent and pushed them into the styrofoam.
Once again, I did not use glue but of course, you can.
Notes
You don't have to paint the pots. You could leave them as is. Keep in mind that if they will be susceptible to the elements you may want to use outdoor paint or spray them with poly first. I used DecoArt patio paint acrylic paints.
The wreath is a little on the heavy side. Make sure that the door hanger you are using can hold the weight.
I didn't use glue for this project however you may feel the need to glue in the styrofoam and the succulents for a more secure fit.
You could also use a grapevine wreath for this project. Maybe you have some growing in your yard and can make a grapevine wreath.
You could also use faux spring flowers or other artificial plants for this one. I think small sunflowers would be pretty.
I bought most of my supplies online or at my local craft store and it does add up. However, several of these supplies can be found at the dollar store (dollar tree). It's just hit or miss as to what each store carries.
You can also save a bit of money by making a smaller wreath or using fewer pots and adding moss or other filler in between the pots.
Here's the finished product. It looks so good on our dark front door.
Now I need to remove the spring forsythia in the pots on the side and get the entire porch ready for summer.
But that's a post for another day.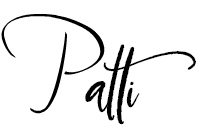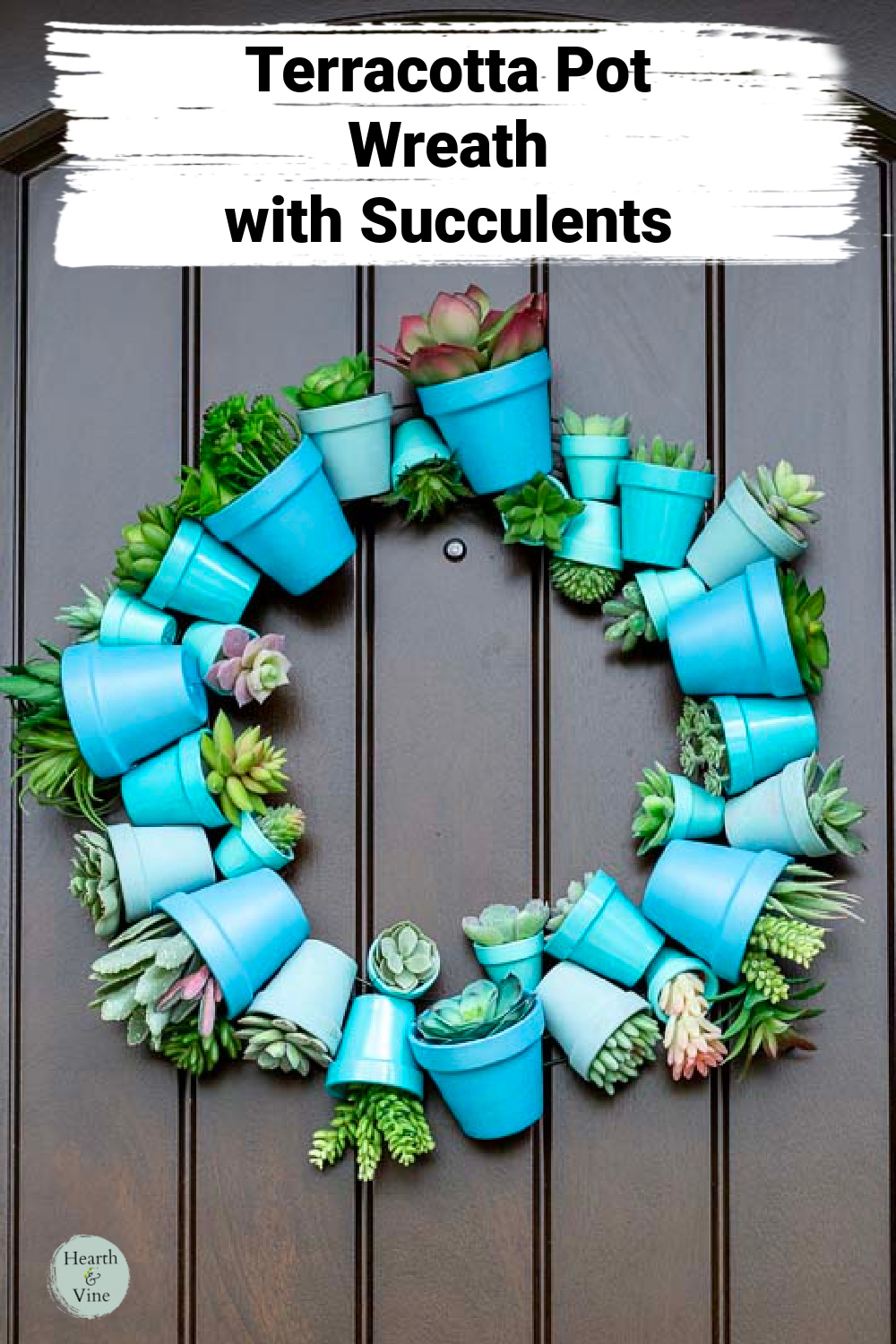 Print
Flower Pot Wreath Tutorial
Here's a fun way to take a bunch of terracotta pots and create a wreath for your front door.
Equipment
1 Wire Cutter

1 Paintbrush
Materials
7

3 inch clay pots

various craft paints

styrofoam
Instructions
Clean any dirt or dust from your terracotta pots.

Paint the pots as desired or just leave them in their original clay color. Be sure to paint a little inside and the bottoms of the pots as those areas will show.

Place your succulents in each pot and take a picture so you will remember which plant goes in each pot.

Starting with the largest pots (3 inch) thread about 12 inches of floral wire through the top and bottom drainage hole of each pot.

Then attach each pot at equal intervals to the wire wreath frame by twisting the wire together on the backside. You can place a couple upright and maybe one or two upsidedown if you like.

Continue with the next group of pots (2.5"). Again place them in between the large pots at different angles or in different directions using more wire to secure them to the frame.

Finish with the last set of pots in the same fashion.

Next, use some styrofoam in each pot. You can press it into place or use a little hot glue to secure the foam.

Finally, push the faux succulents into the foam. You will probably need to cut off some of the plant stems to fit them inside. You can use wire cutters or a strong pair of scissors.

Hang your masterpiece on a door or wall in your home and enjoy.