This DIY solar water fountain planter is an easy project that provides beauty and flowing water anywhere in the garden or around your home. No need to worry about long cords or electrical outlets with a solar fountain and you can enjoy the beauty of your favorite annual flowers growing in the bottom pot.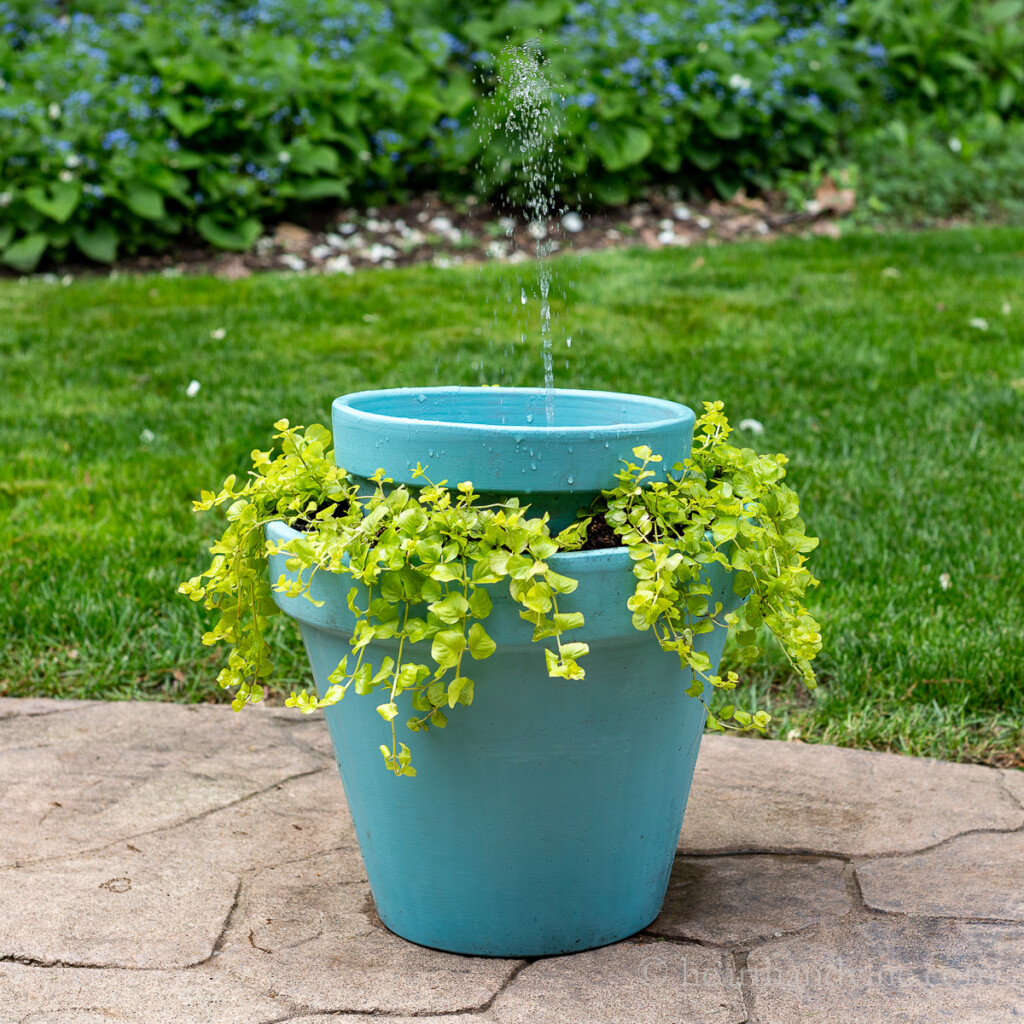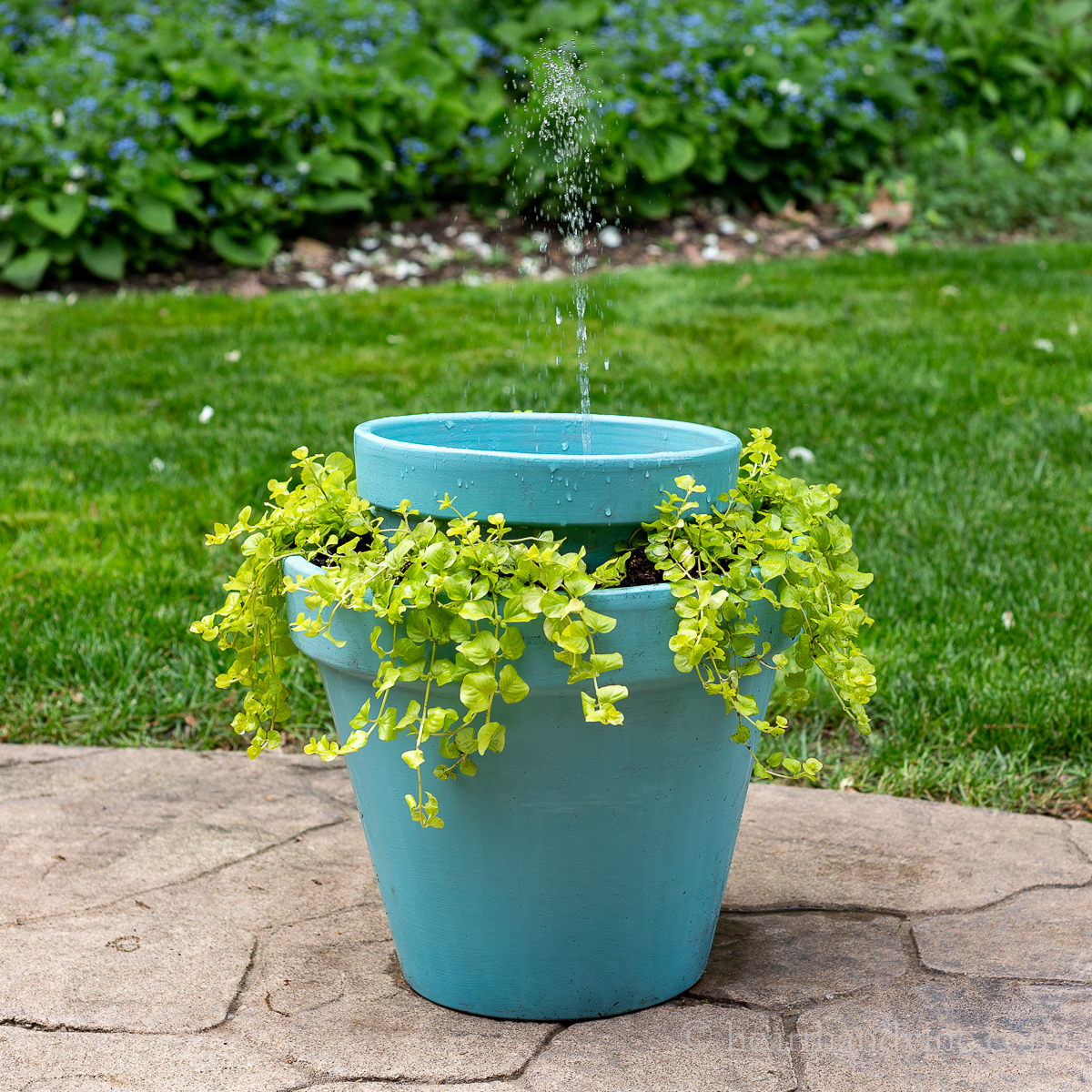 I love the look and sound of outdoor fountains. However, being able to connect them to electrical outlets is often a difficult situation. This fun DIY project does not require any electricity, only sunlight. That means you can place them in the garden, far away from the house.
You can use any pots that you like, even resin ones. I used clay pots and painted them with chalk paint. You can also change up the flowers that you plant in this water fountain/planter. I thought the bright green Creeping Jenny would look great with the blue pots and it's a carefree plant that requires little maintenance.
So you can follow these guidelines but feel free to make it your own.
This post contains some affiliate links (that means if you make a purchase after clicking a link, there's no additional cost to you, but I will earn a very small commission.) i.e. as an Amazon Associate, I earn from qualifying purchases. Click here to read my full disclosure policy.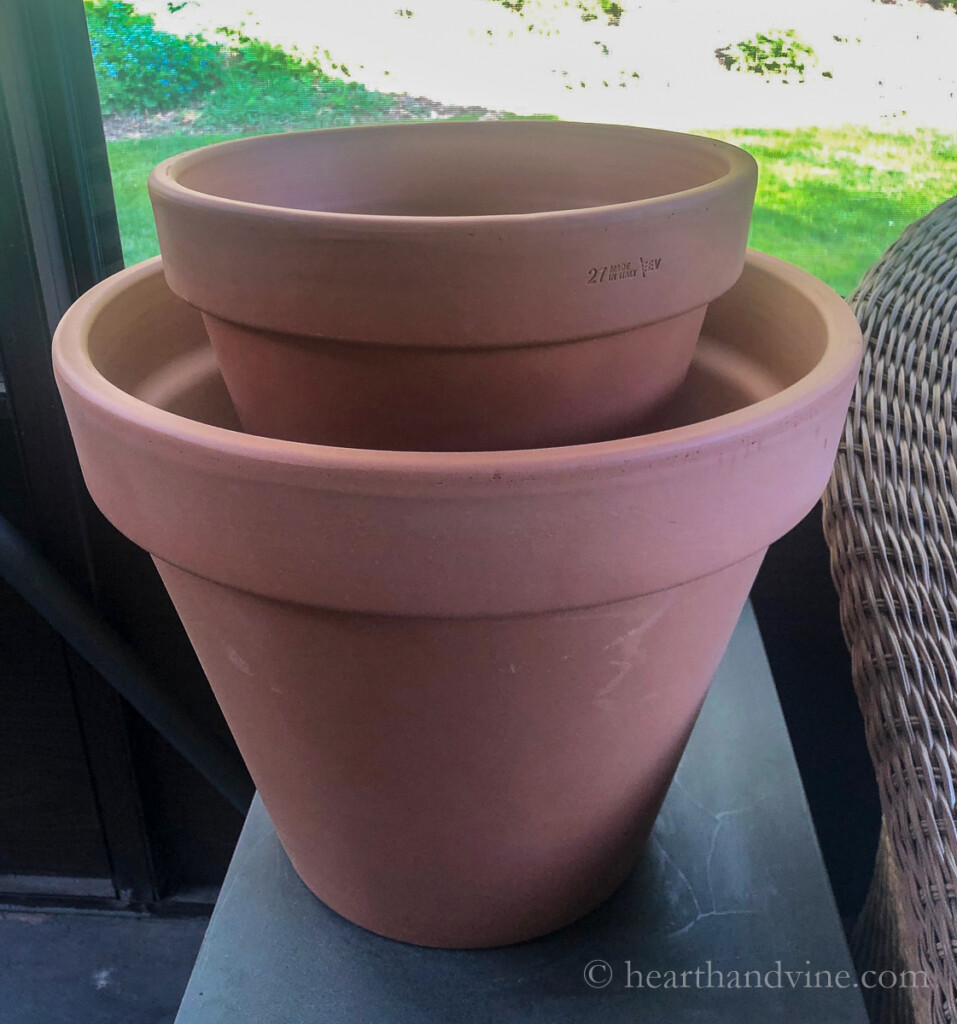 Making an Outdoor Solar Fountain Planter
Start with two pots that can nest inside of each other.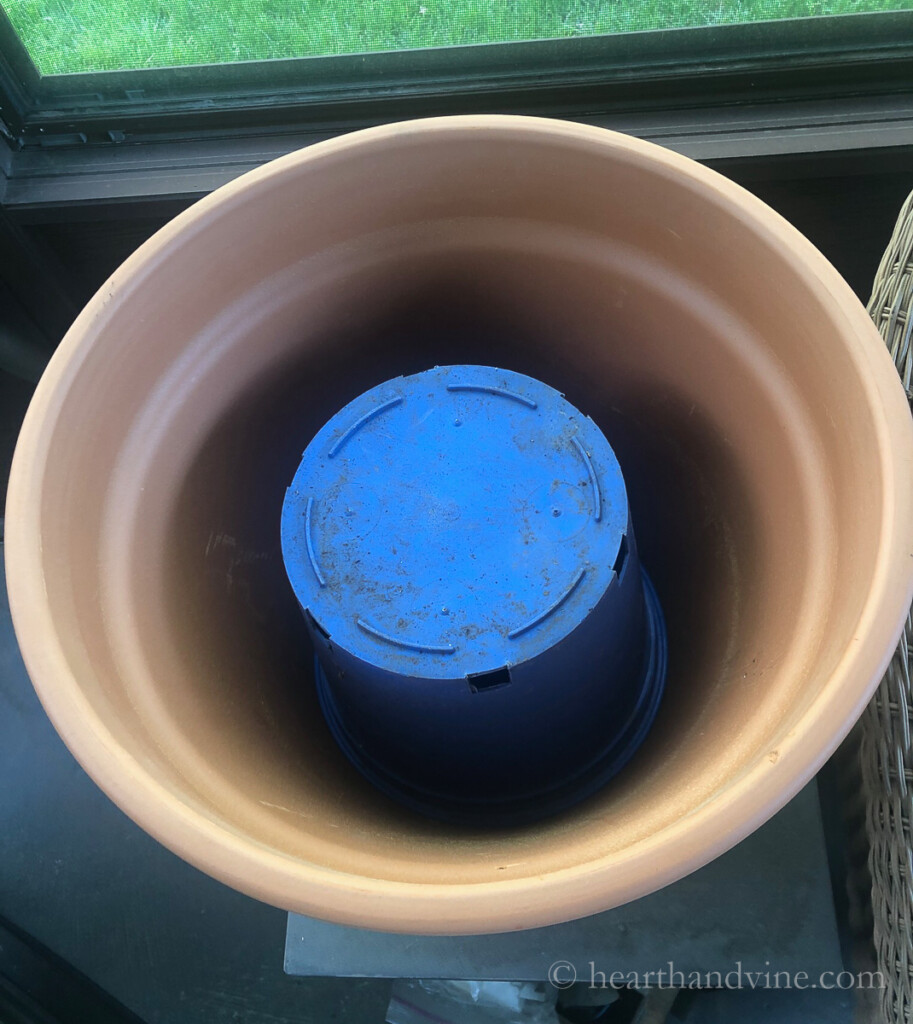 Raise the smaller pot up with a leftover plastic gallon nursery pot turned upside down.
Paint the pots with craft paint, spray paint or leave them in their natural state. You can use a sealant or outdoor poly spray to protect your paint or just let it wear naturally.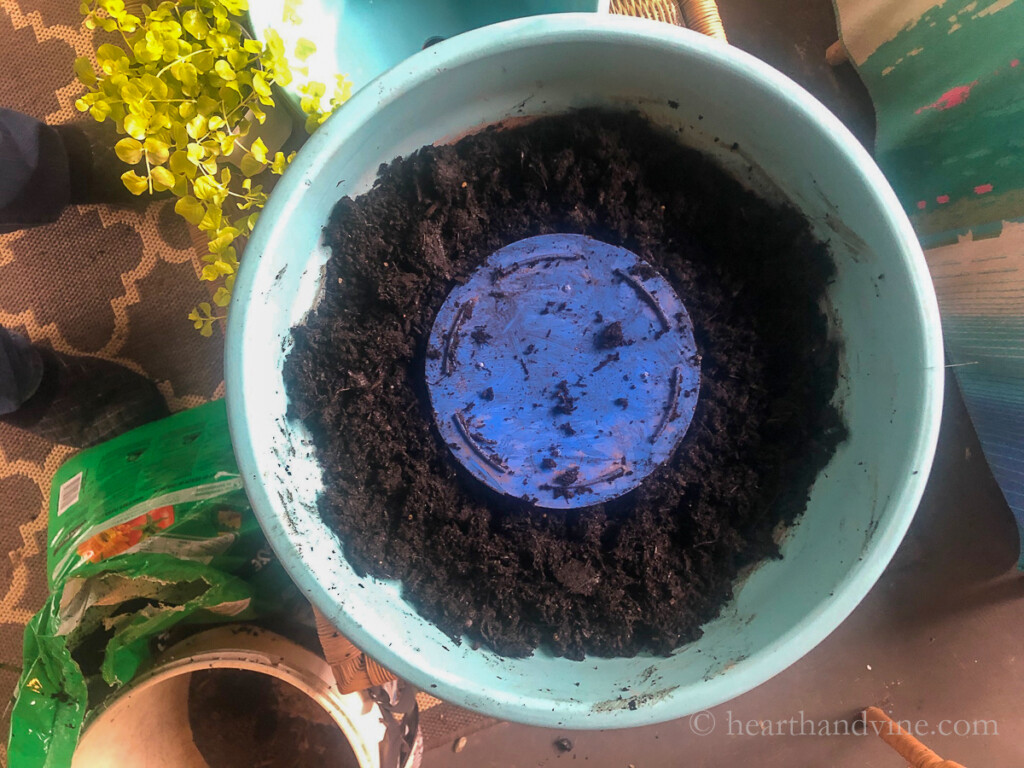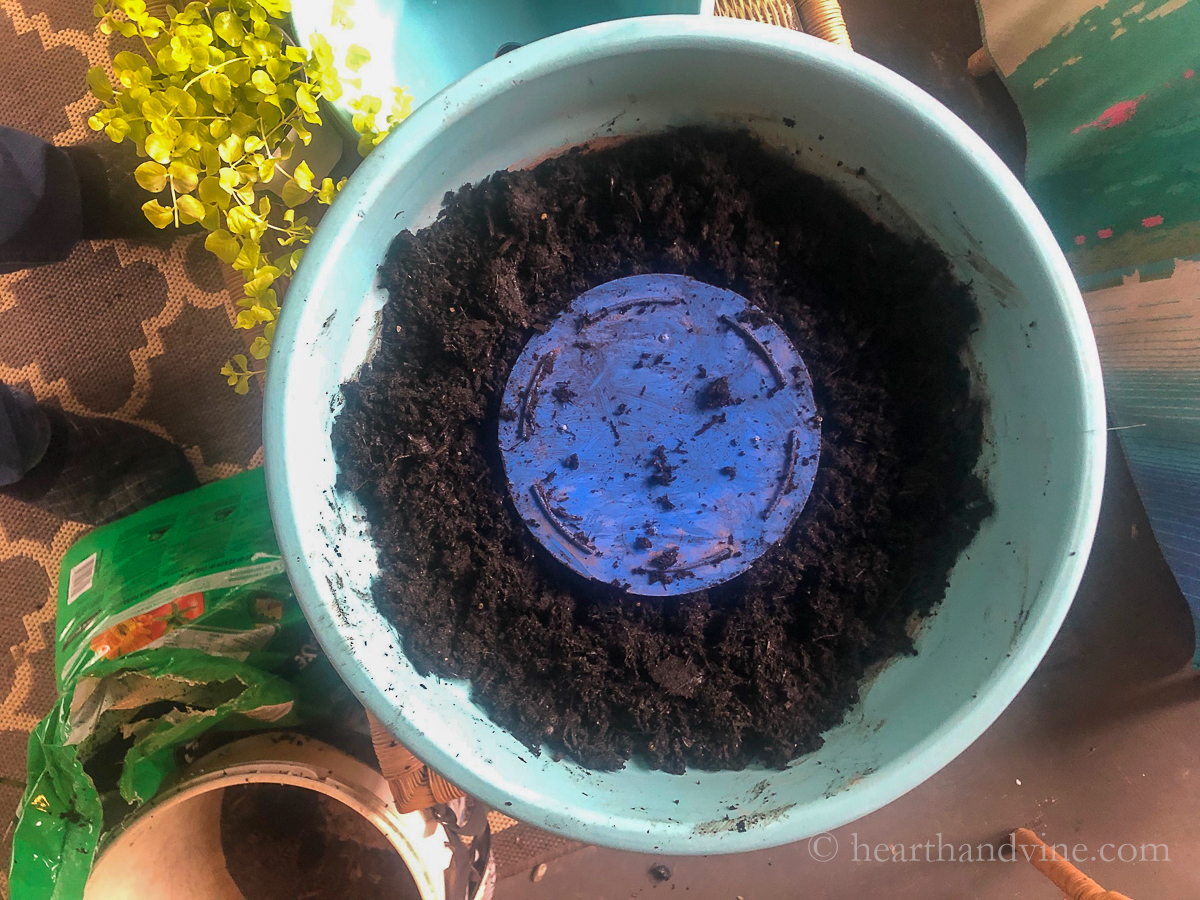 Add soil around the plastic pot.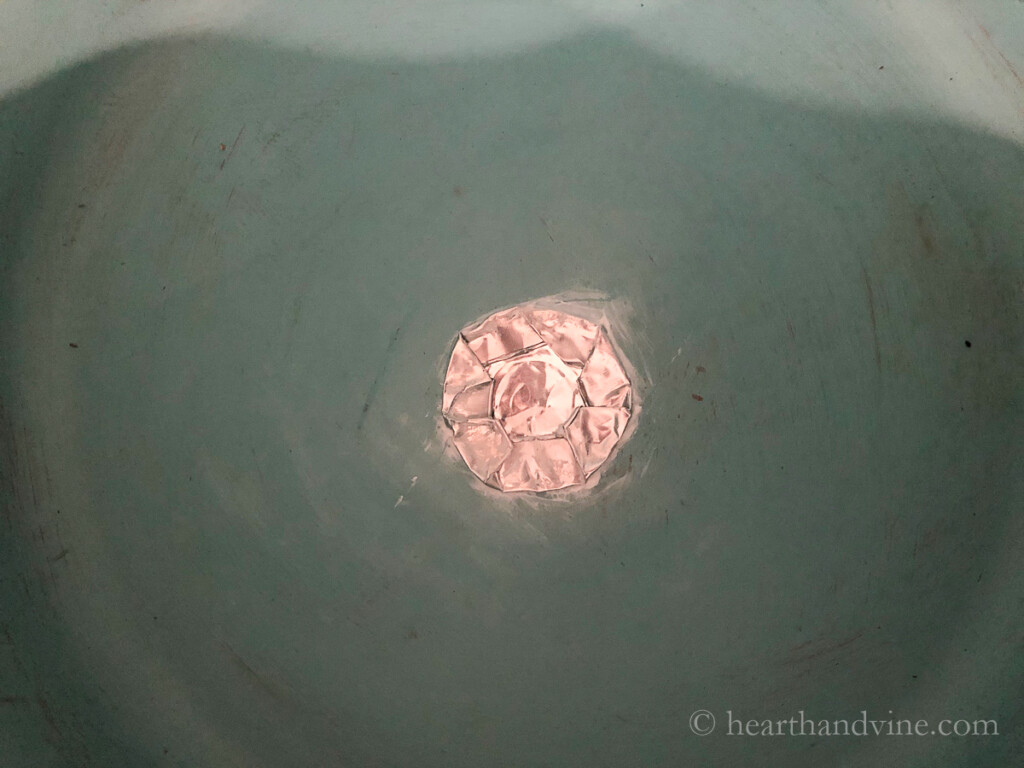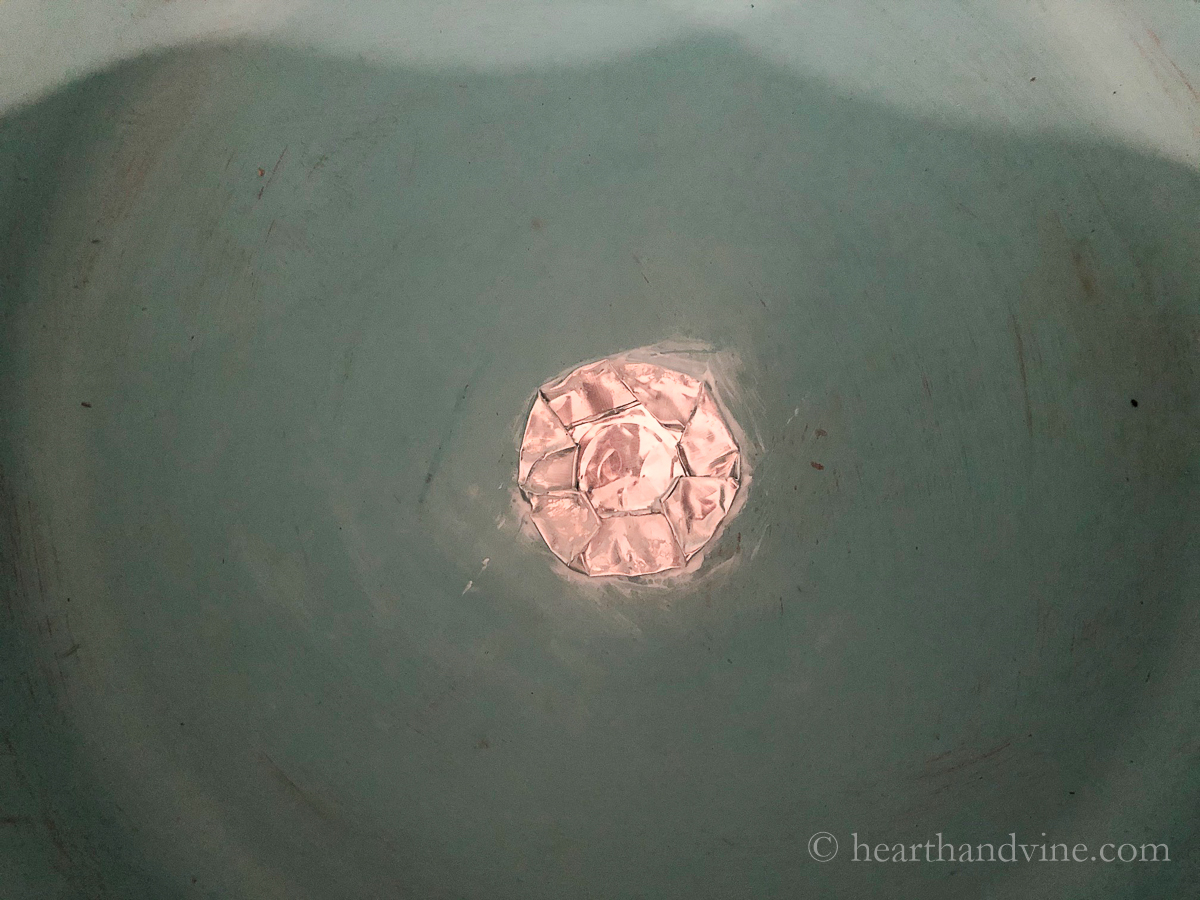 The top pot will be holding the water so you need to plug the drainage hole if it has one. Leave the drainage alone on the larger bottom pot.
I used the metal container that tea lights come in and smashed it to cover the hole and glued it into place. You could use anything you have or just some duct tape for this step.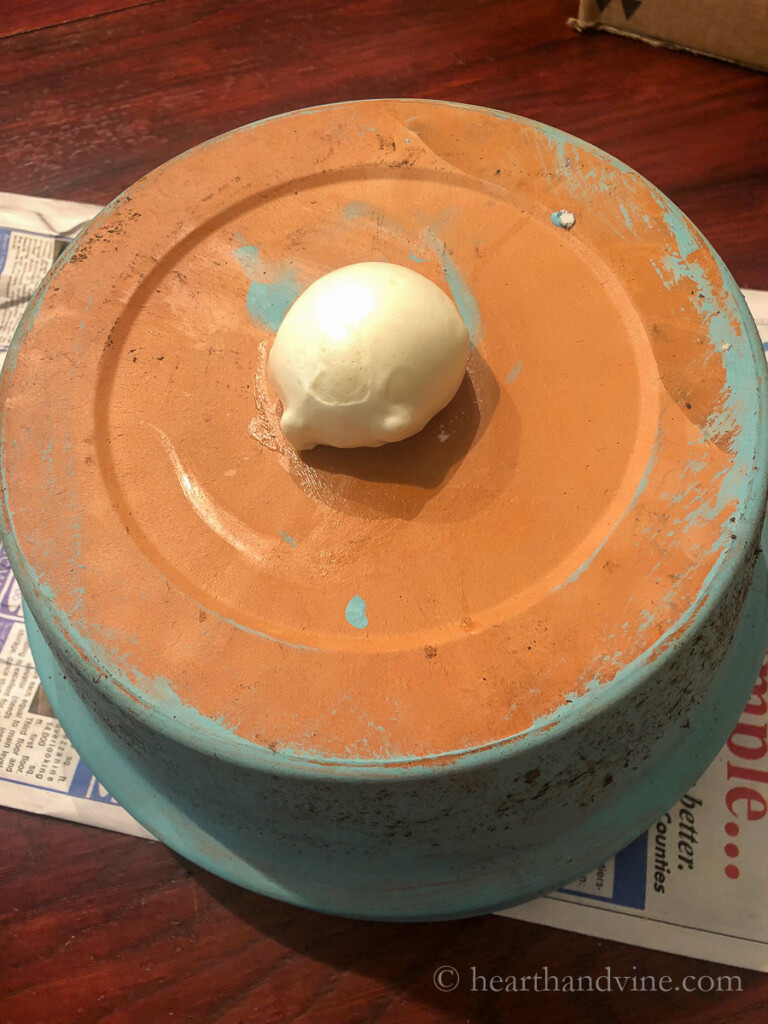 Next, you turn over the pot and spray foam sealant in the hole making the pot watertight. You have to wait 12 hours for the foam to cure but after that, you can cut it down flush to the pot with a craft knife.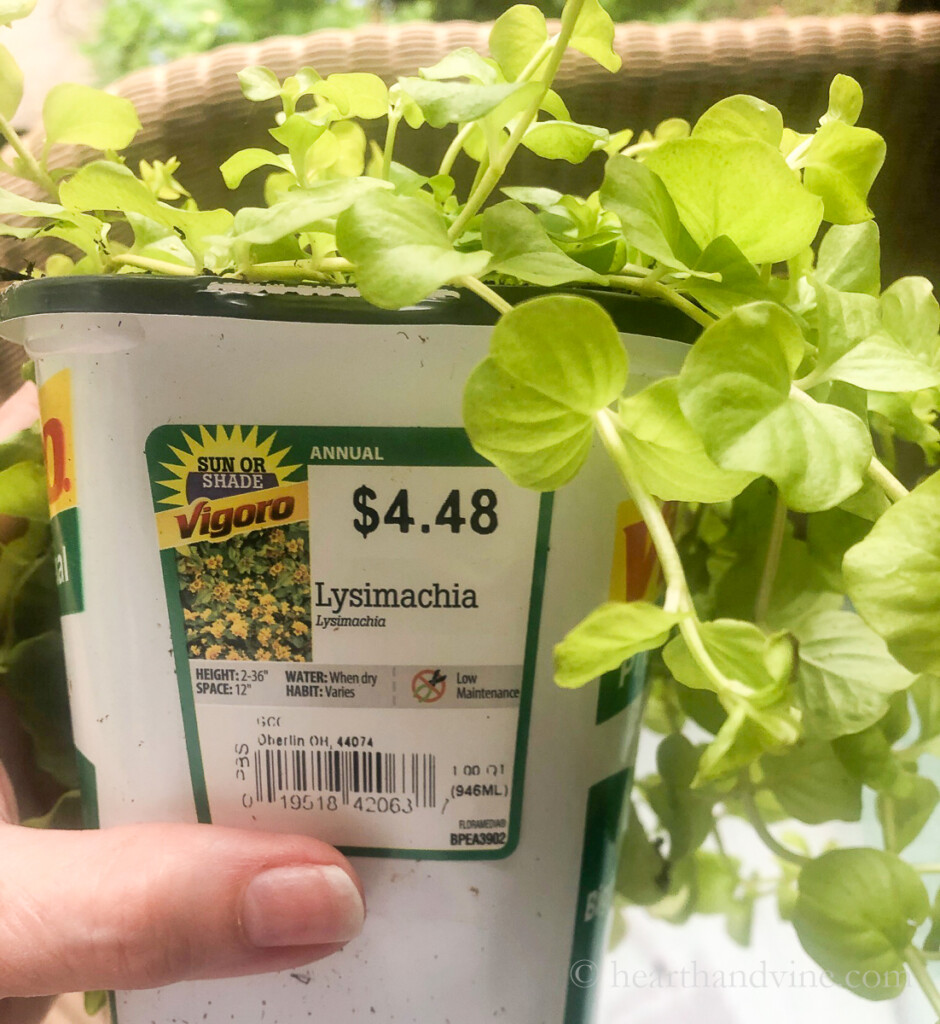 Plant flowers or pretty plants in the space between the two pots. I chose Creeping Jenny because I think the chartreuse color looks great with the blue pots.
Other Plant Choices
Anything that trails and fills in would be good choices for this planter.
sweet alyssum
lobelia
bacopa
sweet potato vine
vinca vine
nasturtium
black-eyed Susan vine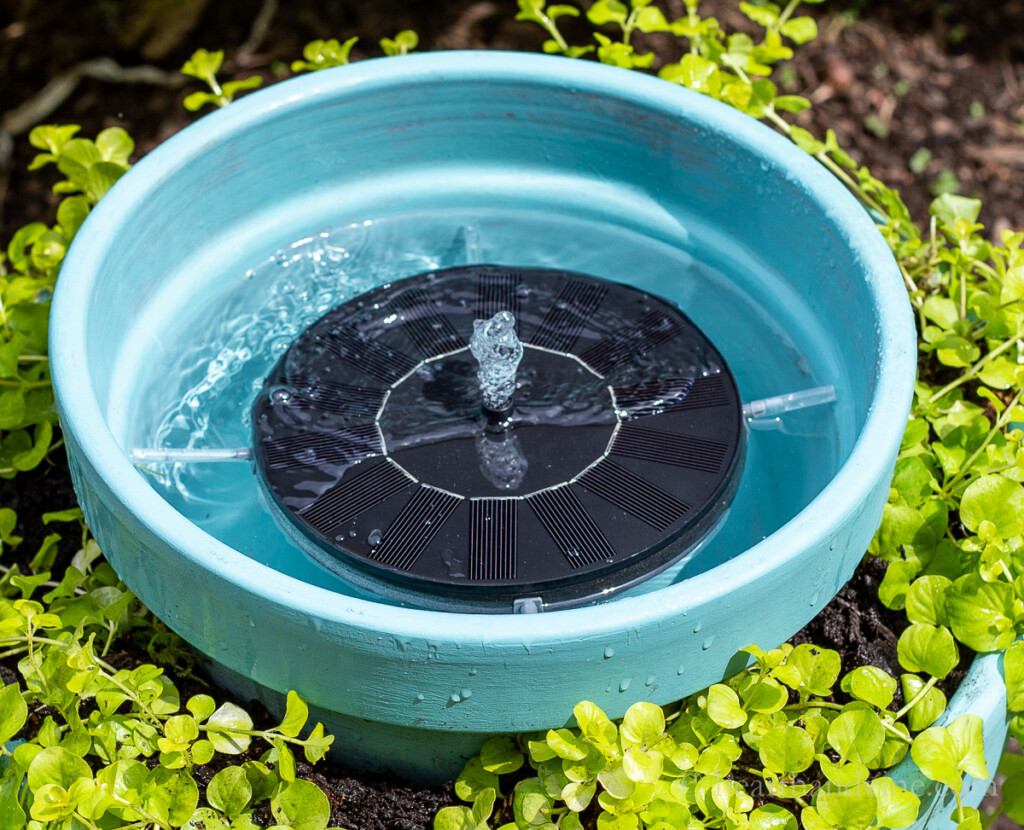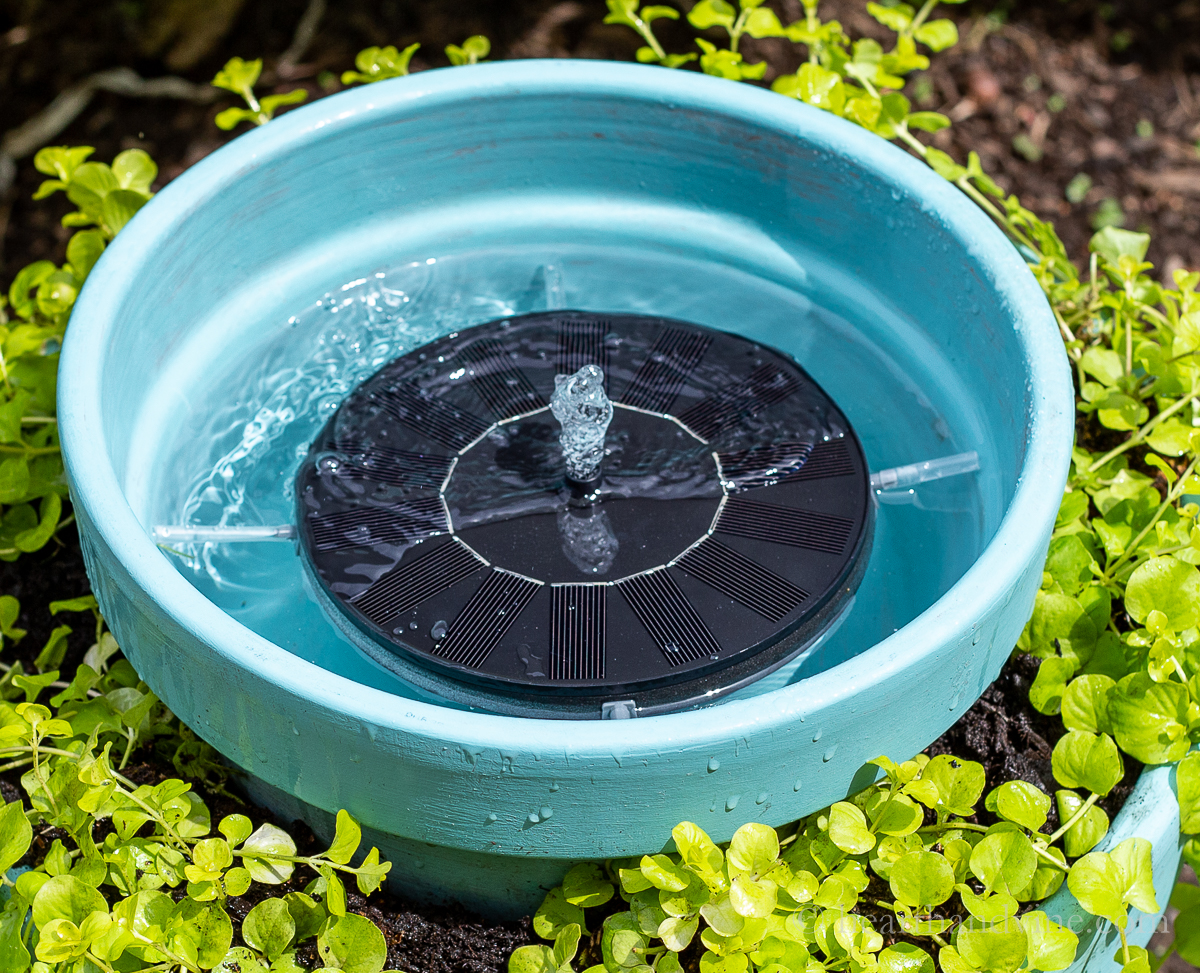 Solar Fountain Options
This solar water fountain comes with different nozzles. With no nozzle, you get a nice low bubbling effect(shown above). Some of the nozzles spray several inches into the air as seen below.
The great thing is that you can place this anywhere as long as the solar panel gets enough light. However, you will need to keep an eye on the water level which will slowly evaporate over time.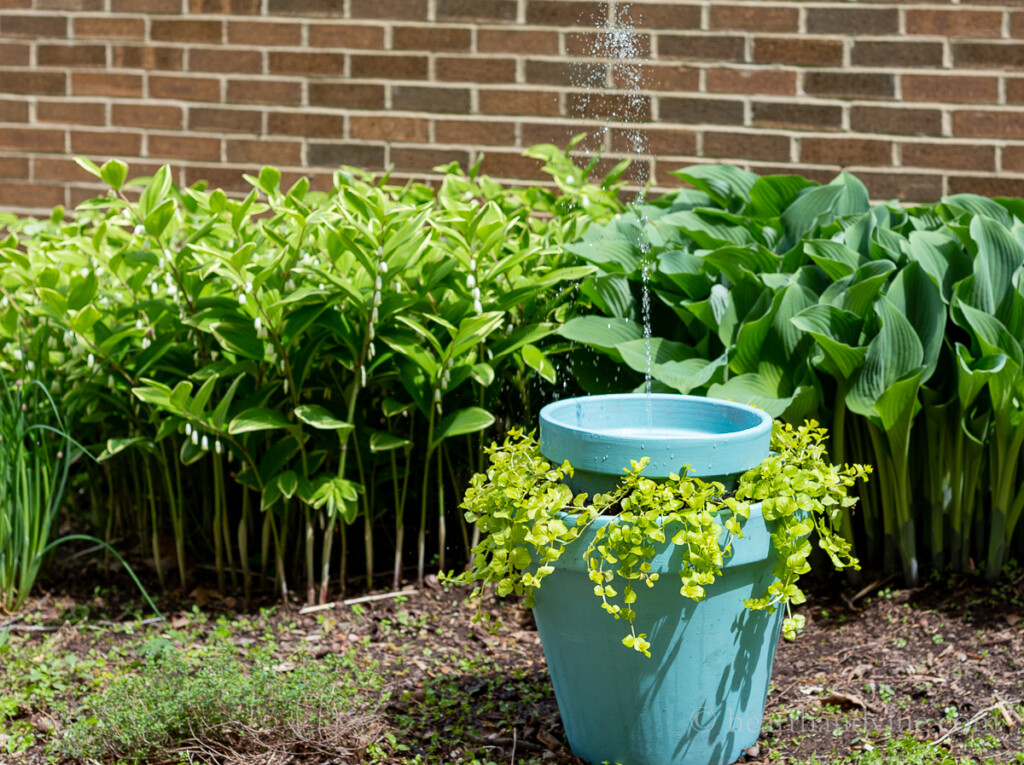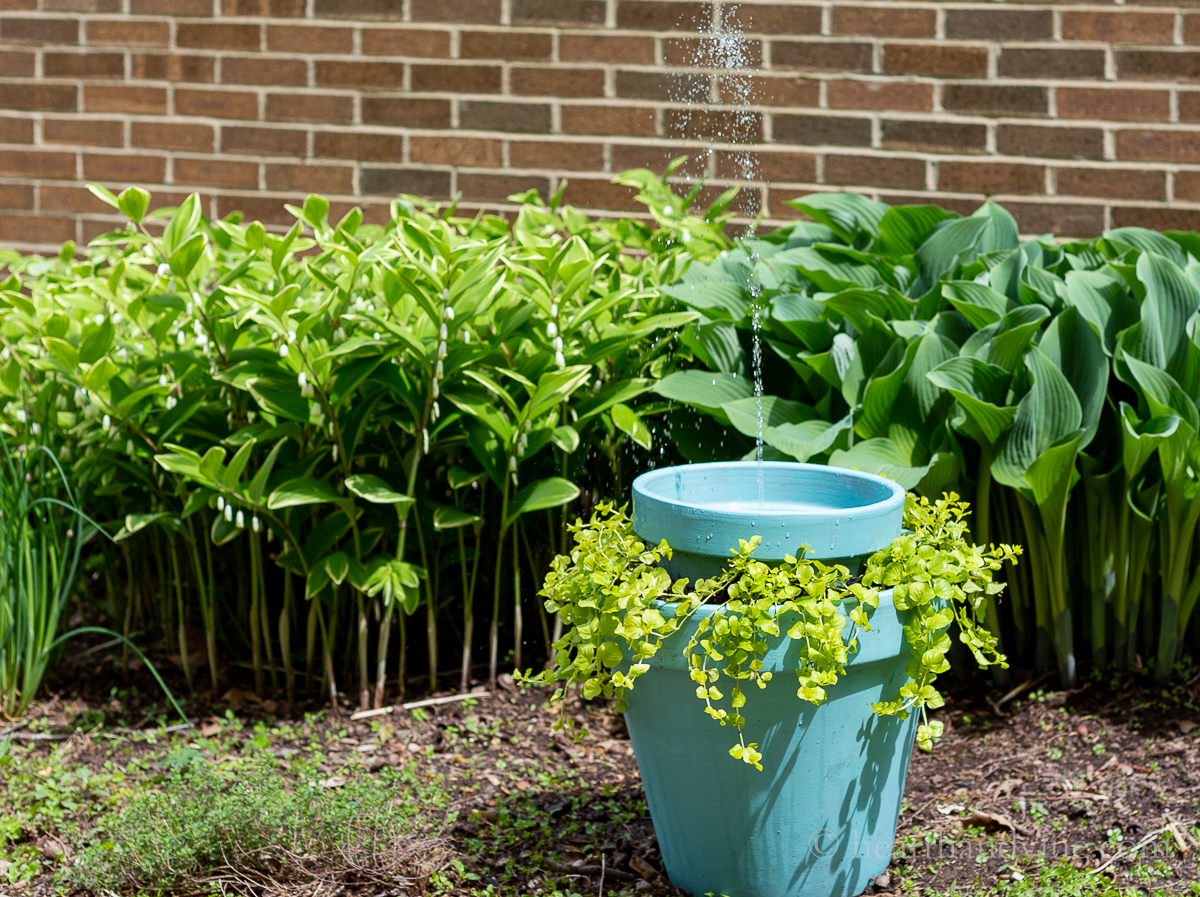 It certainly makes a pretty addition to any garden bed, close to the house, or far away.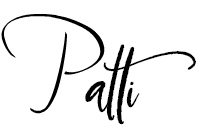 More Water Fountain Ideas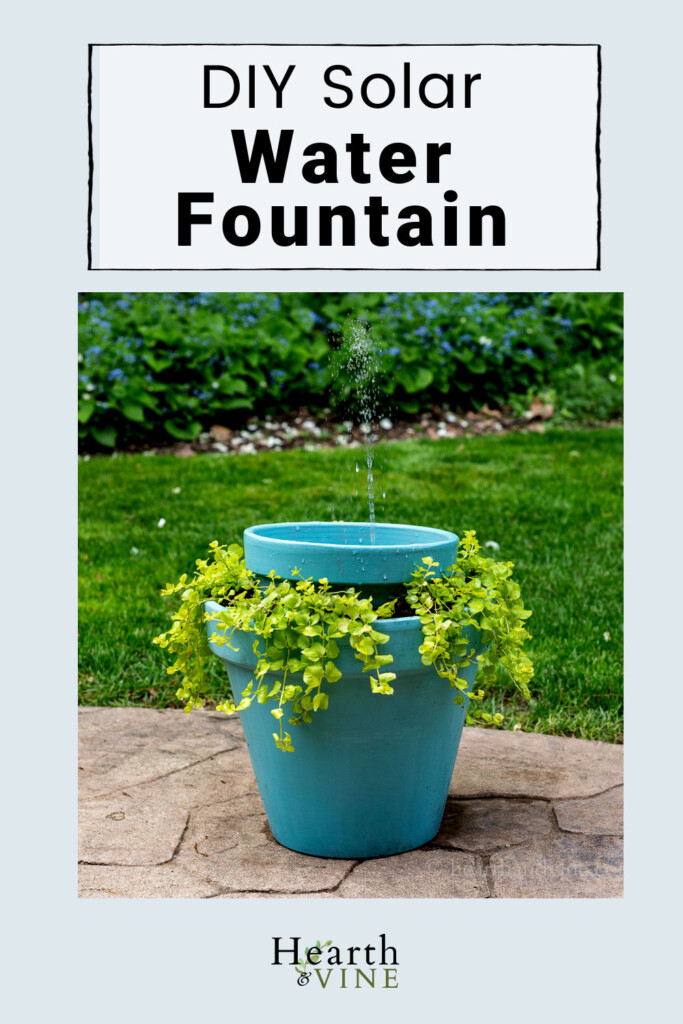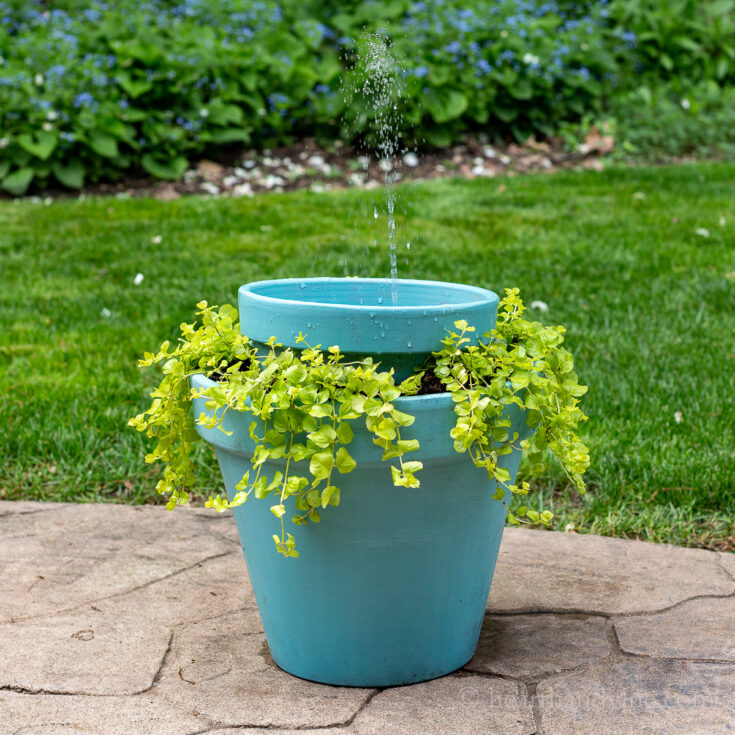 Print
DIY Solar Water Fountain
Make this simple and beautiful solar water fountain that doubles as a flower planter. One that you can set anywhere in the garden or on the patio as long as it receives enough light for the solar panel.
Materials
large clay pot - 14-in W x 12-in H

small clay pot - 10.63-in W x 7.48-in H

plastic pot for height - 1 gal nursery pot or other

craft paints

potting soil

plants

tea light metal & glue or tape

foam sealant
Instructions
Paint the smaller pot inside and out.

Paint the outside of the larger pot and just a little on the inside as the plants will cover the rest.

Cover the hole of the small pot with glue and a smashed tealight metal container or some other item on the inside.

Flip over the pot and fill the hole with foam sealant.

Once dry (usually 12 hours) cut off excess foam with a craft knife.

Place a large plastic pot upside down in the large container.

Add soil all around the plastic pot.

Set the smaller pot on top and plant flowers around the two pots.

Fill the top pot with water and add a solar fountain insert.

Set anywhere that gets light and enjoy.
Notes
You can use an outdoor sealant or poly spray to protect the paint finish or just let it wear naturally.
Trailing flowers like million bells, alyssum and lobelia are other good candidates for the planter.