Learn about 10 favorite scented plants including shrubs and perennials. All are easy to grow and you'll love being able to bring these lovely fragrant flowers into your home.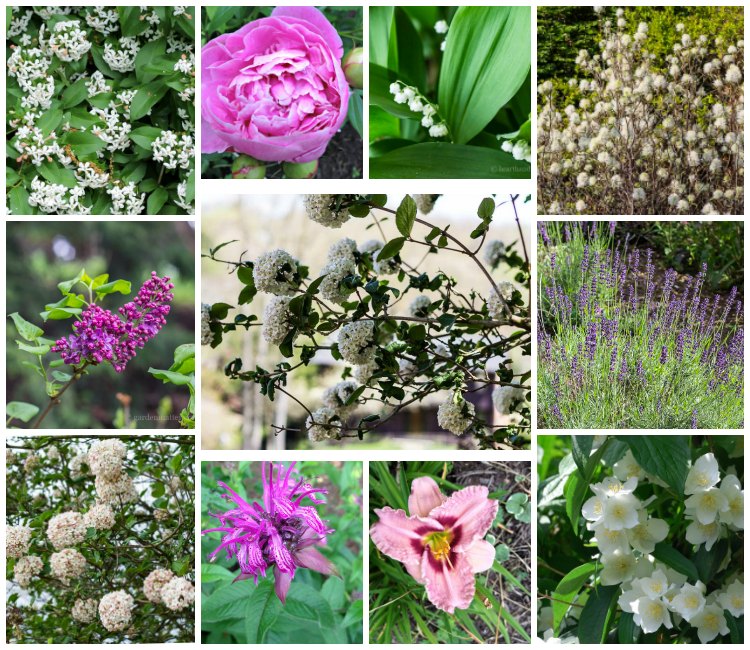 It's planting time and when I go to the nursery I love to buy beautiful plants but also love it when they are fragrant too. So today I'm some wonderful shrubs and perennials that are growing in my garden that are not only beautiful but produce fragrant flowers as well.
I'll tell you a little bit about why I like them, and some basic facts about their cold hardiness zone, size and bloom time so that you can see if they are some that you will want for yourself.
Top 10 Scented Plants for the Garden
Fragrant Shrubs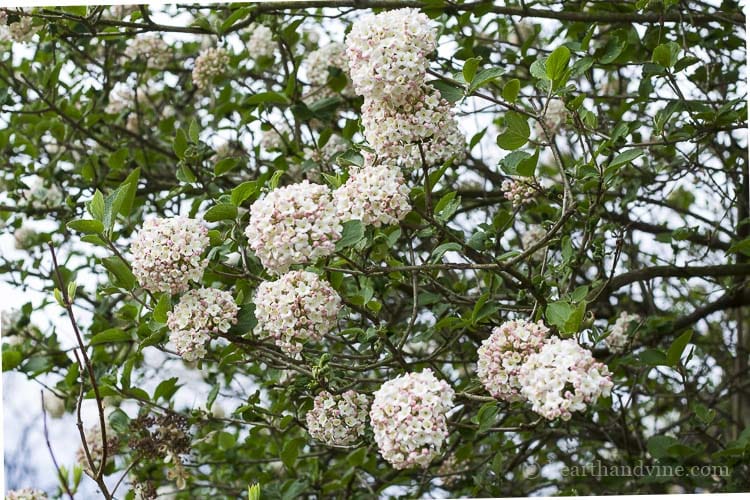 This beautiful viburnum was here when we bought this house 13 years ago. I believe it was probably planted by the builder in the mid '80s when the house was built, because it is huge, running right into a large magnolia tree. The blooms on this one are so fragrant that you can smell them from quite a distance. Beware, a large bouquet brought in the home might be a little too much.
Koreanspice Viburnum
Zone 4 - 7
Full Sun - Part Shade
4 - 6 ft tall --- 4 to 7 ft wide
Blooms March - April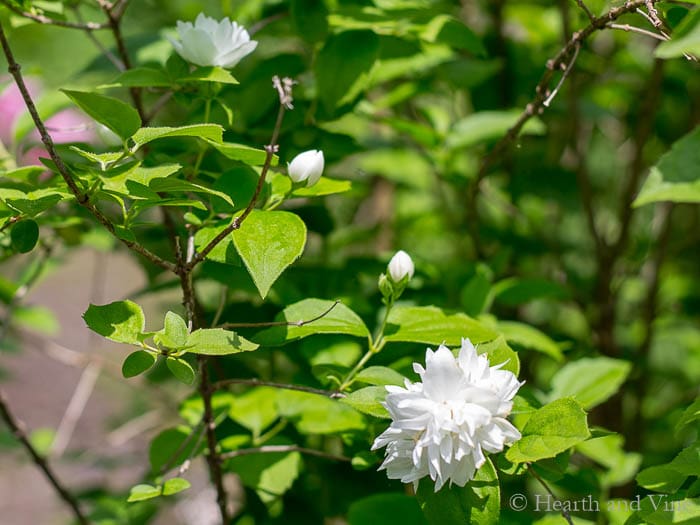 I adore the smell of this mock orange. I planted it a few years ago and admit that I have had some trouble getting a lot of blooms every year, but when it does watch out. The scent is heavenly.
Mock Orange
Zone 5 - 9
Full Sun - Part Shade
4 - 6 ft tall --- 4 to 6 ft wide
Blooms May - June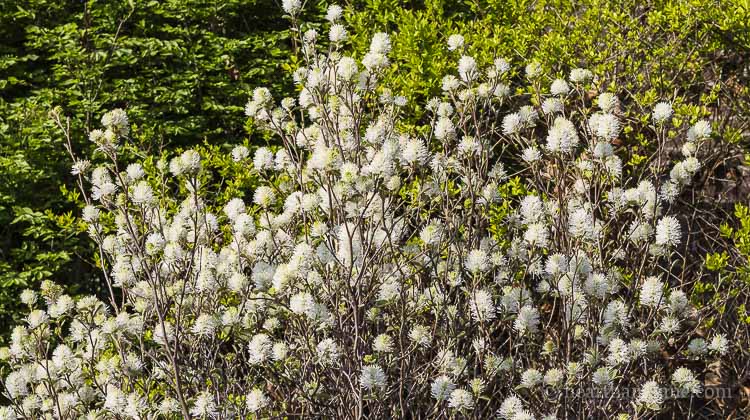 This pretty shrub has a subtle honey-like scent. I like the different texture it gives the landscape and the leaves have beautiful fall color. Fothergilla major is also on my top 5 easy to grow shrubs list.
Fothergilla
Zone 4 - 8
Full Sun - Part Shade
6 - 10 ft tall --- 5 to 9 ft wide
Blooms April - May

The lilac needs no introduction, however, I had to add it to the list because for me, there is nothing like the scent of lilacs in spring. Roses smell wonderful, but you can purchase rose essential oil. Lilac oil can only be made synthetically, making their original fragrance that more special.
Lilac
Zone 3 - 7
Full Sun
8 - 15 ft tall --- 6 to 12 ft wide
Blooms April - May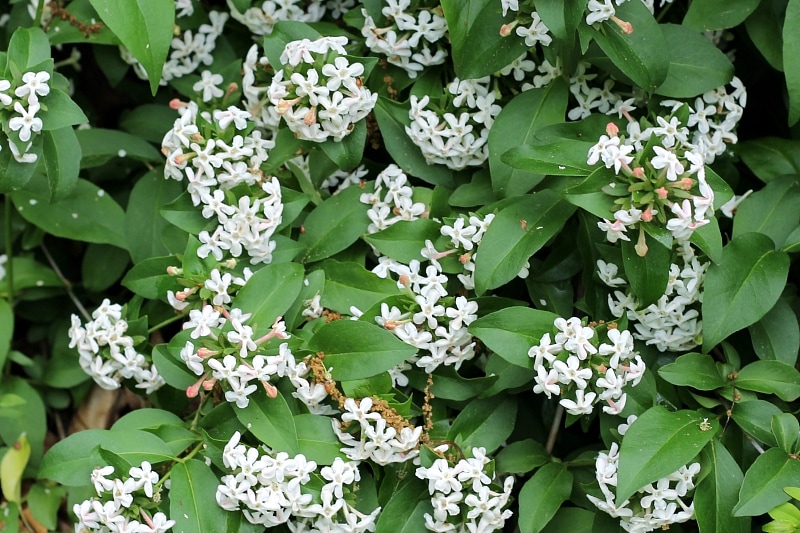 This is another beautiful shrub that I planted several years ago. Suggested by a trusted nursery owner, Abelia has a nice honeysuckle scent without the invasive nature of the honeysuckle plant. It can get a little rangy and needs to be pruned every year to keep it looking nice and promote flowering. Abelia blooms on new growth so it is a good idea to get out and prune it back in late winter before new growth begins.
Abelia
Zone 5 - 9
Full Sun - Part Shade
3 - 6 ft tall --- 3 to 6 ft wide
Blooms in May
Fragrant Perennials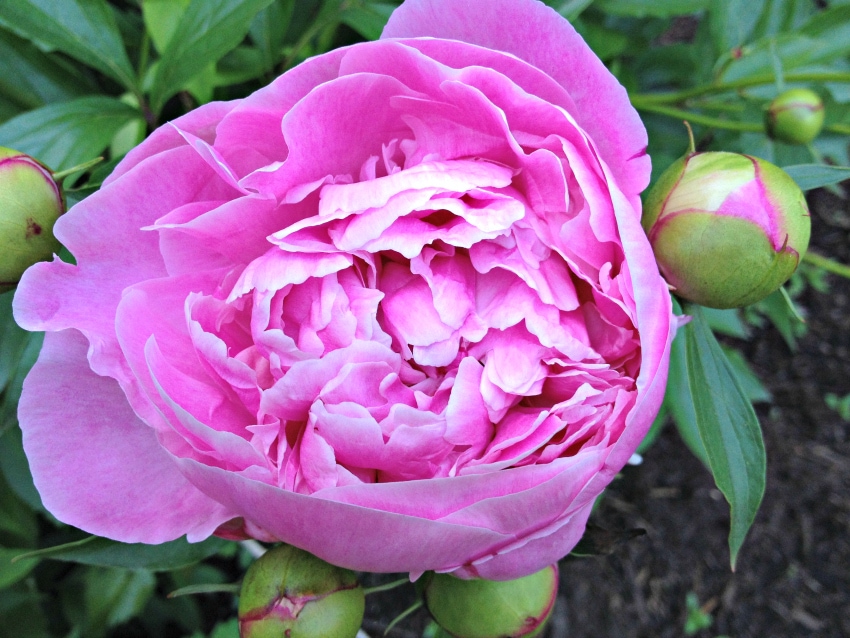 Peonies are another plant are known for their fragrance. Not all of them are fragrant, however, this variety, Dr. Alexander Fleming, is almost as fragrant as it is beautiful. They don't bloom for a long time, but you can pick some of the flowers in bud, and keep them in the refrigerator for an upcoming event. See more about peonies and how to extend their blooms in the article Praiseworthy Peony.
Peony - Dr. Alexander Fleming
Zone 3 - 8
Full Sun - Part Shade
2 - 3 ft tall - 2 to 3 ft wide
Blooms May - June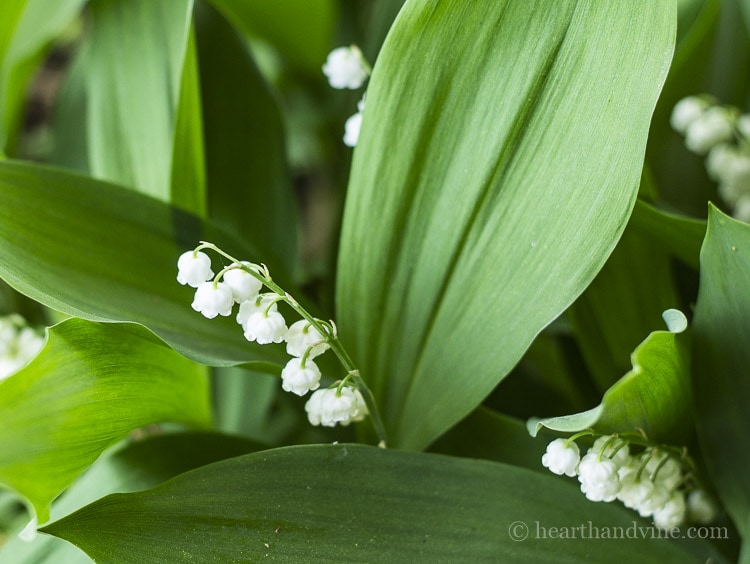 These flowers are so dainty and cute. The fragrance, like the lilac is an original that is hard to extract. Though it can be invasive, I look forward to seeing these little beauties every spring. One little sprig will scent the entire room.
Lily of the Valley
Zone 3 - 8
Part Shade - Full Shade
.5 - 1 ft tall - .5 to 1 ft wide
Blooms April
Like peonies, some daylilies are fragrant, though not all. This one is scented and so pretty I had to add it to the list. It was either given to me, or I purchased it without a tag, so I can only guess at the variety. The variety 'Rose Katherine,' comes close in the description. Other favorite scented daylilies include 'Hyperion,' 'Wineberry Candy,' and 'Hudson Valley.'
Day Lily
Zone 3 - 9
Full Sun - Part Shade
2 ft tall - 2 ft wide
Blooms June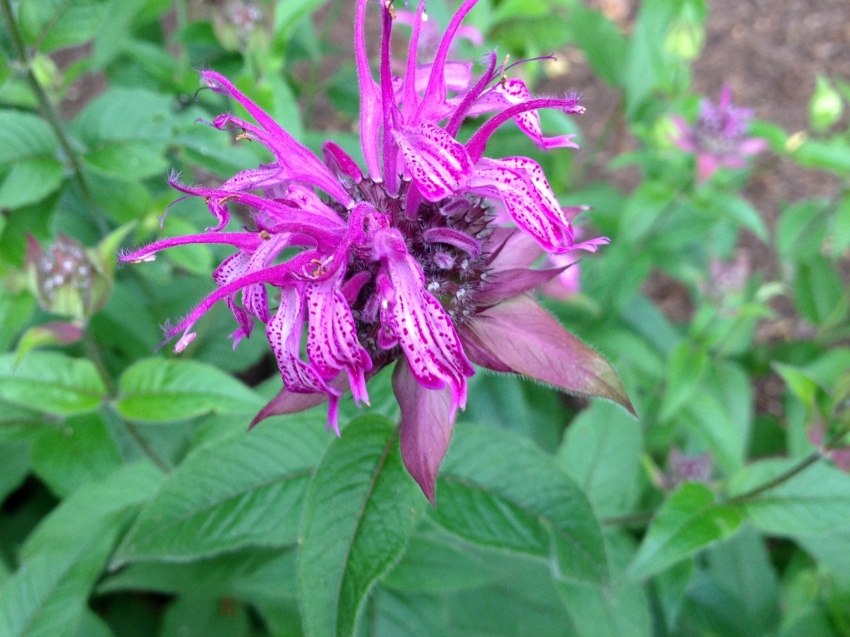 Monarda commonly known as bee balm (a favorite of bees,) has pretty flowers and very fragrant citrus-like foliage. Also, known as bergamot, because the scent is similar to the bergamot orange. Bergamot oil (a favorite of mine) is also used to scent Earl Grey tea.
Bee Balm - Blue Stocking
Zone 4 - 8
Full Sun - Part Shade
2 - 3 ft tall - 1 - 1.5 ft wide
Blooms July - August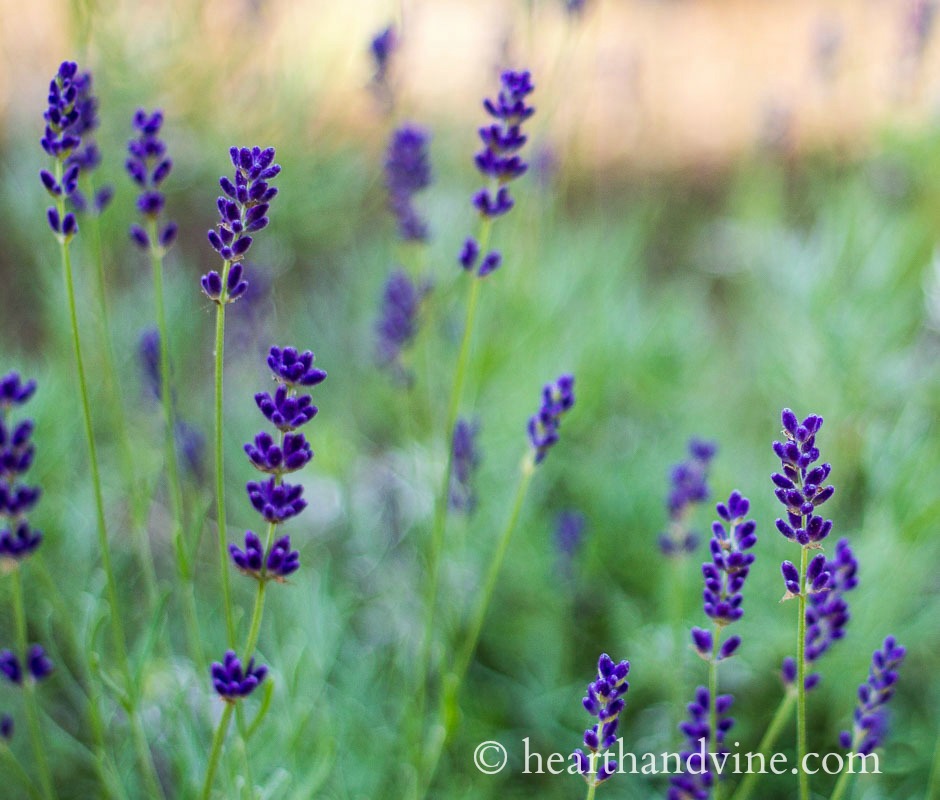 Last but not least is lavender. Scented plants like lavender are not only wonderful for their fragrance, but also for their ease of growth, and long-blooming nature. When many of my other fragrant plants are gone, I can rely on lavender to be in bloom all season long.
Lavender - Hidcote
Zone 5 - 8
Full Sun
2 ft tall - 2 ft wide
Blooms June - August
Scented plants are a wonderful addition to the garden. Whether you're walking in the garden, sitting outside, or admiring a bouquet indoors; the added benefit of fragrance makes your beautiful flowers even more special.