These beautiful scented wax sachets are easy and fun to create, using wax, essential or fragrance oils and pressed flowers.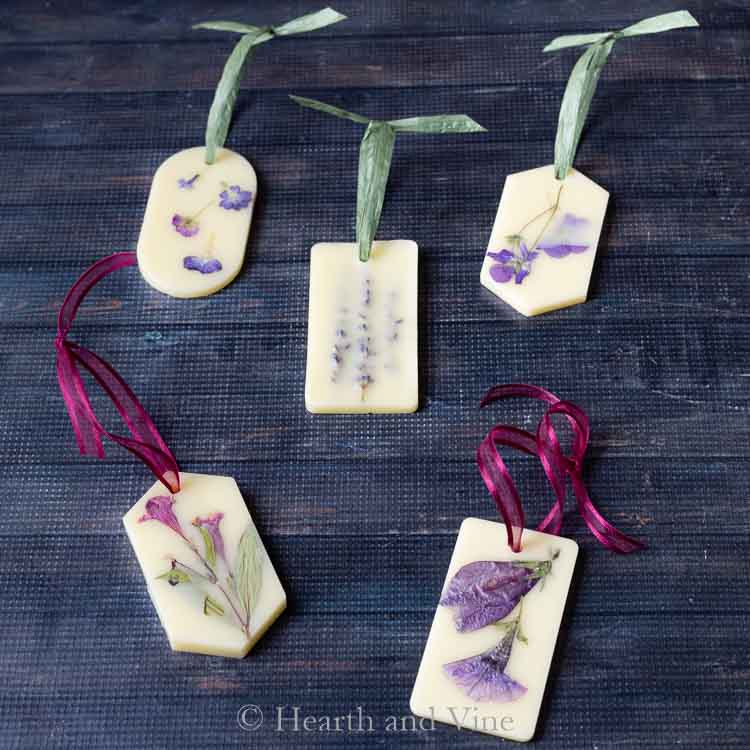 While shopping with my sister and girlfriend I came across some beautiful fragrant wax sachets in a gift shop. They were new to me and looked like the perfect DIY project.
This post contains some affiliate links (that means if you make a purchase after clicking a link, there's no additional cost to you, but I will earn a very small commission. ) i.e. as an Amazon Associate, I earn from qualifying purchases. Click here to read my full disclosure policy.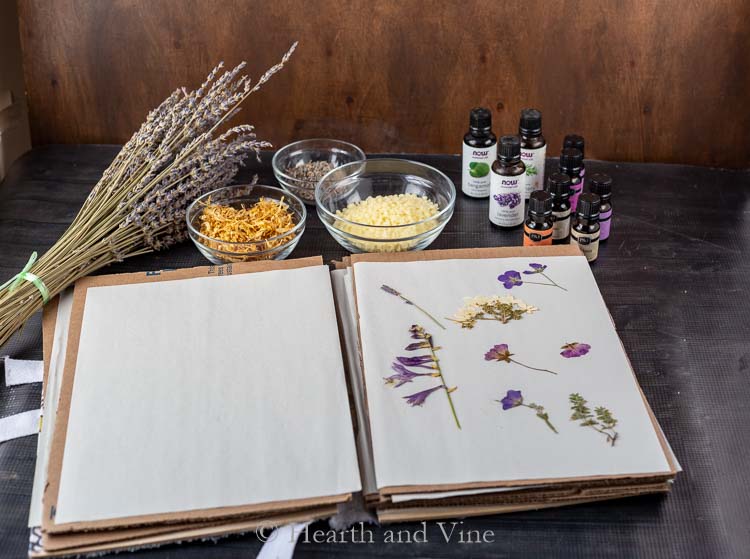 I already have lots of pressed flower material, some beeswax and several bottles of essential oil and fragrance oils.
All I needed was something to use for a mold.
I thought about using a soap mold but not filling it all the way, or even a glass pan that I could cut up into individual sachets.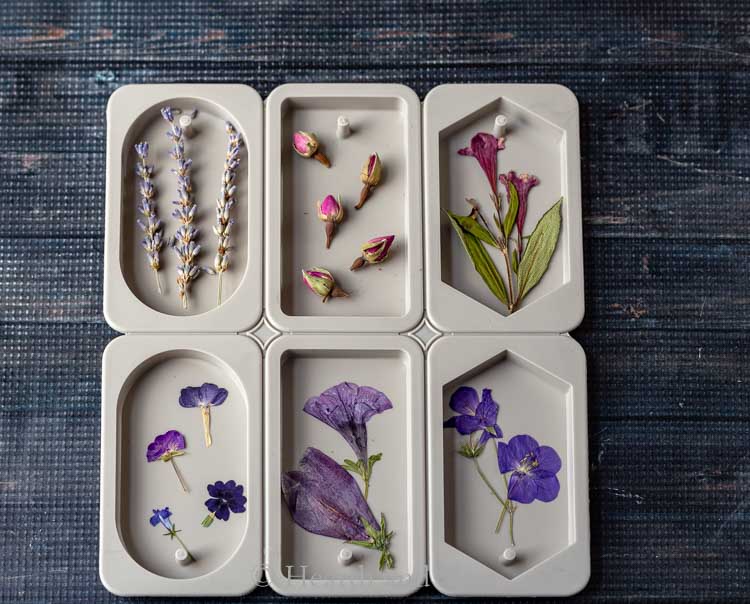 However, I found these silicone wax sachet molds online
and they were perfect. They even have a piece that makes a hole for hanging.
How to Make Scented Wax Sachets
First, place your plant material in the molds to get an idea of what they may look like.
Then melt some wax. I used beeswax pellets and melted them in a double boiler on the stove. You could use any candle wax for this project. You could also melt it in the microwave oven.
Once the wax is melted remove it from the stove and pour it into smaller plastic cups.
Next, add some fragrance to each one. The amount of fragrance is up to you. I used about 50 drops of lavender for some and about 30 drops of lilac fragrance oil.
Then pour your wax into the molds. Note: the beeswax I had hardened very quickly so you need to work fast.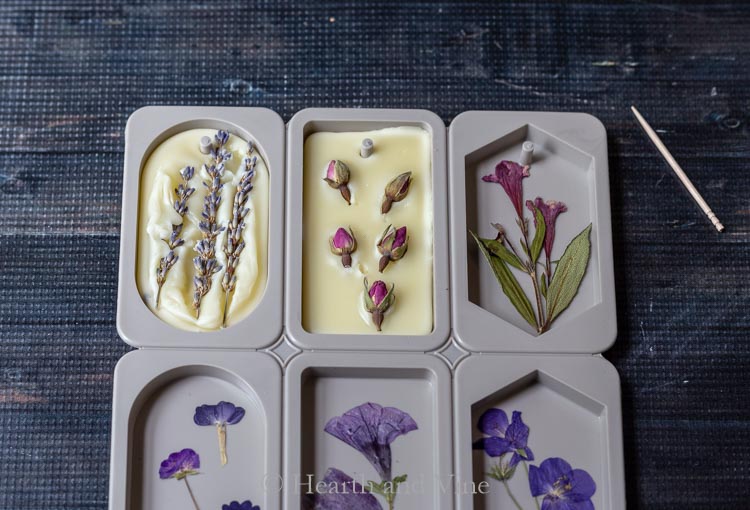 The first two I made didn't work out very well. I tried to pour the wax in the mold first and then add the plants. However, they ended up being too opaque.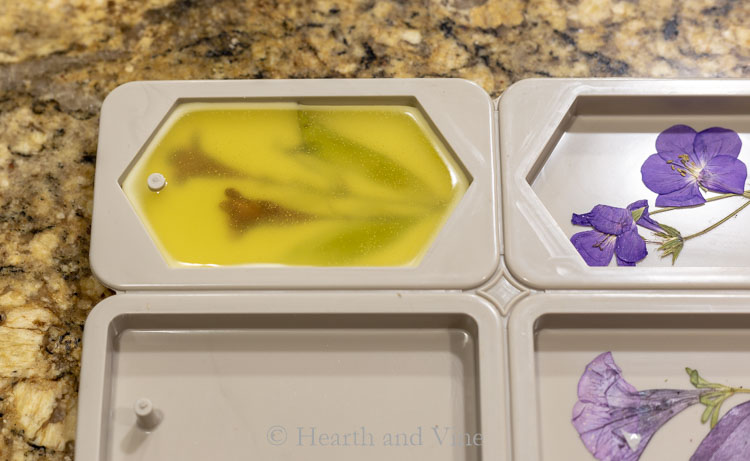 The next time I let the plant material lay on the bottom (face down works best) of the mold and added the wax on top.
This worked much better. Especially for the pressed flowers.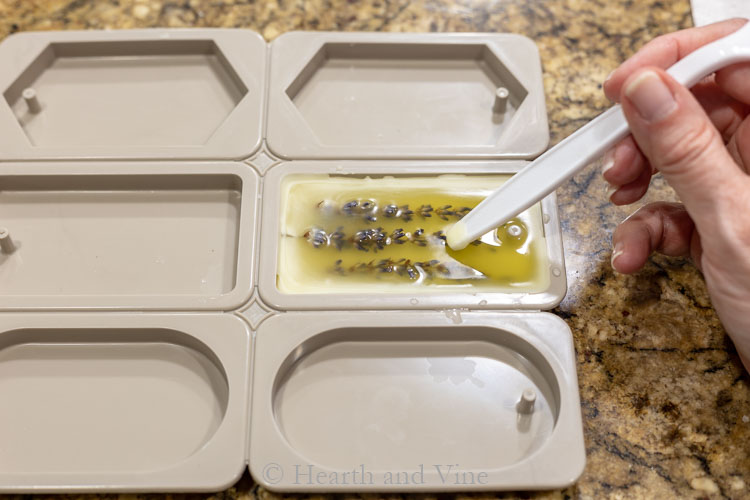 Larger plant material like this lavender may need a little help staying in place for a minute.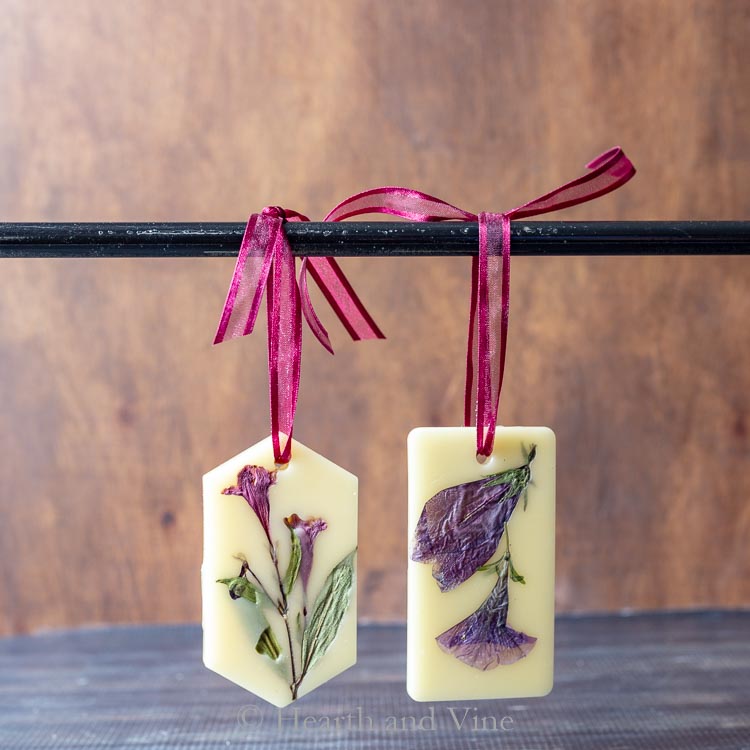 Don't they look beautiful?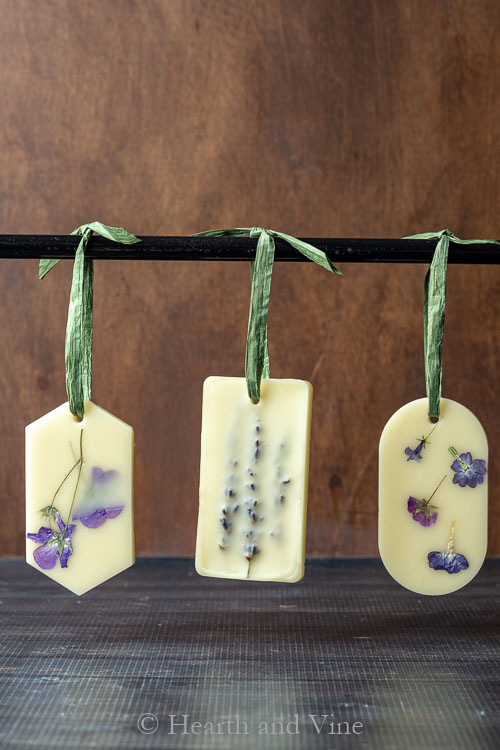 Here, you can see where the pressed flowers shine and the lavender still looks good even though it's a little more opaque.
They hardened very quickly, about 20-30 minutes. This may vary depending on the temperature and humidity in your workspace.
They also pop out incredibly easy from the mold so you can keep the creativity going.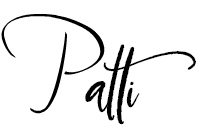 ---
P.S. If you enjoy working with pressed flowers you will love this roundup of 9 Pressed Flower Projects from the Garden. For more essential oil crafting check out 10 Essential Oil Projects. You can find these and many more fun crafts on my DIY/Projects Page.
Click Here to Save to Pinterest!