This fabric pumpkin craft Inspired by real Cinderella heirloom pumpkins. They are super easy to create and make a great accent piece for your fall decor.
contains some affiliate links for your convenience. Click here to read my full disclosure policy.
Fall is a great time of year to entertain as the air gets crisp and the holidays are just around the corner. Decorating the insider of your home with pretty fall decor can be a big part of this, but it doesn't have to break the back. Creating and making your own fall decor like this fabric pumpkin craft, can be a great way to let your creativity shine and save you money.
Cinderella Fabric Pumpkin Craft
In the past, you could only find the standard orange pumpkins to decorate your home, but now, many nurseries, farms, and even some of the big box stores sell these lovely gems. The real Cinderella pumpkin comes from a French heirloom variety called "Rouge vif D'Etampes," a dark red orange pumpkin with deep ribbing. The pretty blue-gray pumpkin is a variety called Jarrahdale, a cross between the Cinderella and Blue Hubbard gourd.
Materials
Drop Cloth Fabric
Batting for the stuffing
Craft Paint
Needle & Thread
Step 1
Use any round object and draw a circle around it. This one I used for the smallest pumpkin and it measured 10 inches in diameter. The middle one was 18 inches, and the largest, 24 inches.
Step 2
Paint the fabric with craft paint diluted with some water. Using a sponge brush paint one side of the fabric. Allow to dry.
Step 3
Cut out your circle, and sew basting or gathering stitches. Do this by threading a long piece of thread through your needle to the half way point. Gather the ends of the thread and tie a knot. Then sew up through the fabric about 1/4 of an inch from the edge. Sew nice wide stitches until you reach the other end.
Step 4
Pull on the thread to gather the fabric into shape. You can pull it all the way closed or leave it a little open like the one shown above to get it a flatter shape, it will be covered if you are going to stack them. Make an knot by sewing close to the end and threading the needle through the loop.
Stuff the pumpkin with batting.
You can make a stem by cutting a long rectangle, and painting it green. Then roll it up and glue the edge. Glue the stem into the pumpkin.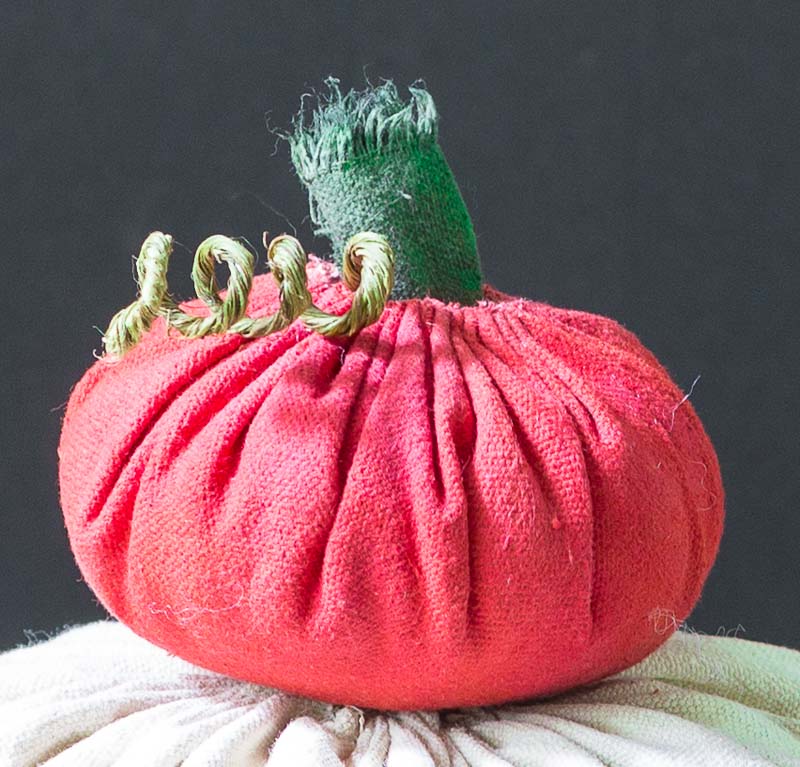 Add a vine by using a piece of green wire or a pipe cleaner, and wrap it around a pencil. Glue into the pumpkin.
Stack your pumpkins on top of each other. You could secure them with glue or sew them together, but I didn't.
Add a little hay, moss or other fall material to give it an extra rustic look.
I'll probably buy some real Cinderella pumpkins this season, but it was fun to make this faux fabric pumpkin craft. So easy and affordable, with a little drop cloth fabric, batting and paint.
They'll last a whole lot longer too.
You may also like:
Felted Pumpkins Natural Leaf Garland Dried Orange Garland Scented Pine Cones