This classic tuna and egg salad recipe is great on toast or alone as a salad, using basic ingredients you already have at home.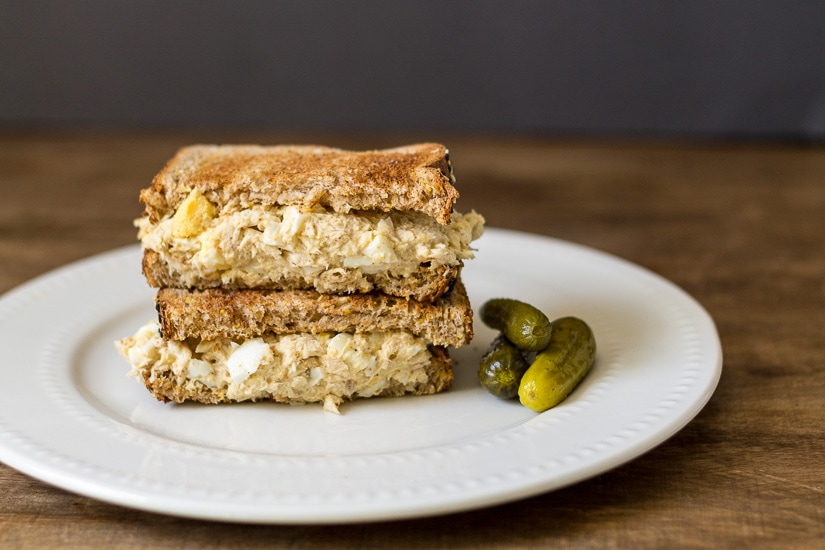 One of my favorite things to make, especially on the weekend, is tuna & egg salad. It's really hearty and makes enough for 4-6 sandwiches.
Perfect on the weekend when everyone is busy running around.
I like to use all white meat tuna packed in water. I keep a couple of cans on hand in the pantry so this can easily be made at a moments notice. Oh, but yeah, you have to boil eggs, so there's that. You can make the tuna salad without the eggs, but then it's just not as good. So while you're doing laundry, or some other weekend task, boil a handful of eggs. Heck you can boil them days ahead and snack on the leftovers.
This is great for all you low carb lovers alone, or on a bed of lettuce. Of course, my favorite way to eat it is on two pieces of multi-grain toasted bread.
If I'm really feeling decadent, I'll make a tuna melt by splitting a bagel in a half, and toasting it. Then you spread on the tuna and egg salad, topped each bagel half with a piece of provolone cheese. Then stick them under the broiler until the cheese is all melted and gooey. Yum.
Great served with crunchy dill snacking pickles.
Yield: 4 -6
Classic Tuna and Egg Salad
Ingredients
1 - 12 oz can solid white tuna

4 - large hard-boiled eggs

2 - tablespoons of mayonnaise
1/2 teaspoon of celery seed
salt and pepper to taste
Instructions
Drain the tuna and place in a large bowl.
Peel and dice the eggs, add to the tuna.
Add mayo, celery seed and salt and pepper.
Mix well. Serve or refrigerate until needed.
You May Also Like: